Indonesian passport holders aiming to visit Germany need a Schengen Visa to get into the country. iVisa.com has designed a safe and effective online service to get your Germany Schengen Visa for the citizens of Indonesia. This service is focused on saving you time, effort and avoiding mistakes so you will have no delays in your application.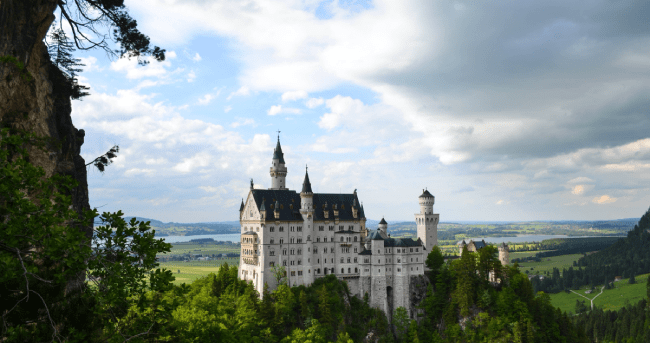 The Germany Schengen Visa for the citizens of Indonesia may vary according to your trip end. It can be a tourist visa, a culture/sports visa to attend events, a medical visa, or even a business visa. It also may vary according to your entry allowance: single-entry, double-entry, or multiple entries
Get started your Application Now
What should I do to begin my Germany Schengen Visa for the citizens of India application?
Click Here to start completing our online form with all your information
Upload the needed and additional documents to support your request.
Choose the processing time of your preference
Send your form. Our team of immigration experts will analyze it and in case something comes up, they will let you know
Get your Schengen visa in your inbox
Print your document and get ready to fly
Why does iVisa.com encourage you to apply in advance?
When you apply in advance, you do not need to worry about the best timing to do so. *iVisa.com will do it for you guaranteeing that you get your visa on time for your trip and with the needed duration. Moreover, you get access to a team of immigration specialists, who will guide you through the process in case you want it.
Do not wait longer, it does not matter if your trip will be in a few months. Get your Germany Schengen Visa for the citizens of Indonesia Apply now
Frequently Asked Questions
Does the Schengen visa have a specific valid duration?
The duration of your Germany Schengen Visa for the citizens of Indonesia is determined by German officials taking into account your profile. When applying for the first time, you will likely get a single-entry visa valid for 180 days. Nevertheless, once you start increasing your trips and respect the time they allow you to be within the country, you can get a multiple-entry one valid for 1, 3, or 5 years.
What is the regular maximum time I can stay in Germany with my Schengen visa?
The maximum time you can visit Germany and the Schengen area is 90 days in a period of 180 days. Honor this rule, so next time you will renew your Germany Schengen Visa for the citizens of Indonesia, you may get a longer valid duration.
Go to the application form and Start NOW
What is the COVID-19 situation in Germany?
Despite Germany being under a severe shutdown. Borders remain open for essential trips (not including leisure journeys, hotels are not allowed to let tourists stay overnight). Travelers who can access Germany must complete and deliver a digital entry application and any kind of COVID-19 negative test result (except antigen) with a maximum 48 hours issued date after departure.
What kind of documents will I require to apply for the Germany Schengen visa?
Certification letter - A letter written and signed by whoever is inviting you to Germany, explaining the reasons for your trip.
Valid Passport - You will be requested to include a copy of your current passport with two blank sheets unoccupied for stamping. Be aware, your passport must be valid for at least 180 days from your expected arrival.
Previous visas -When renewing your visa, attach a copy of your former visas.
Passport Photos - Two passport-size photos with white background. Our specialists will check if they follow official government guidelines.
Flight itinerary - For your visa application and border control, you should show a roundtrip itinerary. iVisa.com seconds the idea that you should purchase your flight tickets, just after your visa is approved.
Bank statements - to prove you can pay for your expenses while in Germany.
Medical Health Assistance - Prepare to acquire reliable health coverage.
Hotel Reservation - If staying at a hotel, you will need to add your reservation
Payment method - Pick one of our online methods: Paypal, debit, or credit card.
Start your application for the Germany Schengen Visa for the citizens of Indonesia:
What is the cost for iVisa.com's services?
iVisa.com's services should not consider a cost, but an investment for more free time and having a pleasant moment while doing your trip arrangements. They will depend on the processing time of your preference:
Standard Processing Time - For

USD 25.00

, you can get your visa in

10 Business Days

Rush Processing Time - For

USD 45.00

, you can obtain your visa in

8 Business Days

.
Super Rush Processing Time:: For

USD 80.00

, you acquire your visa in

6 Business Days

.
Get your Germany Schengen Visa for the citizens of Indonesia, Apply Now
What occurs if I want more information?
If you want or need more information about our procedures or about how to procure a Germany Schengen Visa for the citizens of Indonesia, you can communicate with our Customer Care Agents, who are ready to assist you at any hour, the seven days of the week, no matter the time zone.
Why should I give my confidence to iVisa.com?
Because we have deep experience in the travel documentation field, showcasing our exceptional results in millions of travel documents processed and thousands of happy customers. Their experience with us can be seen Here
iVisa.com Recommends
Want to get a high-quality string instrument? Then you should visit Mittenwald, situated in the state of Bavaria and very close to the border with Austria, at the beginning of the Alps. It is a town in which every detail has been taken care of to the extreme. It is famous for being the oldest in Bavaria and for exposing, despite the time, all the medieval charms. Art is present in its streets, in its inhabitants, and especially in its string instruments (violins, violas, cellos). In fact, It is known all over the world for the high quality of tray making. A must-visit landmark is the violin-making museum or Geigenbaumuseum, a small museum to tour with time and dedication. There you can find many instruments on display, this a really interesting place for those who love music. Prepare to witness a large collection of high-quality instruments made during the Baroque period on Mittenwald. Admissions fees are not higher than € 5,5. You can also go to its small shop where you can get great souvenirs.