Citizens of Iran, who want to go to Germany, need a Schengen visa to enter the country. For them, iVisa.com offers an online service to apply for your Germany Schengen Visa for the citizens of Iran. Our services are dedicated to simplifying your work while our immigration experts ensure everything is aligned with accurate government guidelines.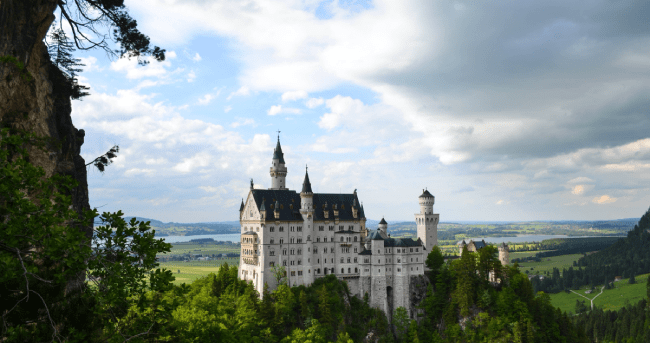 Before starting with the process, you must keep in mind, there are several types of Schengen visas. They differ in their purpose: tourism, medical, recreational events, visiting family) and they can be for single-entry, double-entry, or multiple entries.
Get started your Application Now
Which are the following steps to start processing my travel document with iVisa.com?
Go to our online application form and fill out all your details.
Upload the required documentation.
Select the most-suitable processing choice for you.
Submit your application. Our team of immigration specialists will examine it and notify you if there is a change to be made.
Receive your Schengen visa via inbox
Print your document and get your bags done.
Get started for your Schengen Visa
Why is it more efficient for me to apply in advance?
By applying in advance, you gain more time to prioritize other trip-related matters. You do not have to overthink the best moment to apply since we will do the job for you, including choosing when to apply. You will get your visa exactly for your trip dates. Moreover, through the process, you can receive the assistance of our team of immigration specialists.
The time is now! Apply in advance for your Germany Schengen Visa for the citizens of Iran
Frequently Asked Questions
Has the Schengen visa a particular valid duration?
The duration of the Schengen visa depends on what will consular agents determine about your profile. In most cases, if you apply for the first time, you will acquire a one-entry or double-entry. According to your travel frequency and performance, you can get multiple-entry visa update for a 1, 3, or 5 years term.
Apply now and get your Germany Schengen Visa for the citizens of Iran.
How much time am I allowed to stay in Germany with my Schengen visa?
Every Schengen visa responds to the 90/180 rule, meaning that you are allowed to stay a maximum time of 90 days in a 180 days term. If you follow this rule accordingly, you will increase your odds of obtaining a multiple-entry visa update in your next renewal. Begin NOW
Is there any travel ban in Germany due to COVID-19?
The German Government has placed a strict lockdown within the country. Borders are still unrestricted, but journeys are encouraged just for essential matters, such as business trips. Recreation trips are not permitted. If you can still get into Germany, you must finish and hand out a digital entry application with COVID-19 negative test results (excluding antigen).
Request now your Germany Schengen Visa for the citizens of Iran.
What kind of documents will I require to apply for the Germany Schengen visa?
Certification letter - A document expressing your reasons to visit Germany signed by the one who is welcoming you to the country,
Valid Passport - You will be asked to insert a copy of your present-day passport with two new sheets empty for stamping. This passport must have a minimum of 180 days' valid duration from your awaited arrival.
Previous visas If restoring your visa, include a copy of your prior visas.
Passport Photos - Two passport-size photos with white background. Our specialists will check if they follow official government guidelines.
Flight itinerary - Border control and consular authorities will ask for an itinerary of your trip. For your application, we recommend not buying yet your flight tickets.
Bank Supports - to verify you have enough funds to get around the country.
Medical Health Assistance - You need to obtain decent health international insurance.
Hotel Reservation -include this if you will sleep at a hotel
Payment method - Select how to pay: Paypal, debit, or credit card.
Start your application for the Germany Schengen Visa for the citizens of Iran:
What is the price for processing my Germany Schengen Visa for the citizens of Iran with iVisa.com?
iVisa.com's prices are calculated according to the processing time option you choose. For this matter, an additional USD 90 fee (apart from our service fares) must be paid to the Embassy
Standard Processing Time -

USD 25.00

, obtain your visa in

10 Business Days

.
Rush Processing Time -

USD 45.00

, Acquire your visa in

8 Business Days

.
Super Rush Processing Time:

USD 80.00

, receive your visa in

6 Business Days

.
Get your Germany Schengen Visa for the citizens of Iran, Apply Now
Where are more details available?
If you are looking for more details and information about the Germany Schengen Visa for the citizens of Iran process, feel free to communicate directly with our Customer Care Specialists, who are reachable 24/7
Is iVisa.com providing a high-quality service to be trusted?
Yes, iVisa has been providing travel documentation services for numerous years procuring millions of documents while assisting +1000 happy customers. See Here what they say about their experience with us.
iVisa.com Recommends
Enjoy Oktoberfest in Munich! From the last days of September and usually ending on the first Sunday of October, the most famous beer festival in the world is always held. A holiday that has its origin in the royal wedding celebrated on October 12nd, 1810, between Crown Prince Ludwig I von Bayern with Princess Teresa di Sassonia-Hildburghausen. All citizens were invited to participate in the party that lasted five days, such was its success that it was repeated year after year to this day, now there are more than 200. Nowadays, it is a very social party in which Bavarians share large tables of up to 50 people. On the weekend, there are usually a lot of people so it is better to go during the week. It is recommended to go early, especially if you are not accompanied by Germans and you have not reserved a table. They open the doors around nine, but there are people queuing hours before. You can eat typical Bavarian dishes, such as pork knuckles or schweinehaxe, roast chicken or wiesn-hendl or their famous currywurst.