When preparing a short trip to Germany, some travelers will find out they require a Schengen visa to enter the West European nation. iVisa.com offers a unique and agile online service to help you obtain your visa. Our Germany Schengen Visa Processing Time is fast and intends that you save time and saves complicating your life taking care of it.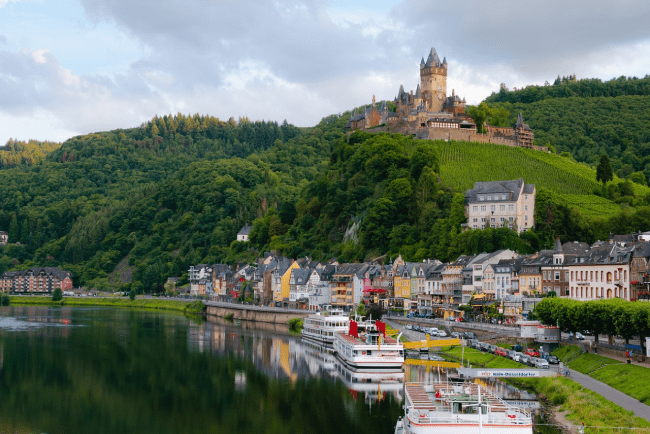 iVisa.com has three available Germany Schengen Visa: Processing Time: the standard one takes 10 business days, the rush one lasts about 6 business days, and the super rush, the fastest one, takes only 4 business days to process your application. Prices vary according to their speed. Our online services offer different choices to enable you to release the stress or anxiety that a trip brings.
Start your Application right now
What is the operation to start my process?
Complete our online application form with all your information details.
Upload all the main and supporting documentation.
Choose the Germany Schengen Visa: Processing Time that adjusts to your preferences.
Send your application, which will be reviewed by our immigration experts.
Get your visa via inbox depending on your selected processing time.
Print your document.
Should I prioritize requesting my visa in advance?
Yes. If you prioritize requesting your document in advance. Later, you will not need to have any concerns about applying for yourself, because our team of immigration experts will take care of this. We will ensure all your information is aligned with government guidelines and is 100% accurate. You will obtain your document on time for your trip.
Frequently Asked Questions
Has the Schengen visa a specific validity?
Yes, and it is determined by the authorities in charge of issuing your Schengen visa. They assess every candidate individually and will assign a specific validity according to his or her background and profile. Regularly, when it is a first-time application, you may get a one or double-entry visa valid for 180 days. Multiple-entry visas with 1, 3 o 5 years duration are usually granted to frequent travelers.
Apply for your Germany Schengen Visa
Is there any specific time I can stay in Germany?
Yes, you will be able to stay in Germany for a maximum of 90 days in a space of 180 days. We suggest you comply with this rule stringently to boost your odds of obtaining a multiple-entry visa on your next visa renewal.
Are there COVID-19 limitations in Germany?
Yes. The country is confined due to the COVID-19 situation. Borders are still open but only essential travel is allowed: citizens and legal residents can come back to the country, people can travel to do business, and other urgent situations. You will be required to show at border control a digital entry form and a COVID-19 negative test.
Do I need a COVID vaccine or vaccination certificate to enter Germany?
No, you don't. As of today, COVID vaccination passports or certificates are not a mandatory to enter Germany. Now if you are a Covid vaccine certificate holder, you won't need to follow a quarantine unless you are traveling from Botswana, Brazil, Eswatini, India, Lesotho, Malawi, Mozambique, South Africa, Zambia, or Zimbabwe. Since information may change quickly, we advise you to follow up on the latest German travel updates and/or contact your local embassy.
What information do I need to provide to procure my Schengen visa?
Certification letter - A letter revealing your motives to visit Germany. It needs to be signed by the person who is inviting you.
Valid Passport - Your passport needs to have a minimum of 180 days' valid duration counting from your arrival. Include a photocopy of this passport with a couple (2) of available sheets for stamping.
Previous visas If not applying for the first time, attach a copy of your former visas.
Passport Photos - Two white background passport-size photos. Our specialists will evaluate if they follow government criteria.
Flight itinerary - Do not purchase your flight tickets until your visa is approved, so include a tentative schedule in your application.
Bank Statements - You need to support yourself if you have money to cover your trip expenses.
Medical Health Coverage
Hotel Reservation
Payment method - we have available: Paypal, debit, or credit card.
What are the prices available according to the Germany Schengen Visa: Processing Time?
As mentioned earlier, our prices are calculated taking into account the Germany Schengen Visa: Processing Time.
Standard Processing Time - Pay a low cost and take your visa in a reasonable time.
Rush Processing Time -, Pay a higher cost and get your visa in a faster time.
Super Rush Processing Time: Pay the most expensive cost and acquire your visa, in the fastest time.
Where can I contact iVisa.com directly?
That's easy! You can communicate with our 24/7 accessible Customer Care Team if you have any questions about the Germany Schengen Visa: Processing Time or the process itself.
Why would I trust iVisa.com with my information?
Our online platform is safe and secure. Years of experience have given us enough expertise to avoid compromising your data security. On the contrary, we have supported thousands of customers and processed millions of travel documents.
iVisa.com Recommends
Go to Bremen, one of the essential German cities to visit. Declared a World Heritage Site by UNESCO and famous for the tale of the Bremen Town Musicians, this is another of Germany's must-see cities. The historical center, which revolves around the Marktplatz, has the impressive Renaissance façade of the Old Town Hall, the Cathedral and the statues of Rolando, and the 4 animals that star in the popular tale of the Grimm Brothers, as its main jewels. From this square, you can start a route to discover Bremen in one day that will take you through places such as Böttcherstrasse and Sögestraße, the charming Schnoor district, and its photogenic windmill, which are some of the most famous places in the city.
Bremen is one of those cities that the Germans would describe as "Schön Klein", something like "the best perfumes come in small bottles". In minutes you can go from a street where you can breathe Art Nouveau to a medieval district or an alternative student neighborhood. Or the same, if you are tired and want to sit on one of the terraces of the promenade along the river and enjoy a Becks, the local beer.