Germany is a country belonging to the Schengen zone, so it means that few nations require a visa to visit it. Still, obtaining this visa online is quite easy. What you should take into account is that *it's not possible to have a Germany Visa Extension online unless you go to the nearest embassy. However, there's a way to get a similar and more important document** as quick and simple as possible.
By using iVisa.com's service, you can save a lot of time and effort to get your German documents before traveling, including the most important: the Schengen Visa.
Remember that at the moment, the only entrants who are allowed into Germany are those who carry valid visas, unless the traveler is from a visa-exempt country. Visas aside, the German government may also require additional paperwork from the traveler to allow entry into the country. One of these is the Health Declaration form. The form is provided by the top health authority in the country where the traveler is from and contains the holder's medical information.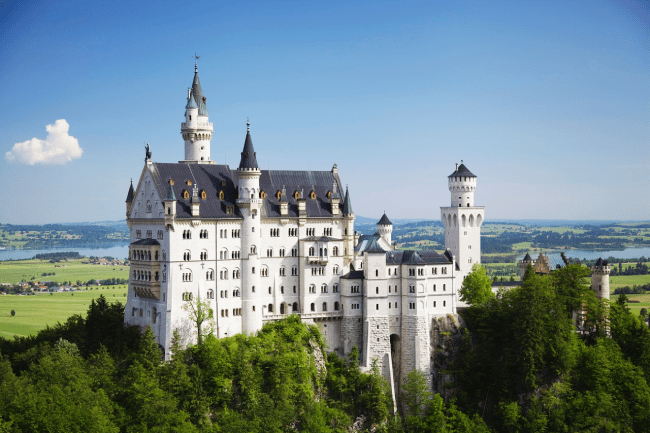 Another document you can use is the Self-Declaration Form'. Unlike the health declaration, this document can be written by the traveler himself. But for the sake of accuracy, it is recommended that travelers get their Self-Declaration Forms online since they may not be well-versed in the terminology used in such documents and their time and money wasted on a document that won't get them into Germany.
This is why requesting documents using iVisa.com is the recommended thing to do, especially if you don't want to waste any time or money. Using iVisa.com services virtually guarantees that you get the correct document and it practically ensures entry into the country.
Frequently Asked Questions
Why do I need to apply for a visa to enter Germany?
Since Germany is one of the countries with the highest number of tourists on a yearly basis, it's understandable that the German government needs to ensure that all of the travelers who want to enter the country are qualified for entry. This is an important step to take care of everyone's security, including yours.
At the moment, there are no visa-exempt countries when entering Germany. All travelers are required to show their visas as soon as they arrive.
Can I apply for my Schengen visa with iVisa.com?
You must know that we don't offer you a Schengen visa at once, we only provide you the previous steps so you can save a lot of time. We offer you the official Germany Visa Application Form and a Preparation Guide for the Interview when receiving the visa.
Please, consider that it could be a small chance of having a denied visa when having the interview but that would depend on the authorities' requirements and other personal circumstances. You should get your Schengen visa for sure by following the recommended steps and using our service properly.
Is there any requirement needed to get a Germany visa or Health Declaration?
Yes, it's necessary to have a list of documents on hand before applying online. The good thing is that these documents are easy to get, so it won't be a major obstacle in your process. If you apply for the visa, you'll need:
Your valid passport and a scanned copy of it
A valid email address to receive all the information about the process.
Printed Government Application, which you'll get via email from us.
A printed confirmation of the interview appointment you scheduled.
Payment option to pay for the service before sending the online form (Paypal or debit/credit card)
2 recent photos with a white background. You can use iVisa.com's Photos for this.
Bank statements for the last 3 months.
Hotel reservation or invitation letter.
Medical Insurance with a coverage of at least 30,000 Euros.
In the case of the Health Declaration, you'll need almost the same, but if you're from a visa-exempt country, then you won't need to offer more than a valid email address, your passport with the scanned-copy and the payment method to pay for the fees.
What are the processing times and prices for the Germany Visa?
To obtain your Germany Visa, you must take into account the following prices and processing times, because that way you'll only have to choose the one that best suits your needs
Standard Procedure Option – This option allows you to have your interview in

10 Business Days

if you pay

USD 25.00

(fees included).
Rush Procedure Option – You'll obtain your Interview appointment in

8 Business Days

, by paying

USD 45.00

(all fees included).
Super Rush Procedure Option – This time, you'll get your interview appointment in

6 Business Days

if you pay

USD 80.00

.
Get ready for your trip by applying for your visa here.
How can I apply for my Germany Visa Extension?
As we stated before, you can only get a Germany Visa Extension by going to the nearest embassy, but you can apply for a Germany Visa with us with an online process that accelerates the interview. These are the steps to get your interview as soon as you need:
First, apply for your visa on this link and answer all the questions that appear in the initial questionnaire. Next, select your procedure option.
Second, check that all the information you gave is alright and with no mistakes. After that, you can pay for your interview appointment.
Third, attach the documents required for the process and send the online form.
Once you complete the 3 steps, stay alert to your email because you'll receive your interview appointment and all the remaining instructions this way.
Why should I get my documents with iVisa.com?
Using online services is always easier than doing it all by yourself. By going to official government offices, you need to spend a lot of time with the required paperwork. That means that you will have to go through queues and a lot of stress while waiting for the paperwork to be available. Getting travel documents through a tried and tested service like iVisa.com means that you will only have to get your computer, go to the iVisa.com website, and request for the document there. Then you just have to wait for the processing time to be over and get the document through email.

There's no need for you to waste valuable time navigating queues and lines in order to speak to a clerk and request for the documents. And aside from being able to use the time for more useful pursuits, you won't need to be stressed with waiting for the request. Also, using iVisa.com means that you'll get the document with all the correct information, thereby virtually ensuring that you will be able to enter Germany without any trouble.

If you apply with iVisa.com, you'll surely know what's the best document for you to have before entering Germany, so you won't waste time in vain searching for information that could be wrong.
How safe is to use iVisa.com?
With iVisa.com, you're using a safe service that won't risk your personal information! We are considered a professional company with an excellent team that will process your application form as fast as possible with a modern system. You can read our reviews on this link if you're unsure about it.
Where can I get more information about my Germany Visa Extension?
Visit iVisa.com for more information on all travel documents and requirements. You can also email us at [email protected] for any concerns.