There are many secrets you can find in a country with as much history as Germany, and these secrets can be exciting, especially when it comes to a long-awaited sightseeing trip. Despite the COVID-19 pandemic, you can now get your Health Declaration to enter Germany without complications. Besides, it's possible to apply for this Germany 14 day quarantine requirement just by applying online. This service is available on iVisa.com and it will only take you a few minutes to complete.
The online process is effortless and it will help you save yourself any issues at the airport. Don't forget that the idea of ​​traveling is to fully enjoy the destination and keep precious memories when you return home.
By reading the FAQs below, you'll know exactly what to do and how to apply for the Health Declaration in a few minutes.
Note: Since March 2022, the German Digital Registration on Entry is no longer necessary to enter the country.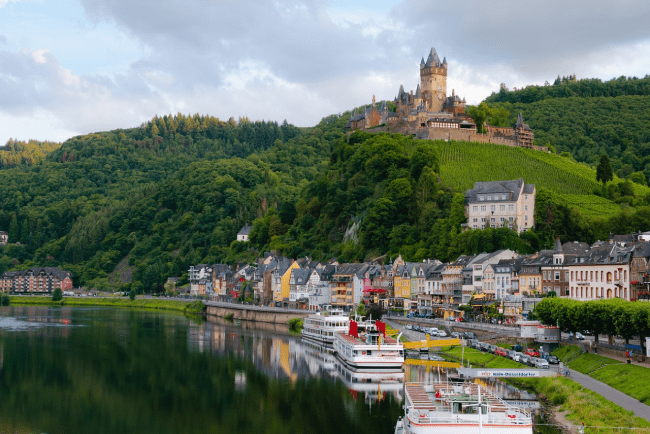 Frequently Asked Questions (FAQs) you should know before applying
What is a Germany Health Declaration?
The Health Declaration is a document recently released in Germany to be able to enter the country following the general regulations about the COVID-19 pandemic.
As you know, this pandemic has been a challenge for many nations. Therefore, documents like the Health Declaration are important to acquire before planning a travel.
Remember that if you don't apply for the Germany Health Declaration, you could have problems at the airport, including a denied entry.
Do I need a COVID vaccine or vaccination certificate to enter Germany?
Yes. COVID vaccine or vaccination certificates are required to enter Germany. Only travelers coming from EU countries, Switzerland, Liechtenstein, Norway, Iceland, Hong Kong, Indonesia, Macao, New Zealand, South Korea, Taiwan, and China are exempted from all covid entry requirements.
Since information may change quickly, we advise you to follow up on the latest Germany travel updates and/or contact your local embassy.
Do I need to take a PCR COVID-19 Test before traveling to Germany?
COVID test prior to arrival: PCR or antigen test taken within 48 hours.
COVID test exemptions: Children under 6 and fully vaccinated travelers.
Note: Children under the age of 12 who are not vaccinated can enter the country with proof of a negative test result (PCR test or antigen test) when accompanied by at least one fully vaccinated parent.
Do I have to quarantine when I get to Germany?
Quarantine requirements: There are no quarantine requirements.
What documents are required to apply?
You'll be happy to know that this document can be easily obtained through an online application, and it means that you don't need to go to an embassy at all. However, you still must meet some requirements before applying. These are:
A visible and valid scanned copy of your passport
Valid email address.
Valid payment option. You can pay for this Health Declaration with Paypal or credit/debit card.
How much does it cost the Germany Health Declaration?
If your main question is how much does it cost the Germany Health Declaration, then you should know that it doesn't have an official price yet because it's not an available document through a Government website. However, if you apply with iVisa.com, you'll be able to apply fast but paying a small fee. The good thing is that iVisa.com has 3 options according to how soon you need your Health Declaration:
Standard Processing: 24 hours - with this alternative, the average price is USD $26.49.

Rush Processing: 4 hours - this time, the price could be USD $46.49.

Super Rush Processing: 30 minutes - this option is the most expensive because it's the fastest. It has an average price of USD $74.99.
Learn how to apply online for your Germany 14 day quarantine requirement
Since this document can be obtained online, you can apply from anywhere around the world. If you apply with iVisa.com, you'll only have to complete this 3-step method:
First, write your basic information in the online questionnaire and select your processing time as well to confirm.
Second, be sure that all the information you gave before is well-written and with no mistakes. In this part, you can use your credit/debit card or Paypal account to pay for the service.
Third, upload your requirements carefully and click on the submit button as soon as you finish.
Once you complete the uploading and send the online form, you just have to wait for your Health Declaration to arrive in your inbox with a QR code.
Remember that you can also apply for family members or friends, but for this, you need their valid information. You can also click on "add new applicant" while filling in your online form to add more people, but this is only in case you're traveling with them.
How much time do I need to apply?
You can easily spend only 20 minutes filling in your online form since this is an effortless process. In case you have any issues while completing it, you can contact our customer service.
How will I get the Health Declaration?
The QR code you receive via email is as important as the Health Declaration confirmation. We always advise you to download the QR code on mobile or print it. This way, it can be a lot simpler for you to enter Germany.
As soon as you land in Germany, the Immigration officers will take a look at your documentation, and that includes the QR code, so ensure to show them this properly. After the code is verified through their system, you'll be able to continue with your travel arrangements with no stress. Remember to take the 14-day quarantine, that's the most important thing to do there.
I'm traveling with my children, what should I do in this case?
The Germany Health Declaration is not only for adults, children also have to apply for this document. It's essential that every foreign citizen have it to preserve everyone's health and avoid spreading the COVID-19 virus. Keep in mind that if you have questions, you can contact our customer service, we'll be glad to help you with any doubt.
Is it safe to apply with iVisa.com?
In iVisa.com, we take safety seriously. That's why we have modern software that allows you to obtain an excellent result for an affordable price. We work hard with all the proper tools to keep you safe, so all the information you watch and offer on our website can't be leaked. If you're unsure about this matter, you can always take a look at our reviews here.
Where can I get more information?
You can always reach out to our customer service to get personal attention if you have doubts or other problems about this online method. You can also receive more details or extra information on iVisa.com's website.
Apply for your Health Declaration now! and relax about your next trip to Germany. By taking advantage of this service, you won't need to worry about special conditions related to the COVID-19 while planning your dream trip.