The Ministry of Health of Germany has made it possible for residents to have PCR testing available. According to where you're, you can access a free rapid test per week and have PCR testing options for free, as well. Remember that the options available can change according to your current location. You can book an appointment to get tested through an online portal or by phone.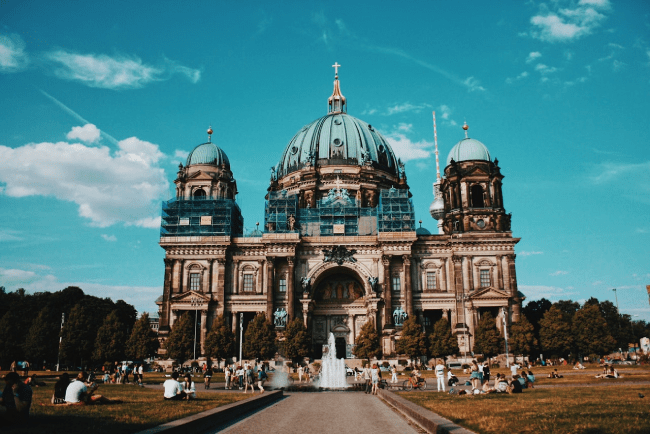 In case you want to travel soon to a destination outside Germany, check the alternatives you have in terms of PCR testing in Frankfurt, Germany. We can confirm that there are test facilities at Frankfurt airport, which are available for travelers. You will need to pay a fee to access this service. According to where you want to go, you will need to have a Health Declaration. It's simple to acquire it. Check your options in the following lines.
Visitors thinking about Frankfurt as their next destination need to confirm the current health guidelines. First, they need to complete the German Digital Registration on Entry. This document is mandatory, and it helps authorities control the COVID-19 pandemic. A PCR test isn't mandatory, but there could be a quarantine mandate for certain countries.
Keep checking all about PCR Testing in Frankfurt, Germany.
How can I get a PCR test in Frankfurt, Germany?
The German Government has displayed testing centers all over the country, including Frankfurt. There is a specific portal in German created by the Ministry of Health, where you can book your covid test. Also, you can call 116 117 to discuss with health authorities your options for PCR testing. According to the testing center you choose, you may have to pay. This situation will depend on the specific circumstances in which you want to get tested.
We have all the information you need about PCR Testing in Frankfurt, Germany.
Which countries are considered high-risk areas?
High-risk areas: Andorra, Angola, Argentina, Australia, Bahamas, Bahrain, Barbados, Belarus, Belgium, Belize, Bolivia, Botswana, Burundi, Cabo Verde, Cameroon, Canada, Comoros, The Democratic Republic of the Congo, The Republic of the Congo, Côte d'Ivoire, Croatia, Cyprus, Czech Republic, Denmark, the Faroe Islands, Greenland, Dominica, Egypt, Estonia, Eswatini, Ethiopia, Fiji, Finland, France, Guadeloupe, Guiana, Martinique, Mayotte, Réunion, Saint Barthélemy, Saint Martin, Gabon, Georgia, Ghana, Greece, Grenada, Guinea, Haiti, Hungary, Iceland, Ireland, Israel, Italy, Jamaica, Jordan, Kenya, Kuwait, Laos, Lebanon, Lesotho, Libya, Liechtenstein, Lithuania, Luxembourg, Malawi, Mali, Malta, Mauritania, Mexico, Monaco, Montenegro, Mozambique, Namibia, Netherlands, Aruba, Curaçao, Bonaire, Sint Eustatius, Saba, North Korea, Nigeria, Norway, Panama, Papua New Guinea, Poland, Portugal, Qatar, Russia, Rwanda, San Marino, Seychelles, Sierra Leone, Slovakia, Slovenia, South Africa, South Sudan, Spain, Sudan, Sweden, Switzerland, Syria, Tajikistan, Tanzania, Togo, Trinidad and Tobago, Turkey, Turkmenistan, Uganda, Uruguay, The United Arab Emirates, the UK (all British Overseas Territories, Isle of Man and the Channel Islands), United States of America, Venezuela, Vietnam, Yemen, Zambia, Zimbabwe, Albania, Antigua and Barbuda, Austria, Benin, Bosnia and Herzegovina, Bulgaria, Burkina Faso, The Central African Republic, Chad, Colombia, Costa Rica, Djibouti, The Dominican Republic, Eritrea, Equatorial Guinea, Saint Pierre and Miquelon, The Gambia, Guinea-Bissau, Guyana, Latvia, Liberia, Madagascar, Sint Maarten, The Niger, North Macedonia, Peru, The Philippines, Saint Kitts and Nevis, Saint Lucia, Saint Vincent and the Grenadines, Sao Tome and Principe, Senegal, Serbia, Somalia, Suriname, Algeria, Bhutan, Brazil, Chile, Ecuador, India, Japan, Kazakhstan, Kosovo, Maldives, Moldova, Mongolia, Morocco, Nepal, Paraguay, Romania, Saudi Arabia, TunisIa, Uzbekistan.
Do I have to quarantine when I get to Germany?
Quarantine requirement- unvaccinated arrivals from high risk areas only: 10 days with PCR on day 5.
PCR testing for travelers from Germany
In case you want to travel abroad with your German passport, check what travel requirements you must have. Most destinations are requesting PCR tests for incoming visitors. In other words, make sure to take your covid test before your trip. As mentioned, you can check with local health authorities, your alternative to get a free-of-charge test.
We can confirm you have testing centers at Frankfurt airport that offer PCR testing for travelers. You will need to pay for the test. However, this availability is perfect if you're traveling soon.
Also, you must apply for a health declaration before your trip. This declaration helps authorities to have the latest information about your health status.
PCR Testing in Frankfurt, Germany is possible! Check the Ministry of Health page for more details.
PCR testing in Frankfurt, Germany for foreign visitors
The German Government has made sure to have health protocols for anybody traveling to Frankfurt. Check them out:
Obtain the German Digital Registration on Entry before landing in Frankfurt. This health document is essential for health authorities. The process is simple with iVisa.com. Let our team help you with the procedure.
You don't need negative results from a PCR test before traveling. However, if you come from a high risk area, you will need to present those negative results to your airline before boarding. Check the list of high-risk countries on the Ministry of Health page.
There isn't a mandatory quarantine in place. However, travelers from Botswana, Brazil, Eswatini, India, Lesotho, Malawi, Mozambique, South Africa, Zambia, Zimbabwe must self-isolate for 10 days upon their arrival.
Remember that all these health measures want to keep you and the German population safe from coronavirus.
PCR testing in Frankfurt, Germany, is available for residents and travelers. Check all you need to know with iVisa.com.