If a Saudi Arabian citizen intends to fly to Germany, he/she will have to apply for a Schengen visa to enter the West European nation. This process can be time-consuming, so iVisa.com has created a fast-track online service to procure your Schengen visa, minimizing your effort and saving you time.
iVisa.com strives to give you an easy process to obtain Germany (Schengen) Visa - Saudi Arabian citizens. However, before proceeding, you should know there are 5 different Schengen visas, distinctive for the travelers' plans: traineeship, tourism, business, medical assistance, cultural or sports events attendance). Additionally, it can have a different entrance allowance: single-entry, double-entry, or multiple-entry.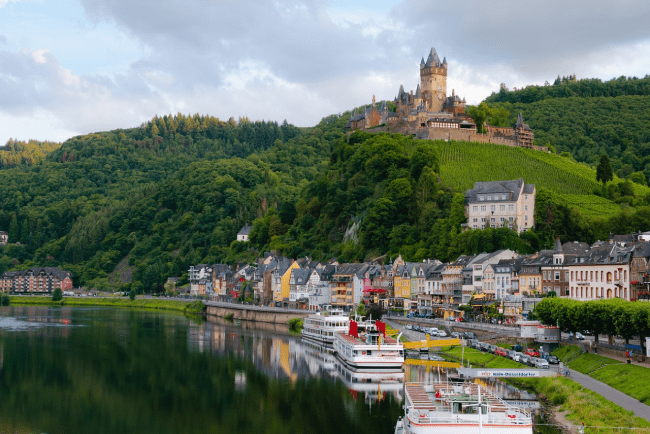 What are the steps to procure my Schengen visa with iVisa.com?
Fill out our online form.
Attach every document requested.
Define your favorite processing speed.
Send your application to be assessed by our team of specialists.
Wait for your Schengen visa to arrive in your inbox taking into account your selected processing speed.
Print your document and fly to Germany.
What are the benefits of applying for your Schengen visa in advance?
Applying in advance liberates you from stress and anxiety. When you leave this task in our hands, we will ensure you get your document on the perfect date for your trip. You can stop worrying about this visa procedure and start prioritizing your other life concerns. Furthermore, our team of immigration specialists will assess your application guaranteeing everything is in place.
Begin your application for Germany (Schengen) Visa - Saudi Arabian citizens
Frequently Asked Questions
Can I stay in Germany as long as I want?
No. First of all, the valid duration of the Germany (Schengen) Visa - Saudi Arabian citizens is not the same for everyone. Consular executives will establish this depending on each person's profile. First-time candidates will receive a visa with one or double-entry. The multiple-visa for 1, 3, or 5 years are given mostly to frequent travelers with a good behavior track.
What is the longest time I can stay in Germany?
The longest time you can stay in German is 90 days out of a period of 180 days (This is the so-called 90/180 rule). We recommend you to follow this rule strictly to gain higher possibilities to get a multiple-entry update up to 5 years validity when you will renew your Schengen visa.
Has Germany's government activated COVID-19 travel regulations?
Yes. The German government has established COVID-19 regulations like presenting a digital form and a COVID-19 negative test at the border, plus self-isolate for 10 days if coming from a red zone. A travel ban has not been imposed, but only essential journeys are permitted. Tourist visas are not being issued and hotels cannot accept tourists.
Which is the detailed list of required documents to process the Germany Schengen visa?
This is a detailed list of documents to secure the Germany (Schengen) Visa - Saudi Arabian citizens:
Certification letter - A note displaying your journey intentions signed by whoever is requesting your visit.
Valid Passport - Your current passport must have at least 180 days validity after your entry. Attach a copy of it with two clean pages to be stamped.
Former visas For renewals, add a copy of your past visas
Two Passport Sized Photos - ensure they have a white background. Our specialists will check the alignment with government compliance. passport-size. iVisa.com's experts will check if they follow government standards.
Flight Program - When applying for your visa, we propose inserting a copy of your proposed itinerary. After so, you can buy it and keep a copy to present to border control.
Bank Supports - to confirm you hold adequate financial resources for your entire visit.
Medical Health Coverage - Consider purchasing good health international insurance.
Hotel Reservation
Payment method - You can pay us with: Paypal, debit, or credit card.
What is the cost for iVisa.com's services?
iVisa.com has three service fares:
Standard Processing Speed - Get your visa in

10 Business Days

paying

USD 25.00

.
Rush Processing Speed - Secure your visa in

8 Business Days

for

USD 45.00

.
Super Rush Processing Speed - Obtain your visa in

6 Business Days

for

USD 80.00

.
Prepare to pay for an extra USD 90 fee for the embassy (aside from our service fare).
How can I get in touch with iVisa.com if I wish for further details?
To get more information and details about iVisa.com's operation or Germany (Schengen) Visa - Saudi Arabian citizens procedure, please reach the team here. They will answer quickly, no matter the time or day of the week.
Can I lean on iVisa.com's experience to offer high-quality support?
Yes, indeed. iVisa.com's experience has been gained throughout the years, serving thousands of clients with our online processing services that have brought millions of travel documents Check our customers' testimonials.
iVisa.com Recommends
Visit Heidelberg, a city situated in the beautiful valley of the River Neckar, in the middle of a fairytale forest and dominated by an imposing ruined castle. This university city will take you back several centuries as you walk through the narrow streets of the old town and cross its famous Old Bridge. Its tourist attractions include the oldest university in Germany, the Hauptstrasse pedestrian street, the Philosophers' Promenade, the Marktplatz, Kornmarkt and Karlsplatz squares, the Church of the Holy Spirit, and the funicular ascent to the castle to enjoy panoramic views.
The most recommendable thing to do is, without a doubt, to visit the curious old Student Prison. This jail functioned from 1823 and for almost one hundred years. This jail held students who committed minor offenses and was sanctioned by the authority of the university itself. The graffiti and drawings that cover the walls and ceilings of the old cells will draw your attention. In summer, like in other European cities, many cultural events take place in Heidelberg. The most famous is the Heidelberg Castle Festival, where any show is worth attending.