In case South African Citizens desire to go to Germany, they have to obtain the Germany (Schengen) Visa - South African Citizens. At iVisa.com, we are aware this process can be tedious and complicated, so we have created an online, simple, and efficient service to get your Schengen visa effortlessly, without wasting energy.
Our online process for the Germany (Schengen) Visa - South African Citizens is simple to implement. Nonetheless, it is important for us that you know the basics of a Schengen visa. This one has five kinds according to the purpose of the travelers' visit: business, medical support, recreational events attendance, tourism, and traineeships. It also differs in the number of entries travelers are allowed single-entry, double-entry, and multiple-entry.
Start your Schengen application now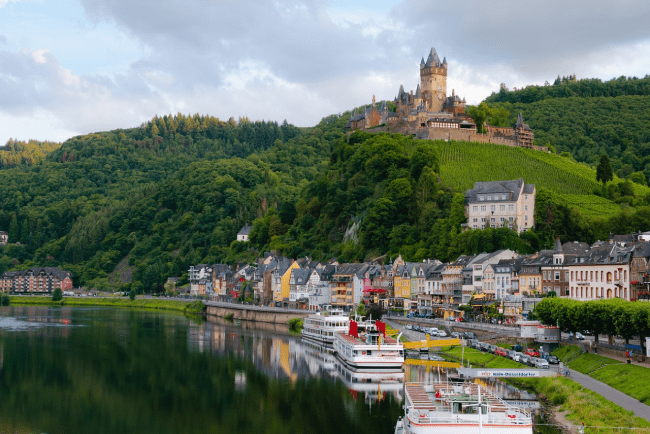 What actions should I make to secure my Schengen visa with iVisa.com?
Access our online form and fill out all the requested data.
Upload the required documentation.
Pick your desired processing speed choice.
Submit your application for our immigration experts' evaluation.
Receive your Schengen visa in your inbox
Print your document
These are all the simple steps you need to implement to obtain the Germany (Schengen) Visa South African Citizens Apply now!
What are the advantages of requesting your travel document in advance?
When you request your visa in advance, you leave this important task to our team of experts. They will secure your visa process, evaluate your application, and suggest changes if they are necessary. You get to release stress and anxiety and get to know the status of your application anytime.
Go to our application form and start now
Frequently Asked Questions
For how long is my Schengen visa valid?
The validity of the Germany (Schengen) Visa - South African Citizens is determined by consular and embassy officials, who analyze every individual profile and background and set for them a valid duration. However, there is a trend in which first-time candidates acquire a one or double-entry visa, while frequent travelers obtain a multiple-entry visa for 1, 3, or 5 years.
Is it possible to spend the entire duration of my Schengen visa in Germany?
No. The time you can spend in Germany or the Schengen zone is always defined by the 90/180 rule: In 180 days, you can stay a maximum of 90 days. Keep this in mind: if you stick to it, you can get better odds to acquire a multiple-entry later on.
Are there entry restrictions to Germany due to COVID-19?
Yes. Even though borders are not locked or closed, only essential travel is allowed. Tourists cannot visit the country or stay at hotels, either the Government is issuing tourist visas. Business trips are possible, and citizens and legal residents can enter the country. To do so, everyone must hand over an entry registration and a COVID-19 negative test result taken at least 48 hours after departure.
What is the complete list of documentation to secure the Germany (Schengen) visa - South African citizens?
The complete list of the documents to procure the Germany (Schengen) Visa - South African Citizens is the following:
Certification note - A letter explaining your travel purpose. This letter must be endorsed by whoever is inviting you
Valid Passport - Your passport must possess a minimum validity of 180 days counting from your arrival date. Please upload a copy of two unused pages to stamp.
Previous visas To renew, include one photocopy of each of your former visas.
Two Passport-sized Photos with white background
Flight itinerary - For your application, include your flight itinerary. Once you get your visa approved, you can purchase this and bring a copy with you for border patrol.
Bank Statements - to show that you have sufficient financial funds for your trip.
Medical Health Coverage - Buy proper health insurance.
Hotel Reservation
Payment method - You can cover our services using: Paypal, debit, or credit card.
How much do I have to pay to access iVisa.com's services?
iVisa.com has three service fees determined based on our processing times: You will need to cover an added USD 90 fee for the embassy
Standard Processing Time - Obtain your visa in

10 Business Days

for

USD 50.99

.
Rush Processing Time - Acquire your visa in

8 Business Days

paying

USD 51.99

.
Super Rush Processing Time - Get your visa in

6 Business Days

, paying

USD 138.99

.
Where can I go to obtain more information?
We count on a Customer Support Team available 24/7 who can provide you with more information about our procedures or Germany (Schengen) Visa - South African citizens process.
Can I trust iVisa.com's experience?
Yes, through these years, iVisa.com has built a strong reputation backed up by our thousands of satisfied customers and our millions of processed documents. Read our customers' experience here.
iVisa.com Recommends
Enjoy the Munich Experience! Munich is the capital of southern Germany and the rich region of Bavaria, it is known for being the site of the popular Oktoberfest beer festival and one of the most beautiful cities in Germany. Stroll through its historic center until you find the Marienplatz and its fantastic town hall, wander through Viktualienmarkt food market, taste hearty Bavarian food accompanied by a large mug of beer at the historic Hofbräuhaus Brewery, take a romantic walk through the Englischer Garten, discover the rooms of the royal palace Residenz or climb to the top of the Church of St. Peter.
Munich was one of the cities most involved in the Nazi movement and has several buildings in which the traces left by that tragic time are still present. A good option to visit these places and learn more about the history is to book the Third Reich tour, considered one of the best excursions in Munich. Finally, we suggest eating a traditional Bavarian dinner, where you can try pork knuckle and apple strudel, which are delicious.
Among the most recognized museums are the Museum of Modern Art and the Städel, which house thousands of paintings by renowned painters such as Monet, Van Gogh, Picasso, and Dürer, among many others. It is also known for its typical drinks, such as Ebbelweï, a very strong cider. In Frankfurt, jazz brightens up its streets and there is no other place that has the level that it reaches there.