Citizens of Thailand who wish to travel to Germany will need a Schengen visa to enter the European nation. iVisa.com has created an online, quick and effective service to process your Schengen visa. Just leave this in our hands, and our team of visa specialists will assist you.
Our online service for the Germany (Schengen) Visa - Thailand Citizens is composed of easy and manageable steps. Before delving into these, you must be alert that Schengen visas can range from entry allowance (single, double, or multiple-entry visa) and the purpose of your trip (tourism, business, medical assistance, traineeship, and family visit)
Start your Application right now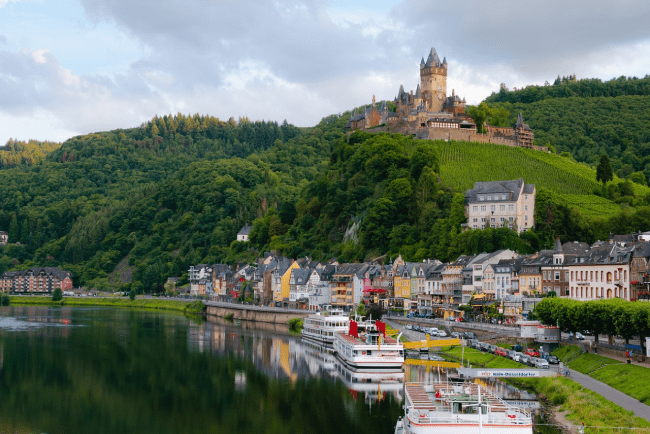 What are the manageable and simple steps for this process?
The easy-to-follow steps of Germany (Schengen) Visa - Thailand Citizens process are:
Complete your information details in our online form
Upload the documents our platform requires. They will be used to back up your application.
Decide your best-suited processing time alternative.
Send your form to our immigration specialists for assessment.
Wait to receive your Schengen visa in your email.
Print your document.
Should I consider applying in advance?
Yes, you should apply in advance and discharge your travel concerns. We can take care of this process by selecting the best timing to send your application. We guarantee you will get your Schengen visa ready for your travels. Besides, you will have more time to invest in other fundamental trip-related activities like getting your COVID-19 test and dealing with last-minute details.
Frequently Asked Questions
What is the Schengen visa validity?
Not every Schengen visa has the same validity because consular officials are the ones who determine this. Though, in most cases, first-time candidates will be granted a single or double-entry visa. Multiple-entry visas for 1, 3, or 5 years are usually acquired by frequent travelers who stay in the country or the Schengen area during the strictly allowed time.
Get the Germany (Schengen) Visa - Thailand Citizens
What is the maximum allowed time I can spend in Germany?
The maximum time you can spend in Germany is 90 days in a period of 180 days (the 90/180 rule). As stated before, by obeying this precept rigorously, you can get a greater chance to obtain a multiple-entry visa in your next visa renewal.
What are the COVID-19 entry restrictions in Germany?
Germany is under a strict lockdown, and non-essential voyages (such as vacations) are not allowed. Yet, trips with other purposes, such as business, emergency, and so on, are still possible. Those travelers will require a COVID-19 negative test result alongside an entry form registration to access the country. Depending on their departure country, they will also need to self-isolate.
What information or documents am I required to have ready to start my application?
These are the documents that need to be ready to apply for the Germany (Schengen) Visa - Citizens of Thailand Citizens:
Certification note - A letter describing your journey's objective. This one has to be supported by the person welcoming you to Germany.
Valid Passport - Your passport must maintain at least a validity of 180 days during your stay. Attach a copy of this and a photocopy of two brand-new pages for stamping.
Past visas When renewing your visa, attach one photocopy of your previous visas.
Two photos with white background and in passport size
Flight itinerary - For your application, add your flight itinerary. After your visa approval, buy your tickets and take a photocopy with you since you will need to show it to get access to Germany.
Bank statements - to prove you have enough money for your entire trip
Medical Health Insurance
Hotel Reservation
Payment method - We accept Paypal, debit, or credit cards.
What are iVisa.com's charges to access its online service?
iVisa.com charges depend on the time you would like to process your document.: Be aware that apart from our charges, you will require to pay an extra USD 90 fare for the embassy fee
Standard Processing Time Alternative - Secure your visa in

10 Business Days

for

USD $61.99

.
Rush Processing Time Alternative - Obtain your visa in

8 Business Days

for

USD $102.99

.
Super Rush Processing Time Alternative:: Acquire your visa in

6 Business Days

, for

USD $150.99

.
How can I get in touch with iVisa.com?
If you want to get in touch with us for more information about our policies, procedures, or regarding the Germany (Schengen) Visa - Thailand Citizens, communicate directly with our Clients Support Team which is available 24 hours a day, seven days of the week. Even if it is a holiday.
Can I believe iVisa.com offers a professional service?
Yes, our professional service is all about results. We have not just secured millions of travel documents, we have also served +1000 clients all around the world. Our services are offered in every corner of the world, and all of them are delivered efficiently.
iVisa.com Recommends
Go to Frankfurt and enjoy this wonderful city! In addition to being one of the financial centers of the country and the headquarters of the European Central Bank, Frankfurt has several compelling reasons for being among the most beautiful cities in Germany.
After landing at the Frankfurt International Airport you can enjoy a fantastic weekend discovering a city that harmoniously combines a beautiful old town with skyscrapers and more modern buildings and after marveling at the colorful facades of Römerberg Square, visit the Collegiate Church of St. Bartholomew, stroll along the bank of the Main river, cross the Iron Bridge to visit the Sachsenhausen Quarter and climb the Main Tower skyscraper to watch the sunset, taste a tasty Frankfurter Würstchen sausage accompanied by a good mug of beer. Not far from Römerberg stands the huge Gothic-style tower of St. Bartholomew's Cathedral (Kaiserdom St. Bartholomäus). It is the largest and most important sacred temple in Frankfurt and, if it already impresses you from the outside, wait until you climb to the top of its tower to take in beautiful views of the city.