You can find a variety of unique experiences that will suit all possible tastes in Germany, no matter what you are looking for: beautiful landscapes, historic German architecture, vibrant festivals, exciting nightlife, hearty food, and the best beer in the world. Germany has it all and more.
Continue reading to find out our top 12 things to do in Germany. Also read our ultimate guide to Germany for more info about Germany visa requirements, the best time to visit, and other things you should know before you go.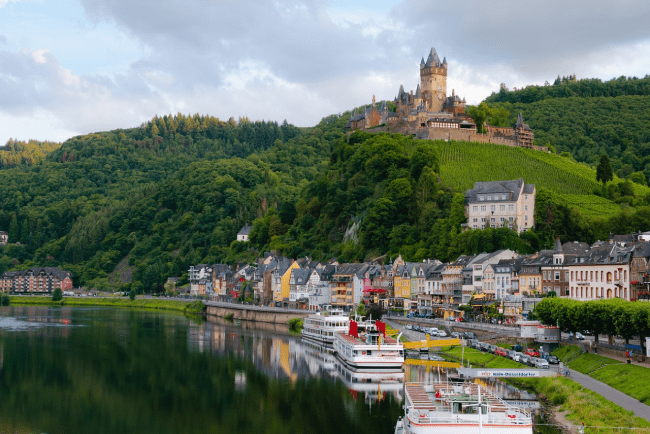 Best things to do in Germany
Trying to list all the reasons why visiting this country is worthy would be impossible. That's why we've shortlisted a wide range of top tourist attractions you can't miss on a trip to Germany.
1. Enjoy the diverse nature
Germany is home to a wide variety of natural landscapes, from the mainland to the islands. Among the most popular is the Black Forest in Southern Germany, featuring stunning natural beauty that includes forests, hills, lakes, meadows, and pastures.
Another stunning destination is Jasmund National Park, located on Rügen Island, famous for the great chalk cliffs along its coastline. A few days of relaxing in Berchtesgaden National Park, a peaceful mountain retreat, is a must if you're headed to Munich for Oktoberfest or Salzburg in Austria.
These areas boast many hiking and mountain biking trails to enjoy all that German nature has to offer. Additionally, the numerous campsites throughout the country are equipped with all the comforts you need and fun activities for both adults and children. Visit the website of park4night to find the best ones.
2. Visit the Holocaust Memorial
The Holocaust Memorial is located just south of the Brandenburg Gate in Berlin, and is unlike any other memorial. It does not display names, dates or other visuals, and you don't need these to feel the dread and darkness experienced by Jews during World War II.
Instead, it consists of 2,711 concrete slabs of different heights arranged in rows separated by narrow, irregular paths. This venue is free to access day and night, but if you want to reflect in solitude, go first thing in the morning or just after dark.
3. Feel like royalty at Neuschwanstein castle
The fairy tale castle of Neuschwanstein, perched on a hill with a backdrop of mountains, is a sight to behold. This castle is said to be the model for the Disney logo and castles. Built as a retreat for King Ludwig II, the beautiful structure is one of Germany's most popular attractions and one of the most visited castles in Europe.
4. Get local at a biergarten
Oktoberfest isn't the only time Germans drink copious amounts of beer around long wooden tables. Biergartens (or "beer gardens" in English) open as soon as the cold season starts to disappear. You usually can find one around any city's main square or at the nearest brewery.
Also try some of the food that pairs well with German beer, such as Bratwurst (sausage), Brotzeit (bread platter), Brezeln (soft pretzel), Flammkuchen (thin-crust pizza), or Hendl (half a chicken).
5. Experience a techno party
There's a reason Berlin's club scene is famous around the world. This city redefined techno so dancing the night away on a getaway to Berlin won't be a problem.
Most clubs are located near each other along the banks of the River Spree, from KitKat, to Watergate, and exclusive Berghain. Remember to do as the locals do: wear casual clothing (preferably black), leave your heels at home, and don't show up drunk.
6. Visit a theme park
In Germany, there are numerous theme parks scattered throughout the country. These theme parks are ideal for visiting in the warmer months and an excellent idea when visiting family.
Europa Park is undoubtedly the best amusement park in Europe and the second largest (after Disneyland Paris). It attracts almost six million visitors annually and boasts several world-themed zones, including Austria, Luxembourg, Ireland, Italy, and more. Get your thrill on at one of the 12 iconic roller coasters!
7. Discover the most iconic cities
Germany has a wide variety of beautiful, famous, and historic cities. Among the most interesting are:
Berlin: A multicultural, multifaceted, and historical destination bursting with iconic landmarks such as the Brandenburg Gate. It is also the place to visit the remnants of the infamous Berlin Wall, now adorned with thought-provoking art and messages.

Munich: You cannot miss the capital of Bavaria and its new town hall. This is the location of the annual Oktoberfest, which roots dates back to more than a century ago.

Cologne: You can't miss the amazing Cologne cathedral, the tallest church in the world with twin-spires. It is the largest Gothic church in Northern Europe and Western Germany.

Heidelberg: Visit an incredible castle and enjoy the vibrant university atmosphere of the city.

Hamburg: Modernity and tradition unite in this city. Don't miss the Speicherstadt, the largest warehouse district in the world, where buildings stand on timber-pile foundations.
8. Visit one of Germany's 6,000 museums
Museums are always a good idea to visit whenever you're wanting to know more about any country. Among the destinations with the best museums, Berlin stands at the top. Museum Island is a UNESCO World Heritage Site, and is full of diverse history, culture, and art museums. Other museums include extensive information on World War II, German history, and more.
9. Beach days
Germany isn't exactly known for its tropical beaches. But in actuality, the country has some stunning coastlines. From isolated, wild beaches to kid-friendly sandy spots, there's a beach to suit each person. Our pick of the best beaches in Germany for a fun summer getaway: Sylt, Amrum, Rügen, Helgoland, Baltrum, and Föhr.
10. Visit wineries
Wine lovers are in for a treat. A visit to one of the wineries in Germany will provide you with a variety of activities to suit everyone's tastes, as well as a chance to enjoy the beautiful views surrounding the vineyards.
The Riesling grape makes up more than one-fifth of all German wine varieties. A majority of German wine making takes place in the Southwest of the country, where you can find the main and biggest wine regions such as Baden, Pfalz, Mosel, Rheinhessen, and Württemberg.
11. Experience the Middle Ages
Set in the Tauber valley between Stuttgart and Nuremberg, the magnificent walled village of Rothenburg ob der Tauber offers one of the best glimpses of medieval Europe you can find. The old imperial city consists of a succession of half-timber houses, stately towers, remarkable churches, and an imperial castle line the narrow passageways. This adorable town in the heart of Germany is a must-see on a day trip from Frankfurt or Munich.
12. Go skiing
The Bavarian Alps offer a fantastic panoramic view of the mountains and a gorgeous spot to try out skiing, even if it does not have the massive ski-resorts found in France and Austria. Many German resorts also offer activities other than skiing, such as tobogganing, ice skating, curling, and more.
Visa requirements for Germany
The Schengen Area is a group of countries that allows visa-free travel among member states. Several nationalities of countries have the privilege of entering the area without a visa, such as citizens from the United States, Japans, and New Zealand, among others.
However, most other nationalities must go through all the requirements and interview procedures to obtain a Schengen visa. Check if you need one with our handy visa checker tool .
How to obtain a Schengen Visa to visit Germany
Currently, the only way to obtain a Schengen visa is to contact your nearest German embassy or consulate. However, it will be possible to apply online from 2023 via iVisa.
Where can I contact you?
If you have doubts about the procedure in iVisa, you can have an online chat with one of our experts from the customer service team, or you can email [email protected]. They will be happy to assist you 24/7.