Gibraltar is an excellent destination for those who would like to spend their holidays in the Mediterranean and want to be in a place with beautiful natural attractions that will be worth the journey. You will have the chance to go to the Great Rock of Gibraltar, which is what stands out the most in the place. You will also have the opportunity to visit St. Michael's Cave and the lights surrounding it. You can again go to the beach to tan and enjoy the beautiful sunset that makes Gibraltar the best place in Europe. As an additional fact, it is the southernmost point that approaches the African continent. Without a doubt, it is the best holiday option for the citizens of Portugal.
As you can see, you have many possible plans if you decide to visit Gibraltar as your next destination for your vacation. However, you must know the new requirements that will be required from Portugal's citizens. No matter if you arrive by plane, by car, or by boat, you will have to fill out the passenger locator and the relevant area form to enter Gibraltar.
We know that it may be frustrating to complete both documents whose application forms have a complicated language to understand. For that reason, iVisa.com designed a simple way to fill them out without taking more time than needed. It will be fast, simple, and our team will do most of the procedure while you can relax comfortably on your sofa.
If you want to learn more about the new requirements that you must complete if you're going to enter the country as a Portuguese citizen, how citizens of Portugal can enter Gibraltar during Coronavirus, and how iVisa.com helps you with the process, you should read our FAQ section below.
Note: Since March 18th, 2022, the Gibraltar Passenger Locator Form is no longer necessary to enter the country.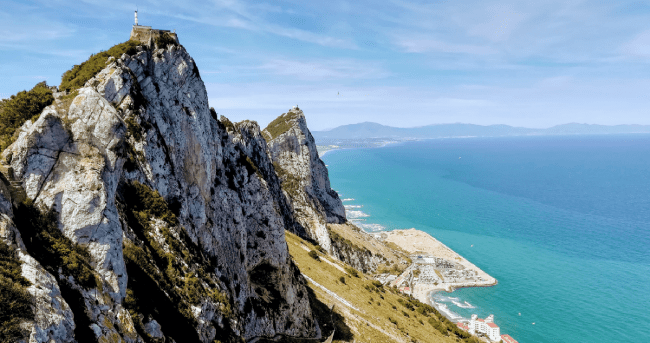 Frequently Asked Questions
What are the passenger locator and relevant area form?
The passenger locator is an application form in which you provide the government with information about yourself, your trip, and your health status. It will help them to contact you if there are any suspected cases near you on the same flight.
The relevant area form provides information to the government about where you have been during the last two weeks before your trip. For that document, you will need your allocated seat number.
Both measurements are taken to prevent any possible COVID-19 outbreak in Gibraltar. However, by presenting the confirmation of these documents, you are not exempt from staying in quarantine, depending on where you come from. Continue reading to learn how citizens of Portugal can enter Gibraltar during Coronavirus.
What other documents do I have to present to enter Gibraltar?
All Portugal citizens will have to show their passport if they plan to enter Gibraltar. It's how citizens of Portugal can enter Gibraltar during Coronavirus.
Do I need a COVID vaccine or vaccination certificate to enter Gibraltar?
No, a COVID vaccination certificate is not mandatory to enter Gibraltar.
If you have one, you won't need to present a negative PCR test nor follow a quarantine. Check the testing and quarantine FAQs to learn more.
Accepted vaccines are Pfizer, Moderna, AstraZeneca, and Janssen.
You are considered vaccinated if all doses of a vaccine against SARS-Cov-2 have been administered for at least two weeks before traveling.
Do I need to take a COVID-19 test before traveling to Gibraltar?
COVID test prior to arrival: Antigen within 48 hours for unvaccinated travelers.
COVID test on arrival: All travelers aged 12 and over must take a lateral flow test on arrival.
COVID test exemptions: Children under 12, fully vaccinated travelers, young adults aged 12 - 16 who have received a single dose of the vaccine are exempt from pre-departure testing, and travelers entering via Gibraltar International Airport or via Gibraltar Port.
Do I have to quarantine when I get to Gibraltar?
Quarantine requirements: There are no quarantine requirements in Gibraltar
What information do I have to provide to iVisa.com for the procedure?
As you may be aware, iVisa.com has simplified most of the procedure for you, so we will only need essential information about yourself, as you can see here:
Your scanned passport.
Your email address to receive your confirmation for both documents.
Your flight details along with an assigned seat number.
Information about where you will stay in Gibraltar.
It's simple once you know how citizens of Portugal can enter Gibraltar during Coronavirus.
What is the price and time waiting with iVisa.com?
iVisa.com knows that most of your decisions depend on your budget and the time you are willing to spend waiting. For that reason, we have designed three different alternatives that you can choose from. These are the following:
Standard Processing Option: You receive your documents in an average time (

24 hours

) and price (

USD 34.49

).
Rush Processing Option: It costs a bit more (

USD 67.99

), but you will receive your documents faster (

4 hours

).
Super Rush Processing Option: It is the most expensive alternative (

USD 114.99

), yet you receive your documents as soon as possible (

30 minutes

).
What steps do I have to follow if I use iVisa.com?
We have shortened most of the process to three steps that you can follow on your own, without spending more time than needed. It's easier if you use iVisa.com.
First, fill out our application form that has been simplified for you. You will have to provide us with information about you and your trip. Continue by choosing the processing option that you prefer the most.
Second, proceed with the payment method. You will be able to pay with any debit/credit card or Paypal account.
Third upload the required docs and submit it!
Our team is ready to discuss any questions you have about how citizens of Portugal can enter Gibraltar during Coronavirus.
Is it secure to use iVisa.com for this procedure?
Absolutely, you should! iVisa.com is a travel agency that hires only the best professionals to take care of your info as soon as you submit it. You can also check what other clients have said about our services here. They're also up to speed on the whole process if you have any doubts about how citizens of Portugal can enter Gibraltar during Coronavirus.
How can I get in touch with iVisa.com if I have further questions?
You can contact us if you want to run through the details of how citizens of Portugal can enter Gibraltar during Coronavirus. You can also send us an email at [email protected]
Choose iVisa.com to achieve your dreams to visit Gibraltar soon!