You'll be happy to know that part of Europe decided to join the many other countries in the world where eVisa systems are already available. This time, The European Commission (the same that works with the Schengen Agreement) implemented an advanced electronic visa system called ETIAS (European Travel Information and Authorization System). The Commission created this system to have better control of the foreigners traveling to the Schengen Area.
As you can guess, if you're planning a trip to Greece, you'll need to apply for this document. Therefore, we can ensure you that you can apply for a Greece ETIAS for the Citizens of Israel, but to do that, you should consider the following information.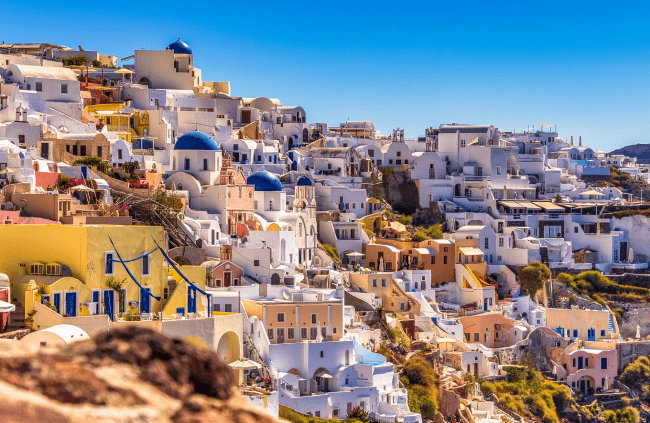 First of all, you should always remember that this document will be mandatory from now on. If you don't have it when arriving at the airport, you could get into trouble, and you could even get a denied entry.
Secondly, you can apply using iVisa.com's online form, which has a simple 3-step method to follow. You'll also learn more about this process with the information in this article.
Frequently Asked Questions (FAQs)
What is an "ETIAS"?
As you read above, ETIAS is the acronym for European Travel Information and Authorization System. This is an electronic system that authorizes foreign visitors to enter the Schengen Zone, especially for those who don't need a Schengen Visa. This system is similar to the U.S. ESTA (U. S. Electronic System for Travel Authorization) because it has the same procedure. The ETIAS program will be completely mandatory by 2022.
This system also allows the authorities to have a detailed security check of each traveler to guarantee if this person is allowed to enter the Schengen Area or not, which is a great advantage to avoid possible threats.
How many countries need to get an ETIAS?
There are at least 62 countries that require an ETIAS to enter Schengen Zone members. These countries are visa-exempt, so they don't need to apply for a visa separately, they just need an ETIAS and nothing else. Israel is one of the 62 countries that require this document, so if you have an Israeli passport, remember to apply for the ETIAS before traveling to beautiful destinations like Greece.
What documents do I need to apply online?
Opposite to other online papers and methods, with iVisa.com you can easily obtain your ETIAS by providing the following:
A passport that's not expired with a visible copy of the information page.
Your email address
Payment alternatives like credit or debit card, or Paypal to pay all the fees.
Keep in mind that these are the only requirements you have to collect by applying with iVisa.com, so you might need other things if you process the document with other options like the ETIAS official website.
What are the prices and the processing times?
This travel authorization was recently launched, so it's not likely to have the exact price for each country that demands it, at least by now. That's why, in iVisa.com, we aren't allowed to provide you accurate information about it, but we're allowed to give you an idea of ​​the procedure times we offer. Take note that the price would include the authorities fee + iVisa.com's fee:
Standard Procedure Time: this alternative has the least expensive price for an average wait.
Rush Procedure Time: you can wait less this time, but the price will increase.
Super Rush Procedure Time: this is the fastest procedure option with the highest price as well.
How can I obtain my ETIAS?
You can apply for your ETIAS with the official ETIAS website but take into account that with this alternative you might need more time and patience to complete the entire process. On the contrary, by using iVisa.com's website, you'll be able to save time and effort because you'll only need to follow these steps:
First, complete the initial form by answering the questions and choosing the processing time.
Second, be sure that your information is ok and pay for the fees.
Third, attach the documentation and send the form.
Are you ready to start your application? Click here.
How much time do I need to apply for my document?
A great benefit of iVisa.com's online form is that it has an easy-to-use platform, so you'll finish this process in only 20 minutes, if not less. We suggest doing this procedure carefully and with no rush, remember that if you need the document as soon as possible, then you can choose the Super Rush processing alternative.
Can I enter into any EU country with the ETIAS authorization?
Remember that the ETIAS authorization is available only in the Schengen Zone. To use it properly, you must first go through the first country you selected in your online application form. For example, if you're planning to visit Greece and then you want to go to Belgium and Germany, then you must select Greece as your first destination to take advantage of the ETIAS. After that, you can continue with your other destinations for at least 90 consecutive days.
However, keep in mind that the ETIAS isn't valid in countries that don't belong to the Schengen Area, like the UK and Ireland, for example. In these countries you cannot enter only with an ETIAS, you might also need to apply for a visa. This is because not all the EU countries belong to the Schengen Zone, and it also happens otherwise, not all the Schengen countries belong to the EU.
Is it safe to apply with iVisa.com?
Yes, you can feel sure using iVisa.com's service because it was created to keep all the information you offer completely safe. It's important that you know that all the information you provide on this website can't be leaked. You can take a look at our reviews to confirm this statement.
I have more questions, where can I gather more information?
If you still have doubts or questions in mind about the ETIAS online process, then don't overlook our customer service team, and remember that you can take a look at iVisa.com's webpage for more information too.