Are you organizing a pleasant trip to Greece? If so, then it is time for you to get to know the ETIAS, a document required to enter this country. Although, indeed, Macedonians don't need a visa to visit Greece, from now on it'll be important for them to obtain an ETIAS authorization. Therefore, we recommend you read the following information to know how to apply for the Greece ETIAS for the Citizens of Macedonia.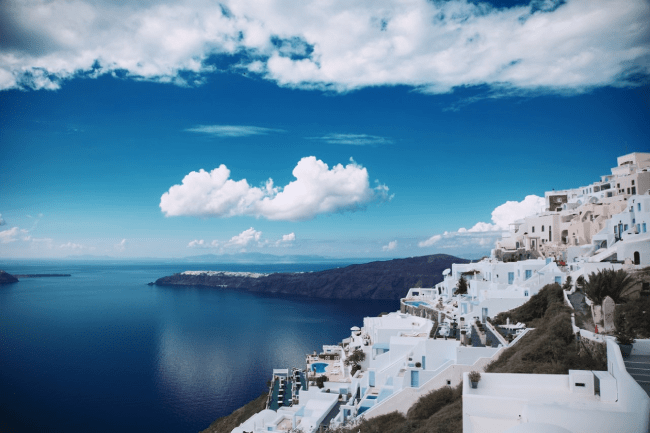 To start, you should be aware that ETIAS can only be used in some European countries, such as Greece. The countries that allow this document are those that are part of the Schengen Zone. Keep in mind that you can apply for the ETIAS through an online process and it's actually quite easy to complete if you use iVisa.com's service.
While there are still some unknown details about the ETIAS, you can already check some information by reading the following FAQs.
Frequently Asked Questions / FAQs
What does it mean "ETIAS"?
The European Travel Information and Authorization System is better known under the acronym of ETIAS. This is a recent program that authorizes foreign citizens to enter the Schengen Area through an electronic link in their passports.
The ETIAS program is very similar to the ESTA program in the U.S, so it has an effortless process to apply. But, you should keep in mind that not all foreign citizens can obtain an ETIAS because there are only 62 visa-exempt countries eligible for it.
This program was also created to control the best way possible every traveler entering the Schengen Arean so the authorities can be sure that this person is allowed to enter.
How many nations need to apply for an ETIAS authorization?
As you saw previously, 62 countries can apply for the ETIAS. These countries don't need a paper visa to enter the Schengen Area because they're Schengen visa-free. They only need to apply for a paper visa when they want to live or work long-term. Please note that Macedonia is one of these 62 countries, so if you're Macedonian, then you should get an ETIAS authorization before entering Greece.
You should also remember that the ETIAS authorization can be used only in the Schengen countries. The Schengen Area has 26 members at the moment.
Which countries belong to the Schengen Area?
The 26 Schengen countries are Austria, Luxembourg, Belgium Netherlands, Germany, France, Spain, Portugal, Slovakia, Finland, Denmark, Lithuania, Latvia, Estonia, Poland, Sweden, Hungary, Slovenia, Italy, Greece, Czech Republic, Malta, Iceland, Liechtenstein, Norway, and Switzerland.
What documents do I need to apply online?
The online process with iVisa.com is easier than the official one created for the ETIAS. Therefore, you shouldn't worry about the documents required to apply because the list is short. These are the things you should get before applying online:
Your current passport and a copy of the information page.
A valid email address to obtain the ETIAS.
Your credit/debit card or your Paypal account to pay the fees.
We remind you that you could need other documents if you use the ETIAS official website, including Criminal Records, Health Declarations, Travel History, and many more. But, when you use iVisa.com, you don't need to bother about these requirements because we can help you out as long as you offer the list of documents we stated before.
What is the price of the ETIAS authorization?
As you can see, iVisa.com can simplify the ETIAS process a lot, but that's why you also need to pay a price for it. However, since the ETIAS authorization is too recent, it's quite difficult to provide you the total price. But, what you can know is that the prices always include the Authorities' fees and we always provide 3 processing options that vary according to the urgency you have with the document:
Standard Processing Time: This option offers you an average waiting (it lasts a few days) by paying the least expensive price.
Rush Processing Time: You'll wait less time with this alternative, but the price will increase.
Super Rush Processing Time: If you're in a rush, this is your best alternative because it offers the fastest processing time. What you should consider is that it also has the most expensive price.
How can I apply?
When you apply with iVisa.com you just have to follow this 3-step process:
First, read the first questionnaire carefully and fill it out with your personal information. Next, choose your processing time.
Second, verify the information you offered and proceed with the payment.
Third and lastly, just upload the documents iVisa.com asks and click the "submit" button to receive your Greece ETIAS according to the processing time you selected.
Click this link to start your online process.
How much time do I need to apply for the ETIAS?
You can apply for the ETIAS with the Official European Commission website. but it might be hard for you to spend a lot of minutes completing long forms. That's why iVisa.com prepared an easy-to-use platform that can process your ETIAS the fastest and easiest way possible. You won't need more than 20 minutes to complete your online form.
We still recommend you complete the application form cautiously to avoid making a mistake or typo while writing. If there's a rush for you because your trip is getting closer, then remember that there's the Super Rush procedure option to select and get the ETIAS as fast as possible.
Another thing you should remember is that this 20 min. is the average you can spend with iVisa.com's application form. You could spend more time with the Official website since they might ask you for more requirements.
How safe is to use iVisa.com?
You can feel completely safe using iVisa.com's service because we have at our disposal a reliable platform that won't leak or put in danger your personal details. You can check these reviews if you're still unsure about it.
I'm still having doubts about this process, where can I read more information?
If you still have doubts or questions about the online process to get the ETIAS, then we invite you to contact iVisa.com's super agents to receive personal attention via chat. If you prefer to read more about traveling and eVisas required around the world, then you can keep exploring iVisa.com's webpage.