Are you planning to travel to Greece? If you are a citizen of Mexico, then from now on you'll need an ETIAS. This document will be mandatory by 2022, so you must take into account the following information on Greece ETIAS for the Citizens of Mexico. Also, remember that the process to apply for this document will be completely online and you can take advantage of iVisa.com's service if you want to receive your authorization quickly and easily.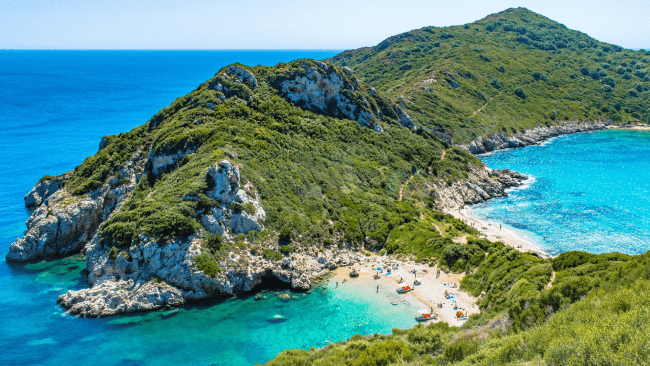 If security is your main concern, then you'll be glad to know that iVisa.com counts with the official authorization to provide the ETIAS. What differences iVisa.com from the official ETIAS website is that iVisa.com saves you a lot of effort and time due to its easy-to-use platform.
Keep reading this article to get more information about the ETIAS application process.
Frequently Asked Questions / FAQs
What is the meaning of "ETIAS" and why is it so important?
The European Travel Information and Authorization System have the acronym of ETIAS. This is a system that grants electronic authorization to foreign citizens who want to enter the Schengen Area. In simpler words, the ETIA works as travel permission available specifically for the Schengen countries (26 countries).
With an ETIAS, you can get free transit to all the Schengen Zone, as long as you obey certain rules and consider some requirements first.
Even if you don't need a Schengen Visa, you still have to apply for the ETIAS, there's no exception.
Is the ETIAS the same as the Schengen Visa?
No, the ETIAS isn't the same as the Schengen Visa. The ETIAS is available only for those travelers who don't need a visa to enter the Schengen Area. Remember that if you want to study, work or live for more than 90 consecutive days in a Schengen country, then you'll have to apply for another type of document that's not the ETIAS.
In case you're not from a visa-exempt country, or you want to work or live long-term in the Schengen Area, then you should consider one of the following visas: Unifrom Schengen Visa, Limited Territorial Validity Visa, Schengen Tourist Visa, and National Visa.
Please, keep this information in mind to avoid any issues at the airport. If you want something fast to know if you're eligible for the ETIAS or not, then simply use iVisa.com's Visa Checker Tool. For that, you'll just have to choose your country in the drop-down menu and select the Schengen country that you want to visit as the destination. This way, you'll know in a few seconds what documents you need to travel to that country.
How many countries are part of the Schengen Area?
26 countries belong to the Schengen Area at this moment, and there might be more in the future. These countries are: Austria, Belgium, Luxembourg, Netherlands, Germany, France, Spain, Portugal, Sweden, Finland, Denmark, Lithuania, Latvia, Estonia, Poland, Slovakia, Hungary, Slovenia, Italy, Greece, Czech Republic, Malta, Iceland, Liechtenstein, Norway, Switzerland. The ETIAS is available in any of them.
But, you should remember that if you want to visit Greece, then you should select "Greece" as the destination when applying for the ETIAS, whether you use the ETIAS official website or iVisa.com's online form. If you follow this recommendation, then your ETIAS will be valid and you'll be able to enter other destinations in the Schengen Area. Just remember that you shouldn't exceed the 90-days period unless you decide to apply for another document or visit the nearest embassy to ask for a visa extension.
If you want to visit various countries in the Schengen Zone, then you'll have to choose the first one to visit in the ETIAS application form.
What documents do I need to apply?
Since iVisa.com created a user-friendly online form, you'll require just a short list of documents that will be easy to collect. These are:
A passport with a scanned copy of the information page.
A valid email address
Your credit/debit card or Paypal to pay for the service that includes the official fees.
What are the prices and processing times?
The official price for the ETIAS isn't available yet because it can differ from country to country. But, in iVisa.com we understand that you might want to know an average of the processing time, so we can provide you the general information about our processing options. This can be useful once the document is ready to use:
Standard Processing Option: It's the least expensive alternative that provides you an average waiting. You can choose this if you're not in a rush.
Rush Processing Option: If you want to obtain the ETIAS faster, then you can opt for this alternative by paying a bit more.
Super Rush Processing Option: This alternative is recommended in case of an emergency or when you're in a rush because it's the most expensive, but also the fastest.
How can I get my ETIAS?
Let's be honest, nobody likes to spend a lot of time filling in long questionnaires, and that's why iVisa.com understands that it might be tedious for you to apply with official websites. Therefore, we created a straightforward method that shouldn't last more than 20 minutes. All you have to do is this:
First, answer the set of questions with your personal information (no need to answer a long questionnaire, just some basic statements about your personal details) and select the processing time.
Second, check your information and proceed with the payment using the credit/debit card or your Paypal account.
Third upload and attach the pre-requisites that iVisa.com asks you and click on "submit".
Please remember that We won't charge you anything unless you authorize us, so you won't have to pay anything until you know the exact price of your document. We also can help you while filling in the online form with our customer service center.
If you're ready to start, click here.
What should I do if I travel with my children?
In case you decide to travel to Greece with your kids, then remember that they'll also need their ETIAS authorization just like you. If you need help with this topic, you can contact our service customer center.
Is it safe to use iVisa.com?
As we stated before, our system was specially created to keep your information totally safe. All the personal details you offer can't be leaked, and we always work with the official entities of each country and region to guarantee the best travel documents. Read our reviews if you want to learn more about our service.
Where can I read more information?
We understand that you might still have questions about the process, and that's why we remind you to contact our customer service center whenever you need it. You can also read other topics on iVisa.com's website if you prefer to take your time to find other travel tips.