To explore the countries that belong to the Schengen Zone, it'll be necessary to apply for an ETIAS authorization. This document has an electronic link in your passport that allows you to travel to the 26 countries of the Schengen Area without a problem. If you're wondering if you need it as a citizen of Nauru, then you'll be happy to know that yes, your country is included among those who can obtain the ETIAS. To know more about the Greece ETIAS for Citizens of Nauru, we recommend you read this article.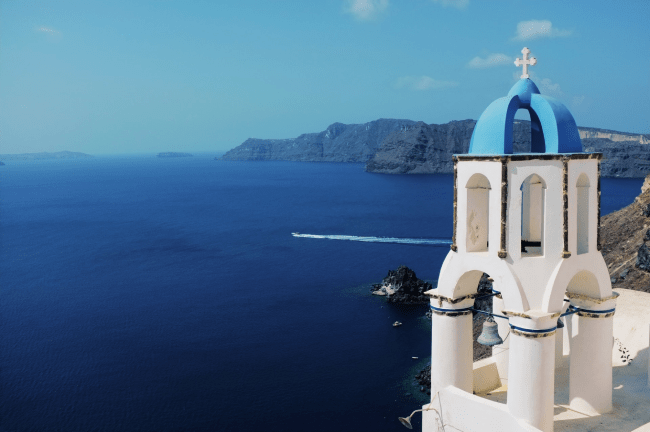 Although it may seem a bit difficult to obtain this document, it can be quite simple if you decide to apply with iVisa.com. This company is authorized to offer this document safely and quickly so that you avoid wasting time and effort.
Keep in mind that the ETIAS will be obligatory by 2022. If you don't show the ETIAS once you arrive at the airport, you could get into trouble there. We can help you to avoid this if you read the FAQs below.
Frequently Asked Questions about the Greece ETIAS authorization
What is an "ETIAS" and why is it important?
ETIAS means European Travel Information and Authorization System, and it is a recent program that allows you as a foreign traveler to enter the Schengen countries by having an electronic link in your passport.
The European Commission recently announced that the ETIAS program is quite similar to the ESTA program available in the U.S. Nevertheless, we still want to remind you that not all the foreign travelers can receive an ETIAS authorization because it is available for 62 visa-exempt countries.
The European Commission created this program to have successful control of each foreign traveler to make sure that this person is allowed to access the Schengen Area because the person is not a threat to the nations in this area.
How many nations require ETIAS authorization?
As we declared before, only 62 countries are eligible for the ETIAS. These 62 countries are Schengen visa-free, meaning that the citizens of these nations don't need a paper visa to enter the Schengen Area unless they want to live or work long-term. Nauru is part of this list, so if you're a citizen of Nauru, then you can get an ETIAS authorization.
Just don't forget that the ETIAS authorization can be used only in the countries that are part of the Schengen Zone, so you can use it in 26 countries at the moment.
What documents should I get to apply for the ETIAS?
iVisa.com produced a simple program, so you don't need to find a lot of things to apply online. You'll only require the following:
A valid passport and a copy of its information page.
A valid email address to receive the document.
A credit/debit card or Paypal account to pay for iVisa.com's service
These are the documents required only if you apply with iVisa.com's service. You might require other documents if you use the ETIAS official platform.
Some of the things you could need if you use the ETIAS official website are Criminal Records, Health Declarations, Past European travel information, and more. But with iVisa.com, you don't have to worry about these documents as long as you provide the list of requirements we mentioned before.
What is the price of the ETIAS authorization?
Since iVisa.com created a system that simplified the ETIAS process, then you shouldn't be surprised that it has a price to pay. However, since the ETIAS was recently launched, it's complicated to give you the total price by now. What we can inform you is that these prices always include the Government's fees and we have 3 processing options that vary according to how fast you need the ETIAS authorization:
Standard Procedure Option: this alternative has the most affordable price and as the name implies, it offers you an average waiting (it lasts a few days).
Rush Procedure Option: with this option, you will wait less time, but the price will increase a little bit.
Super Rush Procedure Option: this is the fastest processing time and also the most expensive, which is great if you're in a rush.
Please, always remember that we won't charge anything until you can see the total price and authorize the payment.
How can I apply?
One of the options to apply is the official website, but keep in mind that this method is tiresome. Your other alternative is to apply with iVisa.com's service, which is a lot faster and it won't ask you to provide a lot of things, you'll just have to follow this 3-step process:
Firstly, complete the first questionnaire and choose the procedure alternative you prefer.
Secondly, check that the information is well-written and pay for iVisa.com's service with your preferred payment method.
Thirdly, upload the documents iVisa.com asks and review your information once more. Finally, click the "submit" button and just wait for your Greece ETIAS to arrive at your email inbox.
You can click this link to start the online process.
How much time do I need to apply for the ETIAS?
iVisa.com has an easy-to-use platform to process your document as fast as possible, so you won't need more than 20 minutes to complete the online form. What we suggest is filling in the application form discreetly and without any rush because you could make a mistake doing it under pressure. If you want the ETIAS as soon as possible, then remember that you can always choose the Super Rush procedure option. By doing this, you'll avoid any mistakes.
You should also remember that this is the average time you can spend with iVisa.com's online form, but you could spend more time with the European Commission option since they tend to ask you more things to upload.
Is it safe to use iVisa.com?
In iVisa.com, we always work hard to offer a reliable security system. We own a reliable platform that won't risk your personal information, so you can feel sure that while you apply with our online form, your information won't be in danger. If you have questions about it, you can take a look at these reviews with our clients' opinions.
Where can I read more information?
Do you have other questions about the ETIAS process? Then you can contact iVisa.com's customer service team to get personal attention via chat. You can explore iVisa.com's webpage as well if you want to read other FAQs and important travel tips.