Greece is an incredible country full of historical sites. You can visit Delphi, an ancient sanctuary which was used as an oracle. This is a famous site where ancient greeks will come to know about their future. It sounds unreal, but this place exists and you can visit Delphi if you decide to come to Greece.
Before arriving in Greece, you should be aware of the new immigration guidelines. There is a new document requested for certain countries, which is called ETIAS. The ETIAS authorization is an easy procedure mandated by the European Union and we can confirm citizens of El Salvador will be required this document.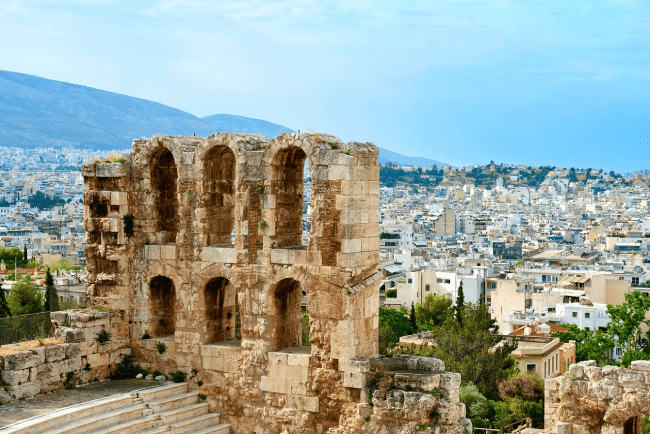 iVisa.com makes this process even easier in its platform. Start your ETIAS with us and experience a simple, fast, and trustworthy product.
Not sure yet? Get more details about Greece ETIAS, next.
Frequently Asked Questions (FAQs)
What is the ETIAS authorization?
ETIAS refers to the European Travel Information and Authorization System. This is a document that will allow entry to the citizens of the 62 countries that are visa-free to the Schengen area. One of these countries is El Salvador, so citizens of El Salvador should be prepared to get their ETIAS soon.
It is important to point out, this system was created to collect further information on non-EU visitors and have better control of the European borders. The main purpose is to detect and stop potential threats to Greece and Europe.
The application can be done easily, start now!
Is ETIAS the same as a visa?
No, these travel documents are not the same. There is a big difference between the processes; on one side, traditional visas require complicated forms, appointments to the embassy, and probably a long waiting time. On the contrary, ETIAS is simple, you just need to fill out an online form to get your authorization document.
Get your ETIAS today and travel to Europe tomorrow!
Is ETIAS only valid for Greece?
No, ETIAS authorization is not only valid for Greece. This is a process from the European Union, therefore, ETIAS is valid for the 26 countries part of the Schengen deal.
If you are thinking to visit Greece first, then you should clearly state that in your application. This is very important when traveling as you must visit first the country you stated in your ETIAS application. Not complying with this rule could bring you issues with border control.
Do you want some further clarification? Get iVisa.com's support agents to help you.
How long is the ETIAS authorization valid?
The document can be used for up to 3 years after it is approved. During your trip, make sure to stay only 90 days in a 180-day period. You can either stay in one country or travel around the 26 countries in the Schengen area, just respect the times stated.
Apply now and visit Greece soon!
What are the requirements to start the ETIAS?
The electronic form will request some personal information. Expect to answer questions about your name, nationality, birthplace, parents' info, criminal records, previous visits to risky countries, and anything else important for immigration authorities. Other essential requirements are:
A scanned copy of your passport showing your photo and personal details.
An email address where you will receive iVisa.com's response.
A Payment alternative, choose between the two options iVisa.com offers you Paypal account or credit/debit card.
Unsure about some information? Contact iVisa.com's customer service and ask any questions.
Is essential to have an email?
Yes, this is very important because iVisa.com will send your ETIAS through email. Once you receive the ETIAS in your email you will be ready to travel. Keep this email in a personal electronic device as we are sure border officers will request your ETIAS as soon as you arrive. Also, you can take with you a printed copy of the ETIAS (just in case).
What processing times are offered?
You can select any of the next 3 options:
Standard option, regular service with a low fee.
Rush option, your document will be ready quicker.
Super rush option, immediate alternative for a higher price.
How is the process to obtain the ETIAS?
This is not a complicated process, you only need to follow 3 steps:
Fill out the information required in the electronic form and choose a processing time according to your needs.
Review the online form and correct any mistakes. Select a payment alternative by using acredit/debit card or a Paypal account.
Upload the documents required and apply.
Ready? ETIAS is waiting for you!
Is iVisa.com reliable with the ETIAS process?
Yes! iVisa.com is 100% reliable for any travel process offered in our platform and the ETIAS is included. iVisa.com uses digital processes to safeguard information from our customers. Many of our clients' opinions discuss the importance of our services and iVisa.com high-quality. We assure your application is in good hands with iVisa.com.
Where can I acquire more information?
Explore further the iVisa.com pages for a better understanding of all the products you can obtain. Also, get in touch with the customer support team in case you have some inquiries.
Apply today with iVisa.com!