Apart from the beautiful beaches and unique historical sites, Greece also offers a great variety of exquisite cuisine. Greek dishes use fresh vegetables, olive oil, grains, and all sorts of meat. Visit Greece and try some gyros, moussaka, and some delicious feta cheese.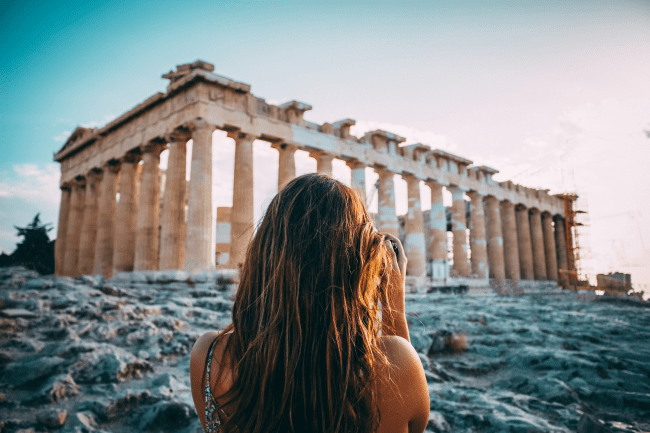 We are sure citizens of Canada have an interest in Greece. For this reason, they should be aware of the new ETIAS electronic form that will allow their entry to Greece. This process has been established by the European Union and Greece has to comply with this requirement for all visitors, including Canadians.
You can start your ETIAS with iVisa.com and enjoy a fast, simple, and reliable service.
Do you want to know more? Then keep reading our FAQs about Greece ETIAS.
Frequently Asked Questions (FAQs)
What does ETIAS stand for?
The European Travel Information and Authorization System or ETIAS is the new electronic system set up by the European Union. The ETIAS' goal is to gather information about visitors from visa-exempt countries to the Schengen area. This information will help control borders and only allow visitors who are considered safe to the European countries.
As a Canadian citizen, do I need an ETIAS?
Yes, citizens of Canada are required an ETIAS. This authorization document is requested for the 62 visa-free countries to the Schengen area and Canada is included. If you are planning a trip to Greece then make sure to have your ETIAS before flying.
Get your ETIAS done soon with iVisa.com!
Are ETIAS and visas the same?
No. ETIAS and visas have plenty of differences. The most important one is about the process. A visa requires an embassy appointment, official documents, and long waiting times. On the other hand, the ETIAS is an online form easily done with iVisa.com, start your application now!
Is ETIAS only valid for Greece?
The ETIAS is valid for the 26 countries part of the Schengen agreement. This means you can travel to Greece and the other 25 countries around Europe with your ETIAS. In case you are wondering if all the countries in your itinerary are part of Schengen, go to the iVisa.com's Visa Checker to make sure you are not required other travel documents.
Explore more of Europe by applying today!
Can I do multiple trips with the ETIAS?
Yes, you can use your ETIAS many times, as long as you respect the next parameters. First, when traveling you can only stay up to 90 days. Second, the authorization document is valid for 3 years. Third, enjoy your stay in Greece! Apply here.
What information do I need for Greece ETIAS?
You should provide personal details and information about your trip. Also, you will be requested some background information about security and health. Remember that all your information will be cross-checked with other databases like Interpol so answer with honesty. Get the next requirements:
Your passport, a scan copy will be ideal.
An email address where iVisa.com will send you the ETIAS.
Payment options, choose between a credit/debit card or a Paypal account. You will have to pay a small fee for your iVisa.com service.
How long will I wait for the ETIAS application?
This will depend on your time preference according to these options:
Standard service, an average waiting time for a small price.
Rush service, a quicker option for your Greece ETIAS.
Super rush service, highest fee with no waiting time.
How is the ETIAS process with iVisa.com?
Very simple. You just need to complete the next 3 steps:
First, fill out the online form with your personal information and choose the time for your application to be done.
Second, check you completed all the blanks and select a payment method with a credit/debit card or a Paypal account.
Third, upload the scanned copy of your passport and any other document required.
Begin here your ETIAS application.
What answer will I get in my email?
iVisa.com will send you your ETIAS to your email. The whole process is done electronically so expect an email with all the information required. At your arrival, keep the email with you at all times as border control will request your ETIAS.
We highly recommend you to take with you a printed copy of your ETIAS, in case of any inconvenience with the online system at the port of entry.
Do children need ETIAS?
Yes, children need an ETIAS. All travelers are requested the ETIAS before arrival, this includes children and elderly people. Complete the ETIAS for everybody in your travel group here.
How secure is iVisa.com with the ETIAS procedure?
Super secure! iVisa.com uses a high-quality platform and our teams are always working towards excellence. Review our customers' opinions for further knowledge about our services.
How can I obtain more information?
You should contact our support agents for any inquiries about Greece ETIAS or any other travel documents you want to get with iVisa.com.
Ready for a Greek adventure? Then start your application!