Greece is the kind of place where just the mention of its name can transport you there. We can instantly picture ourselves at the top of that hill overlooking Mediterranean-style houses with the ocean in the background, the sun shining, and the wind gently blowing.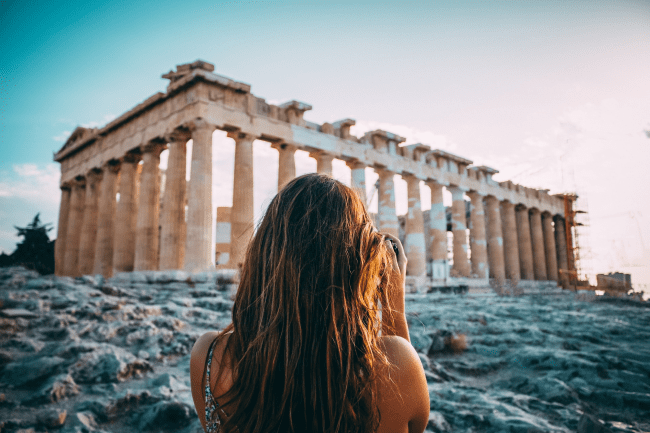 There will soon be a new travel document required for non-EU passport holders wanting to visit and admire Greece's beauty and taste of its amazing food. It is called ETIAS and you can easily request this document through an online application. iVisa.com can help you with the whole process, saving you time and effort so you can focus on planning your next Greek adventure.
If you are ready to experience Greece in all of its glory, make sure to scroll down the page to read the important information that we have about Greece ETIAS for Solomon Islands Citizens.
Frequently Asked Questions (FAQs)
Is ETIAS a European Visa?
Even though ETIAS shares some similarities with a visa, they are two different documents. The European Travel Information and Authorization System (ETIAS) was designed to provide higher security to Schengen Economic Area countries by keeping track of visitors who enter their territory. To give you a better idea, ETIAS is a completely electronic system that requires only a short procedure time and little waiting, very similar to the ESTA required by the United States.
Which countries require visitors to obtain an ETIAS to enter?
Countries in the Schengen Zone with a Visa Waiver program in place will require all non-EU citizens to apply for an ETIAS to travel into Greece or any of the 26 countries in the Schengen Zone. You may visit multiple countries with your ETIAS, but keep in mind that the first country you will be visiting in the zone should be chosen on the application form your traveling route must match your choice, otherwise, a customs officer could deny your entry.
What nationalities can apply for an ETIAS?
ETIAS is aimed at non-EU citizens who are allowed to enter the Schengen area without a visa. If you want to confirm whether your country is currently part of the Visa Waiver program go ahead and have a look at iVisa.com's Visa Checker tool.
What's the ETIAS application process?
With iVisa.com you can enjoy a secure, 100% online process. Start by reading the steps listed below and then you're ready to apply for your ETIAS before you set off:
First, take 20 minutes and enter your required personal information on the application form.

Second, double check that you have correctly complete all fields on the form.

Third, upload the necessary documents that are indicated on the page.
What are the requirements for an ETIAS?
Other than being eligible and filling out the form as mentioned previously in this article, you will need certain documents such as:
A valid passport scanned copy.
An email address where you wish your ETIAS to be sent to.
A payment method of your preference. You can choose between credit/debit card or PayPal.
Can a family traveling together submit a joint application?
For a family traveling together, each member should follow the same process as indicated before and apply separately. Please get in touch with our customer service team to get detailed information on this.
Are prices and waiting times good for the ETIAS ?
They are very good indeed. In fact, iVisa.com offers three different alternatives that you can choose from. Each one with specific processing times and fees:
Standard alternative, if you are not in a hurry and don't want to spend much.
Rush alternative, if you are willing to pay more in order to wait less.
Super rush alternative, if you really need your document asap and can afford a higher rate.
Is it safe to rely on iVisa.com for my ETIAS application?
Our customers say yes! You can take a look at the customer review section on this page's main menu to read what people who have previously used our services say about their experience.
Regarding our security measures, we can tell you that iVisa.com works with top modern technology to provide all of our customers with a secure, hassle-free, and effective service for each type of traveling application completed through our site.
Where do I find additional information?
Should you have more ETIAS application questions, or need more information please reach out to our customer agents, who will gladly answer all of your doubts anytime since they are available 24/7.
Your next adventure awaits! Start here.