Taking a relaxing vacation on one of the sunny islands of Santorini or Mykonos, or going for an adventure in Rhodes are just a few of the travel ideas that any tourist would have to visit Greece. And what makes it even more unique to citizens of Paraguay and other travelers is that Greece is located very close to both Africa and Asia, making it the ideal central spot to visit more than one continent on a single trip.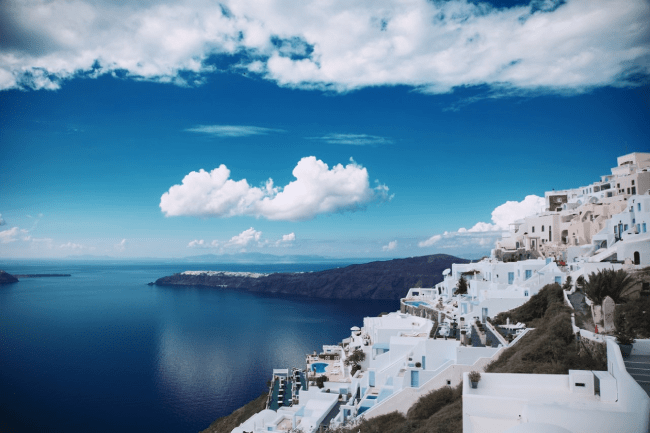 Greece shares land borders with Albania, North Macedonia, Bulgaria, and Turkey. But Greece only has maritime borders with Italy, an ETIAS country member. To reach the Mediterranean Greek climate of hot summers and cold winters and be able to visit this and more Schengen countries, Paraguayans will require an ETIAS authorization pass.
The ETIAS document is obtained through iVisa.com with an online application form that every traveler from a Schengen-visa free country must fill out.
In this article, you will find useful information about the ETIAS authorization and answers to the most important FAQs you might ask.
FREQUENTLY ASKED QUESTIONS
What is ETIAS?
European Travel Information and Authorization System, also known as ETIAS, serves the sole purpose of improving the speed and efficiency of screening and controlling visa-exempt travelers to the entire Schengen Zone.
If Paraguayan citizens don't need a visa for the EU, why do they need an ETIAS?
ETIAS can work as an express version of the Schengen visa. You will need to have an approved ETIAS document to enter any country of the Schengen Zone, some of which aren't part of the EU. All Paraguayan citizens will require this authorization to proceed with their travels through Europe.
Is the ETIAS valid for all EU countries?
No. The ETIAS travel document only applies to the countries within the Schengen Zone, which includes non-EU countries such as Iceland, Norway, Switzerland, and Liechtenstein.
What is the ETIAS validity for Paraguayan citizens in Greece?
An approved ETIAS has either validity of the requested travel dates or a maximum validity of 3 years for any Paraguayan citizen and other applicants. The only visiting condition is that you can be no more than 90 days in the country in a total time of 180 days. The ETIAS does allow you multiple entries to the Schengen states within the validity time frame.
Can I stay in Greece for more than 3 months?
The ETIAS document serves the purpose of allowing foreigners to visit countries in the Schengen Zone on the sole purpose of tourism, business, or leisure for a period no greater than 90 days in a total gap of 180 days. If you want to stay in Greece or any other EU and Schengen country for more than 90 days, you must apply for a specific visa.
How fast can I get an ETIAS?
Because we know that sometimes as travelers we don't have all the time in a day to get our visa applications filled out, iVisa.com offers three processing options for you:
Standard process: get your documents ready within 24 hours.
Rush process: be ETIAS ready in 4 hours.
Super rush process: don't stress, you'll be ready with ETIAS in your inbox in 30 minutes.
You only need to fill out the iVisa.com questionnaire here.
What documents do citizens of Paraguay need to apply for ETIAS?
All citizens of Schengen-visa free countries will have the same requirements when applying for an ETIAS authorization before departing to Europe if they plan on visiting Schengen countries.
Three easy steps will guide you on how to apply for the ETIAS.
Step one: fill out a questionnaire with your personal information and select the processing time you want
Step two: you need to double-check the information above is correct and make the iVisa.com fee payment.
Step three: finish answering some questions regarding the ETIAS documentation itself.
Ready to start? Click here.
When you've submitted the form, you're done and only need to wait calmly for your Greece ETIAS approval to arrive in your email inbox.
How secure is iVisa.com?
At iVisa.com, we use the most reliable security system on our platform to protect your personal information in our secure databases. There are constant updates to ensure your information is kept confidential and secure on our platform.
Still not sure, see what our long time clients say about our services here.
I still have more questions, who can I ask?
If you have any additional questions, you can find friendly assistance by sending us a message or find your answers on iVisa.com's website.