Greece is not only an exciting destination for any citizen of Peru because of its ancient culture, and idyllic islands, but because of its enviable weather and history.
Although Greece is called "the cradle of Western civilization," Peruvians can also relate to this nickname thanks to the Incas and their built civilization and empire. And even with the vast land on the coast that Peru has, it's still very different from the golden coastlines of Greece, making it an ideal vacation destination precisely because it makes a change from what is back home.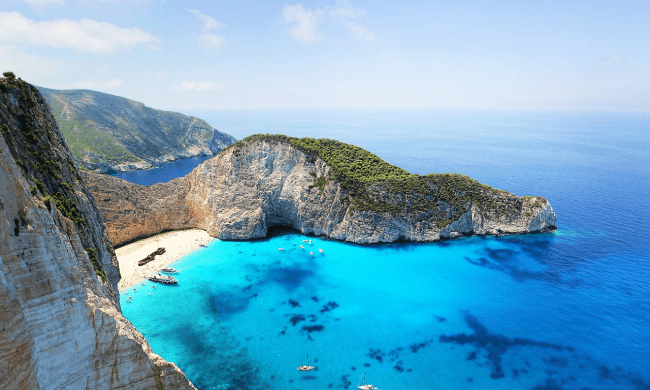 Additionally, in both cases, there is a UNESCO World Heritage Site. And for locals, having a World Wonder in your home country or just knowing it's been considered a World Heritage spot gives the destination even more important in terms of culture and history in comparison to other destinations.
Greece keeps an excellent climate that many would love to have daily. To visit Greece and enjoy their islands, waters, culture, and arts, Peruvians will need an ETIAS authorization which you can get from iVisa.com. The ETIAS will allow any citizen of Peru to visit Greece and other Schengen Zone countries for tourism, leisure, and business purposes.
In this article, we will explain the main concepts through FAQs of the ETIAS document, its validity, and how it applies to the citizens of Peru.
FREQUENTLY ASKED QUESTIONS
Do Peruvians need an ETIAS to enter Greece?
If you have visited Europe recently, you have noticed that the Schengen Zone countries allow numerous world citizens to visit them without any border control other than a valid biometric passport. To have more control over border transit and country security in general, visitors such as Peruvians and other countries will require an ETIAS (European Travel Information and Authorization System) before arriving.
Why do I need an ETIAS travel document?
Any traveler with a passport and citizenship from any Schengen-visa free country will require an ETIAS when traveling to visit any of the Schengen Zone countries in Europe. It is a needed document that is virtually scanned and analyzed by the ETIAS electronic system to ensure the validity of your information, serving as a filter to ensure you are not a threat yourself, locals, or fellow travelers.
Can I visit the UK with an ETIAS pass?
No, you can't. The UK is not part of the Schengen Area , therefore, is not included in the list of destinations you can visit with an ETIAS pass. To visit any part of the UK for tourism or business reasons, you will need to apply for a visa.
Are Peruvian citizens allowed multiple entries to EU with an ETIAS?
You are allowed to visit the Schengen Zone countries. Any traveler that applies and receives an approved ETIAS travel document is allowed multiple entries to any of the Schengen countries which are part of the ETIAS authorization system. You may visit the states for no more than 90 days, and the ETIAS is valid for the length of your trip or a maximum of 3 years.
To visit any EU country that is not part of the Schengen Zone, you need to review each of their requirements for citizens of Peru.
Do I need an ETIAS authorization for each country?
No. With one ETIAS travel document, you may enter and visit any of the Schengen zone countries in a time period of up to 90 days. The ETIAS allows you to visit these countries numerous times throughout 90 days out of 180 days period.
How long can a citizen of Peru stay in Greece with a valid ETIAS?
By holding an approved ETIAS document, you can stay in one country or more in the Schengen Zone countries for no more than 90 days. This limitation means you can be in Greece for 90 days and then must leave the EU for another 90 days before reentering any of the ETIAS country members.
Can an ETIAS authorization be declined?
Yes, the ETIAS authorization can be declined or put on hold if the information you include on the application form is not easily read and registered by the ETIAS system.
In this case, your application will go through to a person who will manually go over your documentation and will stay in touch with you. To not go through the stress of applying through the official website, you might want to apply with iVisa.com services that will speed up your process.
How long does it take to get an ETIAS?
Applying for any electronic visa can be tedious and time consuming for any person. By using iVisa.com, applicants can choose between three processing time options to get their ETIAS and don't stress with the waiting.
Standard processing: have your ETIAS in 24 hours.
Rush processing: get your ETIAS results in 4 hours.
Super rush processing: the fastest service, you can get your ETIAS document in 30 minutes.
Start your application now by clicking here.
What should a citizen from Peru present as documentation for an ETIAS?
The iVisa.com ETIAS application form is straightforward to fill out and submit for revision. There will be some necessary and on record information which the system will request from the applicant to ensure their honesty and better check of data and results.
Follow this process and you'll get the result of your Greece ETIAS in no time:
Fill out the iVisa.com online questionnaire and select the processing speed you want to have for your ETIAS.
Double-check that the information typed above is correct and proceed to make the service fee payment.
Complete the iVisa.com poll for any additional information the ETIAS might be requesting. Once done just click on SUBMIT.
Once submitted, your application is on its way and you will get your results on your email inbox within the time you requested.
Why should I use iVisa.com services?
With constant news about phishing and third parties making use of personal data, we understand your concern. At iVisa.com, we only handle your confidential information with the best security systems. Your information is stored on our very secured databases on the online platform. If you still have some doubts about the management of information, you'll want to see what other clients have said here.
I can't find the answer to my question, who can I ask for more information?
We understand that you may have more unsolved questions than those we have shared. If you continue to have any doubts, please send us a chat or go onto iVisa.com's website to discover more information.