Being able to wake up every day next to coral reefs, volcanic views and hidden forests with dramatic waterfalls makes it hard to compare your home with any other destination. But at the same time, as we are all curious people, we often have an urge to travel and visit new places. For Samoans who like to feel at home while visiting a different continent, Greece is their ideal stop.
Greece is home to a magical combination of mystical history and architecture, with delightful and varied cuisine to charms any foreigner. The primary purpose of traveling is to discover new cultures and try other cuisines and you can't get better than Greek food.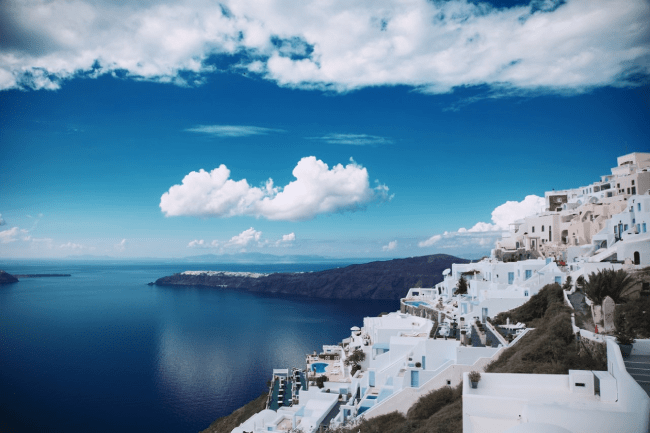 And yet, soon being able to visit Greece and other EU countries will no longer be as easy as before. In the future, citizens of Samoa will have to apply for an ETIAS authorization to visit any of the Schengen Zone countries. Thanks to advanced technology and the handy services offered by iVisa.com, the ETIAS is easy and fast for any traveler to obtain, and even better, it's not necessary for you to wait in any lengthy queues at the Embassy.
In this article, you will find valid and updated answers to our FAQs about the ETIAS authorization and how it could affect your visit to Greece for citizens of Samoa.
FREQUENTLY ASKED QUESTIONS
Why is the ETIAS important for Samoan citizens?
The ETIAS is an electronic system that links provided information with your biometric passport. It runs it through immigration databases to secure your application and results with the Schengen country safety measures. You must travel with the passport with which you applied for the ETIAS to enter any of the Schengen area countries.
How will the ETIAS help citizens of Samoa?
Although ETIAS is not a visa, it functions as a travel authorization document to make the screening and entry process of travelers at the border more agile and effective. Thanks to the ETIAS, you will not need to apply for a visa or visit the embassy with a long list of papers and it will also make travels to the Schengen Zone countries safer for the local citizens and travelers entering the area.
How can Samoan citizens get ETIAS authorization?
To get an ETIAS authorization you can apply for one online. With the use of your laptop, tablet, or smartphone, you can fill out the ETIAS application form quickly and easily.
Which countries can I visit with an ETIAS pass?
An authorized ETIAS allows you to visit any of the Schengen Zone countries for no more than 90 days within a period of 6 months. Remember that not all Schengen countries are part of the European Union but with an ETIAS you will still be able to visit them.
Can we request multiple entries on the ETIAS application?
The ETIAS document allows the traveler multiple entries to all the Schengen Zone countries throughout the validity of the authorization document. The only other condition to using the ETIAS is that you don't stay longer than 90 days in total out of 180 days.
When does the ETIAS expire for a citizen of Samoa?
The ETIAS is valid and linked to the travelers' passport document for either the length of the travel stay or 3 consecutive years; after that, you will need to apply for a new ETIAS authorization.
If the passport document with which you got the approved ETIAS expires before the authorization does, the ETIAS automatically becomes expired. You must request another permit with your new passport number.
How fast can citizens of Samoa get an ETIAS?
Getting electronic travel authorizations such as ETIAS will be very quick for citizens of Samoa and other world citizens. And by using iVisa.com services the application can be even less time-consuming.
Choose the processing time that fits your travel needs, and get your ETIAS with no stress at all.
Standard processing: the most common choice, where there is no need to rush and you will get your ETIAS once submitted, after 24 hours.
Rush processing: the processing time is a bit faster, and will help you get your document ready in 4 hours.
Super rush processing: the fastest processing time we offer, ready to save last-minute calls. With this option, you can get your ETIAS within 30 minutes.
What do I need to apply?
For this online application process, the required documents are a small list. The information asked for in the form is mostly answered with the availability of numerous immigration databases.
We expect that you will only need the following to fill out the form:
An e-passport or biometric passport
A valid email address
Information on the EU countries you plan on visiting
A credit/debit card to pay for the service fee.
Be honest with your answers because, after submission and approval, you can be asked any of these questions again by the European border authorities, and the falsification of records may result in the cancellation of the entry permit.
Do I need to print out the ETIAS document?
No. The ETIAS authorization, once approved by the European Immigration system, will deliver a pdf document to your email address and will link the information provided to your passport number. Once you arrive at any of the Schengen Zone countries, the Immigration Officers will have your information at hand.
Is it safe to use the iVisa.com platform?
At iVisa.com we care about protecting your information and we keep it highly secure by using the most reliable security systems on our platform. Your personal documents are stored safely in our locked databases, completely secure.
If you are still not sure, you can view our clients reviews here.
I have more questions, where can I find more information?
We'd gladly help you solve any remaining questions you might have about ETIAS, electronic visas, and more. Send us a chat message, or visit iVisa.com's website to find more information.