Have any plans to visit the country of Greece soon? If that's on your mind, you will be delighted to know that Greece will soon be enabling an online document, allowing you to enter the country without many problems that are also easy to apply for online. This document is known as the GREECE ETIAS, and it allows you to travel to the country with ease simply by presenting it at the International airport. If you want to learn more about the GREECE ETIAS for Citizens of South Korea, then we suggest that you keep reading this article.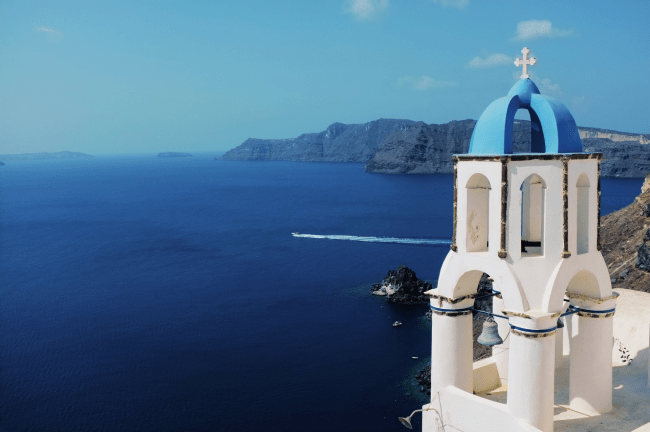 You should also be wary of the necessary requirements and the processing options that you are about to read in the FAQs below. All these essential factors are covered and additional instructions will comprehensively guide you through effortless iVisa.com's effortless online form when you're ready to start.
iVisa.com has an incredible option for you in case you are looking to get your ETIAS in a fast and secure manner. By filling in this form in just less than 20 minutes, you'll be ready to see yourself sitting on the next flight to Greece and experience the natural offerings and wonders of the ancient nation.
Frequently Asked Questions (FAQs)
WHAT IS A GREECE ETIAS?
The term 'ETIAS' signifies the European Travel Information and Authorization System, and it is a document that is generated electronically. This allows the Greek authorities to keep a track of all the visitors flying to Greece who do not require a Visa. It's quite similar to the existing American ESTA, and naturally, this ETIAS is also easily attainable through an online form.
It is imperative to be aware of the fact that this document will allow you to visit Greece for medical, transit, and business purposes. Furthermore, if you are a citizen of a country that is exempted from the Schengen Visa regulations, you will still need to apply for this ETIAS document.
HOW TO DETERMINE IF I'M ELIGIBLE TO APPLY FOR THE GREECE ETIAS
To determine whether you will be in need of applying for the GREECE ETIAS, you can simply use iVisa.com's Visa Checker Tool that you'll find right when you enter the iVisa.com website homepage.
Using the tool isn't hard you simply have to select South Korea as your country of origin, and then choose Greece as your preferred destination. By doing this, you will immediately find out all about the detailed information related to the documents needed for you to enter the ancient land of mythical gods.
WHAT ARE THE ESSENTIAL DOCUMENTS NEEDED FOR MY GREECE ETIAS?
Even though the process of applying for your ETIAS is completely electronic, it's important that you provide copies of genuine documents in support of your application to obtain the ETIAS in a smooth manner. The list of the exact documents needed often vary from time to time, however, you can be assured of these following requirements that are essential to proceed with your ETIAS Application with iVisa.com:
A scanned copy of your Valid Passport, that shouldn't be expired at the time you are traveling.
A functional email address to receive the online GREECE ETIAS.
Payment method such as a debit/credit card or a Paypal account to pay for the online document and application process.
WHAT ABOUT THE PROCESSING TIME AND PRICING FOR THE ETIAS APPLICATION?
As this document is a work in progress, it's a bit tricky to give an exact estimation of the GREECE ETIAS price for each nationality, including South Korea. However, we will be updating our website as soon as there is concrete information released by the relevant authorities. So we suggest that you keep checking out this space to get the best, most reliable updates about the Greece ETIAS. You will also be informed about the same in due course of the application process right to your inbox from the iVisa.com Team. So, to know more about the processing times of this online application for the GREECE ETIAS document, read about the following options mentioned below:
Standard Processing Time: This is the cheapest alternative and thus, it is the preferred option for all the travelers who are not in a quick-rush, as it allows you to wait just for a few days, and accordingly, you obtain your document with ease.
Rush Processing Time: With this method, you can have your online document delivered faster, in case you agree to pay a higher amount than the previous alternative.
Super Rush Processing Time: This option is the most expensive one, but that's because your document gets processed at the quickest possible timeframe.
WHAT ARE THE STEPS TO APPLY FOR MY GREECE ETIAS?
You also have the option to apply for your ETIAS from an official government website, but the process can be rather tedious and tiring as you need to answer lengthy questions about your personal life and lifestyle. Alternatively, at iVisa.com, you'll simply need to do the following to get your ETIAS document:
1.First, fill up the online application form by answering just a few basic questions, and choose your preferred processing time.
2.Second, verify all the information that you provide right at the beginning of the process, and pay the fees using your credit/debit card or a Paypal account.
3.Third, the final step to perform is to upload the supporting documents that are required as per your nationality and send the online form.
4.After that, you'll be ready to receive your GREECE ETIAS depending on the processing time you selected.
HOW MUCH TIME IS NEEDED TO APPLY FOR THE GREECE ETIAS?
To apply for an ETIAS using iVisa.com's service isn't long. You can simply sip over a cup of coffee, and spare at least 20 minutes to fill in the online application form. You won't even realize when the process got completed, in the blink of an eye.
WHAT SHOULD I KEEP IN MIND IF I AM TRAVELING WITH CHILDREN?
If you are having plans of visiting Greece along with your children, it is a strong probability that even your children will need an ETIAS for themselves. Having said that, this is the recent update that we have on the GREECE ETIAS information about children. So, we strongly recommend you to get in touch with our customer service team to receive updated information on the same at the time of your application.
IS THIS DOCUMENT REQUIRED IF I'M ONLY PASSING THROUGH GREECE?
In spite of simply completing a stopover halt, it is mandatory to apply for a GREECE ETIAS to enter the country. Skipping this might result in unwanted problems and you could even be at the risk of losing your connecting flight.
We suggest that you consider this point before planning your trip, even to a nearby country.
IS IT SAFE TO USE THE IVISA.com SERVICE TO GET MY ETIAS?
Yes, it's a comprehensive and safe process; and the iVisa.com website is a trustworthy one. With modern technical advancements functioning on the website, the team at iVisa.com takes the utmost care and focuses heavily on online security threats. So you can feel relaxed about your personal details that are entered on the website.
I HAVE SOME UNANSWERED QUESTIONS, WHERE CAN I GET MORE INFORMATION?
If you've read all of this information, and still have something unanswered, do not worry. We are happy to help you out with any other possible queries that are popping at your head. Simply contact our work team via chat, or you can receive more important and relevant information about this process by checking out the iVisa.com webpage.
So, start planning for your trip without any worries and apply for your GREECE ETIAS form in just a couple of clicks! You're closer to your dream vacation than ever before!