Have you dreamed about walking around the white and blue streets of Santorini? or getting some delicious Greek food while watching the Acropolis in Athens? Then you are lucky because we are here to tell you all you need to enter Greece and enjoy this beautiful country.
Entering Greece is an easy process for citizens of Australia. However, there is a new change in the requirements to enter Greece. Nowadays, the European Union is establishing a new online form refer as ETIAS, which will be requested to citizens of Australia.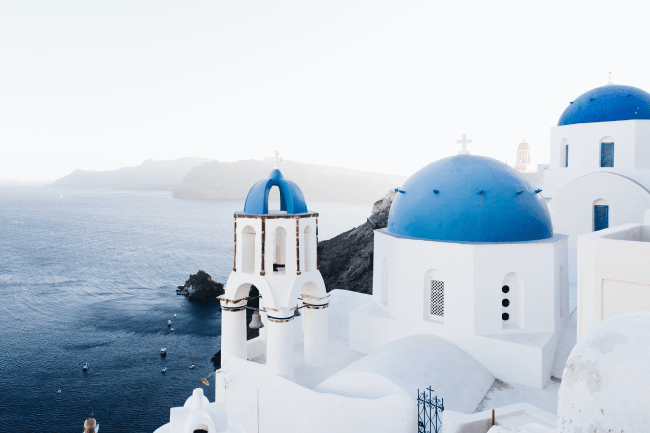 You might be wondering if this will be difficult, but don't worry! iVisa.com makes everything easy for you. You can start your ETIAS application and continue planning your beach outfit for Santorini!
Keep on reading our FAQs to find out more about Greece ETIAS.
Frequently Asked Questions (FAQs)
What is ETIAS?
ETIAS stands for European Travel Information and Authorization System, and it is a new immigration requirement for visa-free countries to the Schengen space. Australia is one of those countries, therefore, citizens of Australia will be requested an ETIAS.
The European Union believes ETIAS will allow better control of the European borders and gather further information about non-EU citizens traveling around Europe.
Start the application with iVisa.com today!
Is Greece ETIAS a visa?
No, ETIAS is not a visa. ETIAS is a much simpler process than a visa one, in this case, you only require to fill out an online form and get your authorization document. For a traditional visa, you might need to get appointments, official documents, long waiting times, etc.
Besides, only the 62 countries exempt from a Schengen visa, are the ones required to get an ETIAS.
Citizens of Australia are only required to have an ETIAS and they don't need a visa to the Schengen area, fortunately, they are exempt from this.
Is ETIAS only requested by Greece?
No, as this is an EU requirement. The 26 countries part of the Schengen agreement will require you this authorization document. In other words, if you get an ETIAS, this will allow you the visit to all those 26 countries.
However, be careful when stating in your application the first country of visit. If you intend to visit Greece first, then this should be completed in your application. When arriving in Europe, you must visit Greece first, because is already in your ETIAS. If by any last-minute decision you try to enter from another country, your entry could be denied even with a valid ETIAS.
Keep calm because we have a full team you can reach out with any doubts. Don't forget to contact them at any time.
How long is ETIAS valid?
When visiting Europe, you get to stay a maximum of 90 days. As well, the document is valid for 3 consecutive years.
Then start planning more trips to Europe, to make this process worth it! Apply now!
What information and requirements are requested?
The questionnaire will ask about personal information like addresses, date of birth, employment, etc. As well you might be requested details about any criminal background, previous trips, health conditions, among others. The European Union will check on your information with other international bases such as Interpol, then answer with honesty.
Some other information you need is:
A passport's scan.
Valid email address to get the final answer from iVisa.com.
Payment methods, use a Paypal account or a personal credit/debit card to pay the fee for the service.
What exactly will I get in my email?
iVisa.com asks for a valid email address because the final answer about your ETIAS will arrive through email. Check your email constantly for our response and keep this email with you when you are entering Greece, just in case you are requested to show it.
Which are the processing times?
Standard alternative, a moderate time when you are not in a rush.
Rush alternative, we will work faster in your requirement.
Super rush alternative, your ETIAS will be the top priority for our team in the shortest amount of time.
How is the Greece ETIAS procedure?
Make sure you complete each step to get your ETIAS soon:
Fill out the information required in the online form and select a procedure time.
Review and complete any missing information. Pay with a credit/debit card or with Paypal.
Upload the documents and send the application form.
iVisa.com gives you the chance to get your ETIAS very soon!
How secure is iVisa.com with the Greece ETIAS?
Very safe. We are proud of the security in our systems, this allows us to handle tons of personal information from our customers and be sure it is safe. Even without working directly with the Greece government, we are very knowledgeable of the ETIAS process. Trust our customers' reviews to get to know more of iVisa.com.
Who should I contact for more info?
Get in touch with the support team that is always available to answer any inquiries you might have during the process of your ETIAS.
Apply today with iVisa.com and you'll see that you won't have to stress about anything.