Corfu Town, a UNESCO World Heritage Site is considered as one of Greece's top tourist destinations and whoever gets a chance to visit this place, always mesmerized with the beauty of its elegant Italianate architecture. You can also explore two sixteenth-century fortresses and the arcaded Liston while walking on its romantic pedestrian-only streets. Around twenty-five km from Corfu Town, the most popular beach area called Paleokastritsa is situated. The island looks so wonderful with its velvety green hills and blue sea that you will wish to stay there forever. Are you also planning to visit this place in Greece? But, do you have all the travel documents like Greece ETIAS required for your trip to Greece? Still not sure, what is needed and how to get all things done accurately. Don't worry, just contact us and we will get all your travel documents done in the quickest way possible.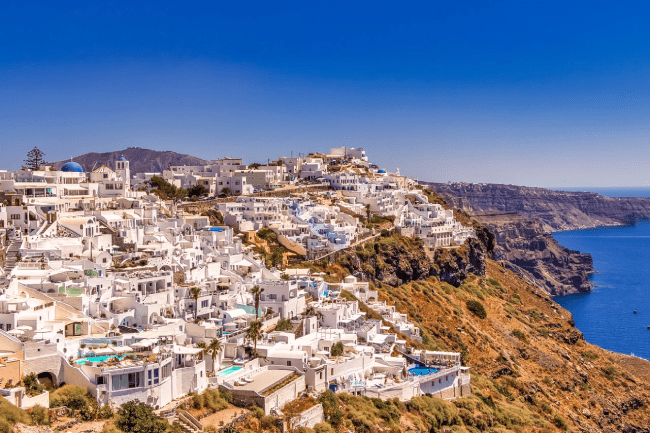 The European Union is going to mandate Greece ETIAS for the citizens of the United Arab Emirates if they wish to travel to Greece. This is an online application form that you will have to fill when traveling to Greece. This document will provide the authorization to enter Greece without any trouble.
Have more questions regarding ETIAS, go through below Frequently Asked Questions.
Frequently Asked Questions (FAQs)
What is the meaning of ETIAS?
ETIAS stands for European Travel Information and Authorization System which is a new electronic system introduced by the European Union for sixty-two visa-exempt countries to enter twenty-six Schengen countries. Using this system for authorizing travelers will assist the government in keeping track of illegal activities and enhancing border securities. If you wish to know more about this procedure, you can visit our webpage www.ivisa.com/greece-etias. Getting Greece ETIAS with the help of iVisa.com is a very easy and fast procedure.
Do I need a Greece ETIAS to enter as a citizen of the United Arab Emirates?
Yes, all citizens of United Arab Emirates require an ETIAS to enter Greece. The twenty-six Schengen countries in Europe will require ETIAS before crossing their border for tourism, transit, and medical purposes.
Can I travel to other countries in Europe with the Greece ETIAS?
Greece ETIAS is an entry authorization for Greece as ETIAS is valid for only 26 Schengen countries of Europe. You have to check your intended plan of travel before traveling to confirm whether you can travel to other countries of Europe or you can check in our iVisa.com Visa Checker Tool. Using this tool will let you know what documents you will need to travel to other countries in Europe.
What is the validity for Greece ETIAS?
When you get approval for your ETIAS through email, it will be valid for three consecutive years. You can travel for around 90 days at a stretch in Schengen countries. ETIAS will let you have multiple throughout its validity.
What is the procedure to get Greece ETIAS?
The process of getting Greece ETIAS is very simple and quick, you just have to follow these steps and you will get your ETIAS:
You have to apply on the application form online and respond with correct information and select a processing time for getting your document
Then, you must review your answers before submission to avoid responding incorrectly
Then, select your payment option from credit/debit card or Paypal
If required attach the scanned copy of your passport with a validity of around six months from the intended date of your travel
Is iVisa.com services reliable?
Yes, iVisa.com services are completely reliable and trustworthy for any type of travel document. We just need your information to submit the application and get your document ready according to the processing time you select.
Where can I get more info regarding any doubt?
If you have more doubts or unresolved queries regarding Greece ETIAS, you can visit our page and get more info about travel document requirements.
Start packing your bags and enjoy the wonderful vacation in Greece now.