If you're a citizen of Kiribati, then you might not find any issues when planning a trip to Europe since you're visa-exempt for a lot of countries. However, you'll need to obtain ETIAS permission from now on to travel to the nations that are part of the Schengen Zone. As you can guess,you can apply for a Greece ETIAS for the Citizens of Kiribati if you follow the steps written in this article. You can be sure that if you read the following information, you'll learn how to properly apply online for this document.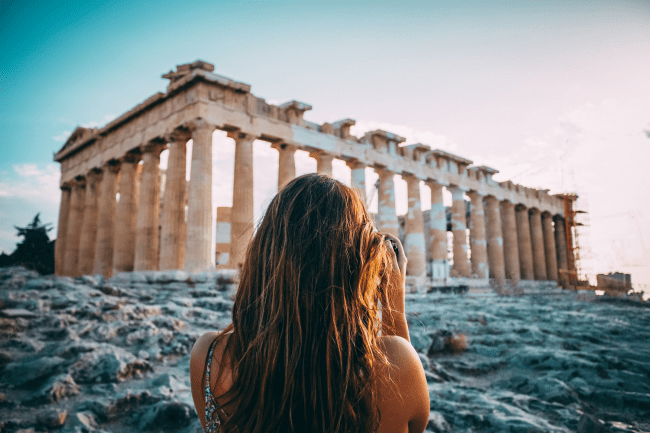 You'll need to apply for the ETIAS if you want to enter Greece, and we recommend that you use iVisa.com's online form if you want to receive this document the fastest way possible. You can also use the official website, but it might take longer.
You should consider that the ETIAS authorization will be mandatory by 2022. If you don't have this document when arriving at the airport, then you could find issues, including a denied entry.
Frequently Asked Questions (FAQs)
What is ETIAS?
ETIAS is a well-known acronym for European Travel Information and Authorization System. This is an electronic system that provides an updated tracking control of visitors from nations that don't require a visa to travel to the Schengen Area. It resembles the ESTA because the process is the same. As we mentioned above, the ETIAS will be mandatory by 2022.
This document allows foreign citizens to enter the Schengen Area and it ensures that these people aren't dangerous. It can be used for business or tourist purposes, but remember that if you want to study or work for more than 3 months in Europe, you'll need another type of document
How many countries require an ETIAS?
62 countries can apply for the ETIAS by now. These 62 countries are visa-exempt, so they don't need to obtain a visa separately, they only need an ETIAS. Kiribati is one of these nations eligible to apply for the ETIAS, so if you have a passport from Kiribati, then you must apply for the ETIAS before entering certain destinations like Greece.
What documents do I need to gather to apply for an ETIAS?
With iVisa.com, you only have to provide the following requirements:
A valid passport and a visible copy of the information page.
Your email address
A proper payment option, which can be a credit/debit card, or Paypal.
You should consider that these requirements are needed only if you apply with iVisa.com. You might need other stuff if you apply for the ETIAS using the ETIAS official website.
What are the prices and the processing times?
At the moment, we cannot give you official information about the exact prices that the ETIAS has, but we can inform you about the processing alternatives that iVisa.com has. This way, you can get an idea once the product is ready.
Standard Processing Option: it has the most affordable price for an average waiting (you'll probably wait just a few days)
Rush Processing Option: this time, the price will increase but the document will be processed faster.
Super Rush Processing Option: with this option, you can get your ETIAS the fastest way possible by paying the highest price (you'll probably wait just a few hours or even minutes).
How can I get my ETIAS?
Although this process is quite simple in general, it's still more convenient to apply with iVisa.com because you avoid long questionnaires and a long list of requirements. With iVisa.com you only have to do the following:
First, answer all the questions in the first part of the online form and choose the processing alternative you prefer.
Second, verify that your information is ok and pay for the service
Third, attach all the documents that were requested and send the online form.
Click here if you feel ready to begin the application.
How much time do I need to apply for my document?
iVisa.com's online form gives you an easy-to-use system, so you'll be able to complete it in no more than 20 minutes. We still recommend you finish this procedure with caution and without any stress. Keep in mind that if you need the ETIAS as soon as possible, then you can choose the Super Rush processing alternative to receive it properly.
Can I enter into any EU country with the ETIAS authorization?
You can use this document only in the Schengen Area. To avoid problems at the airport, remember that you have to go through the first country you selected in your online application. For example, if you want to visit Greece and then you want to go to Italy, then you have to select Greece as the first country to use your ETIAS properly. Once you visit Greece, then you can proceed to visit the other destinations for at least 90 days.
The ETIAS isn't authorized in countries that don't belong to the Schengen Area (for example, the UK and Ireland). In these nations, you might also need a visa to enter. Don't forget that the EU countries aren't the same as the Schengen countries because not all the EU countries are part of the Schengen Zone, and not all the Schengen countries are part of the EU.
Is it safe to use iVisa.com's service?
Yes, it's totally safe to use iVisa.com's service because it avoids unauthorized access to your information. All the information you see and offer on this website can't be leaked. Take a look at the reviews if you have doubts about it.
I have more questions, where can I receive more information?
Are there more questions about the ETIAS procedure you want to solve? Then don't worry, you can contact iVisa.com's customer service work team to get personal attention, or you can check iVisa.com's webpage for more information.