Myrtos Beach in Greece is famously known for its turquoise water that contrast with the white marbles pebbles in the sand. This beautiful landscape is accompanied by cliffs and mountains that complement the fabulous view. If you want to enjoy this special place, then start getting your ticket to Greece!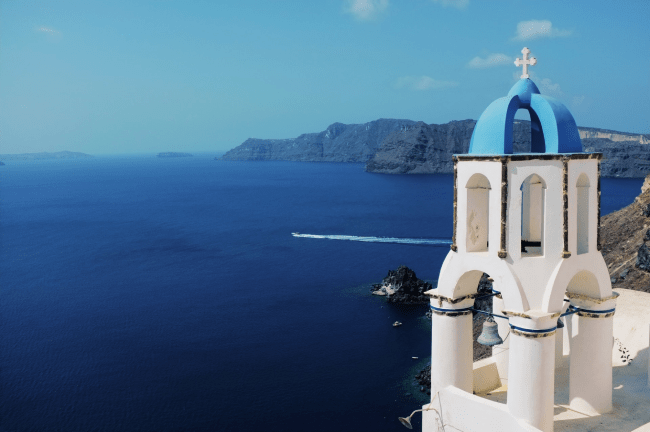 Citizens of Colombia who want to travel to Greece should know about the new entry requirements. The European Union has established an authorization document called ETIAS. Colombians will need this document before they arrive at Greece.
iVisa.com has the perfect solution. You can do the ETIAS application in our platform and you will be set to go. Get this simple, fast, and reliable service just a few clicks away.
Not sure what is a Greece ETIAS? Keep reading to find out more.
Frequently Asked Questions (FAQs)
What is the ETIAS?
The ETIAS is the European Travel Information and Authorization System. This is an authorization document that will allow entry to the citizens of 62 countries that are visa-free to the Schengen countries.
The European Union created the ETIAS to collect information about non-EU visitors and have more immigration control. The information will detect potential threats to the European countries and establish a safer environment.
The application is easy with iVisa.com, start with us today!
Is Greece ETIAS similar to a visa?
No, these are two different procedures that don't apply to the same countries. ETIAS will only be requested to countries exempt from a Schengen visa. On the other hand, countries that need a visa to the Schengen area will not be requested an ETIAS. Colombians don't need a visa to Greece, therefore, they need an ETIAS.
ETIAS only requires an online form. On the contrary, a visa is much tedious with interviews and long forms. If you are a citizen of Colombia, you just need an ETIAS.
Is ETIAS valid for Europe?
Not exactly. ETIAS is valid for the 26 countries part of the Schengen deal which includes Greece. Be careful because not all countries in Europe are part of the Schengen agreement. Just in case, go to the iVisa.com's Visa Checker in case you have several countries in your itinerary and you are unsure if you will require an ETIAS or any other travel document.
Get further clarification by contacting our iVisa.com's team.
Is Greece ETIAS valid for one trip?
No, you can travel as many times as you want, just follow the parameters explain next:
The document is valid for 3 years since it's approved.
You can travel up to 90 days in a 180-day period.
Apply now and visit Greece soon!
What information and requirements are requested?
The most important information is about your details such as name, address, date of birth, among others. Also, you could be asked about criminal records, previous trips, and any other information that could be of interest to the EU immigration. The information provided will be reviewed alongside other international bases, therefore, make sure your answers are honest.
Requirements:
Passport's scan that will be attached to your application.
A valid email address.
The payment of the iVisa.com's fee. This can be done with your Paypal account or with a credit/debit card.
What processing times do you have?
We are always thinking about your needs so choose between these options:
Standard method, our common service for a cheap price.
Rush method, we will process on your document faster.
Super rush method, when your trip starts soon and you need your ETIAS now.
Is the process complicated?
Not at all! You only need to follow 3-steps and you get your ETIAS.
Fill out the information required and choose a processing time (Standard, Rush, or Super Rush).
Review your answers and try not to leave blank spots (if applicable). Get your payment with credit/debit card or a Paypal account.
Upload the documents required and you are ready!
Go here and start your ETIAS.
How does the ETIAS arrive?
Remember we ask you about a valid email address? This is because your ETIAS will arrive at your email. Check it constantly, your ETIAS will be arriving according to the processing time you choose during your application.
How secure is the Greece ETIAS process with iVisa.com?
Very secure. We commit to safety guidelines around the iVisa.com platforms and professional training to our staff when handling personal information. We have been working for several years with solutions to travel documentation. You can check our customers' reviews and confirm the 100% satisfaction.
Who should I contact for more info?
Reach our customer support team for any questions about Greece ETIAS for Colombian citizens or any inquiries about iVisa.com services. The iVisa.com team works 24/7 so any time is a good time to contact them.
Apply now and plan your next trip to Europe!