Thinking about Santorini and the beautiful beaches you could enjoy this next summer? Then it's time to travel to Greece and relax in the Santorini paradise. But do you have all the right documents to travel to Greece? If you are unsure, we can help you!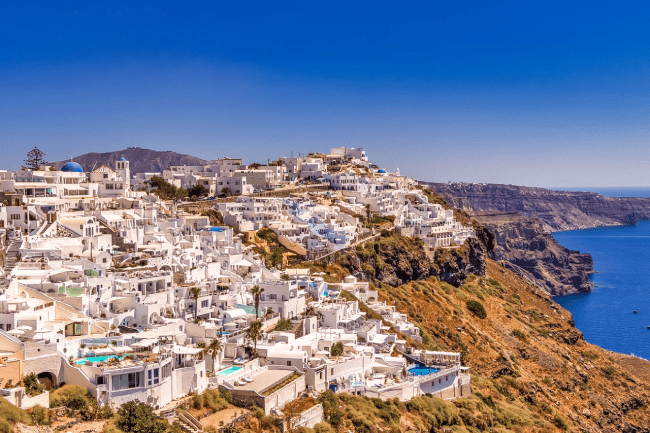 Greece, as part of the European Union, is complying with the new immigration guidelines, including ETIAS. This new online form will be required for all citizens from countries that are visa-exempt to the Schengen zone. This will include citizens of Dominica.
iVisa.com can support you through this process as we offer a simple, fast, and 100% reliable service. Start your ETIAS with us today!
Explore more about Greece ETIAS in the next FAQs.
Frequently Asked Questions (FAQs)
What does ETIAS mean?
It means European Travel Information and Authorization System. This new electronic system created by the European Union will allow better control of visitors' information. The main goal is to gather information about non-EU travelers so this data can be used to detect potential criminals and not allow them entry to Europe.
Begin the ETIAS process here.
Do I need an ETIAS, as a citizen of Dominica?
Yes, citizens of Dominica are required an ETIAS. The 62 visa-free countries to the Schengen area need an ETIAS, this includes Dominica.
Is Greece ETIAS valid for all of Europe?
ETIAS is not valid for all of Europe, it's valid for the 26 states part of the Schengen agreement in the European continent. For example, Greece is a Schengen country, then you need an ETIAS to visit Greece.
You can check if all the countries in your itinerary are part of the Schengen deal with the iVisa.com Visa Checker. This will tell you if you need an ETIAS or any other travel document.
Don't worry, the ETIAS is an easy process with iVisa.com, start here.
How long is the ETIAS authorization valid?
Once you have the ETIAS document, this will be valid for 3 consecutive years. As well, you can travel with the ETIAS for up to 90 days around the Schengen countries.
Ready for your journey? ETIAS is ready for you!
What details are essential for Greece ETIAS?
The online form will request personal details like your name, address, passport number, and more specific information about employment background, past trips to risky countries, and anything that could be relevant for the EU immigration. Answer to the best of your knowledge as all your information will go through other international bases for confirmation.
Get the next requirements:
A passport scan to be uploaded with your form.
An email address to receive iVisa.com's communication.
Get Payment done through a Paypal account or using a credit/debit card. iVisa.com charges a minimum price to get your ETIAS easily.
Why is an email address important?
ETIAS is an online form, for this reason, any final answer will go through electronic communication, like emails. Make sure your email is valid and that you check it regularly, iVisa.com will send your ETIAS to your email once your application is complete.
What waiting times do iVisa.com manage with ETIAS?
iVisa.com has three services according to your needs:
Standard, the most used service for the cheapest price.
Rush, less waiting time to get your ETIAS.
Super rush, for bigger budgets and no time to wait.
How is the process to obtain the ETIAS?
The procedure is very simple, just continue with the next 3 steps to have your ETIAS soon:
Respond the questionnaire with truthful information and pick a processing time for your service.
Review your answers and determine the payment method, whether you use your credit/debit card or pay with a Paypal account.
Attach documents required, like your scanned passport copy.
This is an effortless process that you can start here.
Do minors need a Greece ETIAS?
Yes, every person visiting Greece or any other country in the Schengen area will need an ETIAS. The ETIAS is not restricted to just adults, children will have to get their ETIAS too. Confirm with your travel group that each person has an ETIAS so you don't have any issues when entering Greece or any other Schengen area country.
Is iVisa.com trustworthy?
Of course! We are 100% trustworthy with any type of travel documentation such as Greece ETIAS. Check our customer satisfaction through their reviews about iVisa.com services. You should be aware iVisa.com doesn't work directly with the EU or the Greece government but we are an external agency with all the relevant knowledge and technology to work your ETIAS application.
I have some doubts, where can I check more info?
It is normal to have some doubts throughout the process. iVisa.com offers you a full support team that you can contact with any questions. They are available 24/7.
Apply now and start your trip to Greece!