Greece has given the world spectacular historical sites. One of them is Meteora, this impressive place joins monasteries from the Orthodox faith and a unique landscape with rock pillars as a base for this construction. This site should be on your top list when visiting Greece, which you can do following the new immigration guidelines.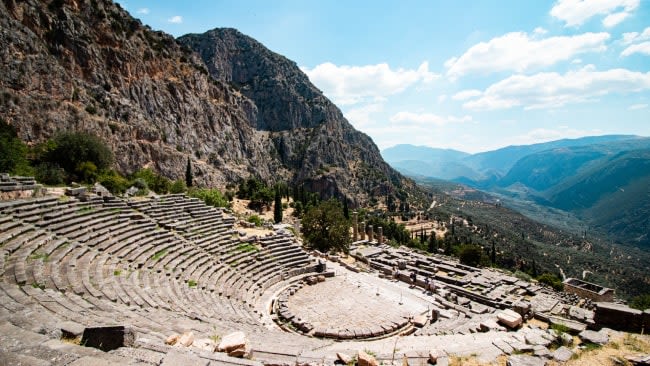 Citizens of Georgia and travelers from visa-exempt countries to the Schengen area will need to fill out a new online form call ETIAS. The European Union is establishing this procedure to regulate the entry of non-EU visitors.
iVisa.com is here to make the ETIAS a simple, fast, and reliable process. You can trust our easy service that can help you to get the authorization document soon.
Continue reading more about Greece ETIAS.
Frequently Asked Questions (FAQs)
What is an ETIAS?
ETIAS is an authorization document to let the entry of citizens from visa-free countries to the Schengen area. ETIAS is the acronym for European Travel Information and Authorization System.
Due to high crime rates, irregular immigration, and a rise in terrorism, the European Union is creating different control procedures to stop these illegal activities and only allow entry to citizens with a clean record. ETIAS is one of these processes and you can get it here.
I'm a Georgia citizen, should I get an ETIAS?
As a citizen of Georgia, you must obtain an ETIAS in case you want to visit Greece. There are 26 countries in the Schengen agreement, including Greece, and you can visit any of those countries once you get your ETIAS with iVisa.com.
You can always use the iVisa.com Visa Checker to confirm if all the countries in your itinerary are part of the Schengen area. If that's the case, you only need an ETIAS and you are ready to go!
Is Greece ETIAS valid for multiple trips?
Yes, you can travel as many times as you want to the Schengen zone, just take into consideration the next two parameters:
The ETIAS authorization is valid for 3 years.
During your journey, you can stay up to 90 days.
Greece is waiting for you! Start your ETIAS now.
What is the required information for ETIAS?
You need to start by completing the questions in the application. Some questions are related to your name, address, parents' information, etc. Other inquiries will be about your travel background, criminal records, health conditions, and general information important to EU officials. Remember your information will be cross-checked with international bases, like Interpol. Get the following too:
A passport scan with a clear view of your details and picture.
Email address that must be valid.
Payment options, with iVisa.com you can pay through a Paypal account or using acredit/debit card. Your payment will cover the iVisa.com fee for the ETIAS service.
What are the processing times?
According to your need, you can choose between these alternatives:
Standard option, in case you are not in a rush to get your ETIAS.
Rush option, a faster alternative for a fair fee.
Super rush option, we will get your document ASAP.
Which are the steps for the Greece ETIAS?
iVisa.com makes everything fast and simple, for this reason, the ETIAS application only takes three steps:
Complete the questionnaire with your personal information and choose a processing time (Standard, Rush, or Super Rush).
Double-check your answers and don't leave blank spots (if applicable). Determine your payment option by choosing between a credit/debit card or a Paypal account.
Attach the scan of your passport and any documents required.
After these steps, you will obtain your ETIAS! Start now here.
What will I receive in my email?
You should be receiving an email from iVisa.com with your ETIAS. It is important to keep this email at your arrival in Greece. Show it to airport officers so you have a smooth entrance to the Schengen area.
I have children in my group, do they also need an ETIAS?
Yes, children are not exempt from ETIAS. Each member of your group should have an individual ETIAS before traveling to Greece. Don't miss the opportunity to start the application today! Get the ETIAS now!
How safe is iVisa.com?
Very safe! iVisa.com will safeguard all your personal information and help you complete your ETIAS application following the highest security guidelines. Look into our customers' opinions so you can check the quality of our work. Even though we don't work directly with European immigration, we are an external company with all the correct procedures to handle your ETIAS with the highest quality.
Who should I contact for further info?
Contact the iVisa.com support team if you have any questions about ETIAS or any other travel document. They are available 24/7.
Apply with iVisa.com and continue planning your journey to Europe!