If you're a citizen of Micronesia then you probably haven't had a hard time entering a country like Greece. That's why this information is very important for you: from now on you need an ETIAS to enter Greece and the countries of the Schengen Zone in Europe. Therefore, we recommend you to read this article carefully to learn useful tips about the Greece ETIAS for the Citizens of Micronesia.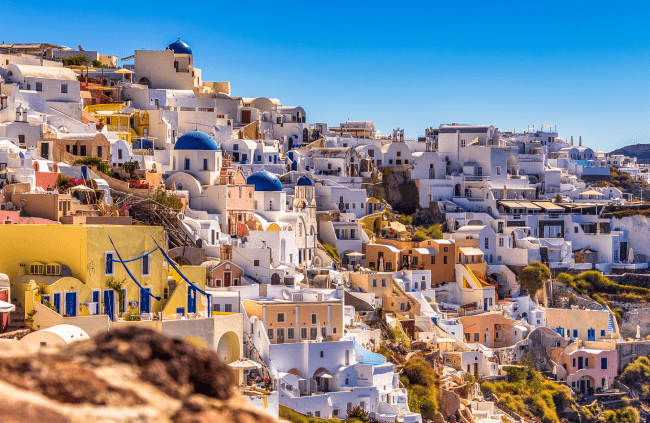 You can obtain the Greece ETIAS with an official online process that's not difficult to understand. But for your convenience, you can use iVisa.com's service and receive this document as fast as you want. We think it's important to know this because the official website can be more laborious.
If what bothers you is the security topic, then you'll be happy to know that iVisa.com is officially authorized to offer the ETIAS. The biggest difference between iVisa.com and the official ETIAS website is that iVisa.com can save you a lot of time and effort thanks to its effortless platform.
We invite you to continue reading this article to learn more about the ETIAS application process.
Frequently Asked Questions / FAQs
What is the meaning of "ETIAS" and why do I need it?
ETIAS is the acronym used for European Travel Information and Authorization System, an official European system launched to provide electronic authorization to travelers who want to visit the Schengen Area. In other words, this document works as an electronic authorization available only for the Schengen countries (26 at the moment).
By having an ETIAS, you have free transit to all the Schengen Area, as long as you follow certain considerations first.
If you're from a Visa-exempt nation, you still have to get the ETIAS, there's no exception about this document.
How many countries are part of the Schengen Area?
As you've read before, 26 countries are part of the Schengen Area. You can use your ETIAS in these countries, which are: Austria, Belgium, Luxembourg, Netherlands, Germany, France, Spain, Portugal, Sweden, Finland, Denmark, Lithuania, Latvia, Estonia, Poland, Slovakia, Hungary, Slovenia, Italy, Greece, Czech Republic, Malta, Iceland, Liechtenstein, Norway, Switzerland.
Just remember that if you want to travel to Greece, then you should select "Greece" as the destination country when applying for your ETIAS, whether you use iVisa.com's online form or the ETIAS official website. By following this recommendation, your ETIAS will be valid and you'll be able to enter other destinations if you want. This is valid as long as you don't exceed the 90-days period.
Keep in mind that if you want to travel to various countries in the Schengen Area, then you must select the first one to visit in the ETIAS online form. If you don't do this, you might get into trouble on your trip.
Do I need an ETIAS if I'm from Micronesia?
Micronesia is one of the qualified countries to get the Greece ETIAS, so yes, you need this document. Take that into consideration before getting everything ready for your trip. Don't forget that Greece is part of the Schengen Area and that's why you should apply for the Greece ETIAS.
What documents do I need to apply?
By using the online form that iVisa.com created, you'll only need a few documents to process your ETIAS.
This is the list iVisa.com requires:
Your passport with a copy of the main page.
Your valid email address
A valid payment alternative like credit/debit card or Paypal.
What are the prices and processing times?
Part of the information that's not official yet is the price. Remember that the cost of the ETIAS can change depending on the nationality of the traveler. However, what we can provide you in iVisa.com is the general information about our processing options so you can consider that whenever you feel ready to apply for your ETIAS:
Standard Processing Alternative: this is an excellent alternative if you're not in a hurry because it has the longest waiting period but the least expensive price.
Rush Processing Alternative: this option is a bit faster but you wait for less time.
Super Rush Processing Alternative: this is the most expensive alternative because you wait just a few hours or even minutes for your document.
How can I get my ETIAS?
It might not be difficult to apply with the official website, but it can be a long-delayed task and even a tedious one if you don't have patience with online questionnaires. With iVisa.com, you don't need to worry about these topics because its process is simpler and offhand. These are the steps to follow:
First, fill in the online form with your personal details and select the processing option you prefer.
Second, verify that the information you gave is ok and proceed with the payment.
Third attach the pre-requisites that iVisa.com asks you and send the online form.
You can click here to start.
What should I do if I want to travel with my children?
If you want to travel with your kids then you should remember that they'll require their ETIAS too. You can chat with our service customer center to receive more details about this topic.
What benefits do I obtain with an ETIAS?
If you're thinking that by applying for the ETIAS you won't receive any benefit, then you should think once again, because you can obtain some advantages with this document, including:
Being able to save a lot of time because you'd use an effortless online form, especially if you use iVisa.com's application method.
This document is linked to other important security companies like Interpol, SIS, VIS, and so on. This is important to avoid any issue at the airport and it also allows the authorities to have a better track of possible threats.
The ETIAS authorization was designed to diminish illegal migration too, so you won't be treated as a potential threat because the authorities will verify that you follow the valid rules to enter the Schengen Area.
You can enter all the countries in the Schengen Area with just one ETIAS authorization.
Is it safe to use iVisa.com's assistance to get my ETIAS?
Yes, we can ensure that it's safe to use iVisa.com's service. Our system was created to keep your information under the best supervision. All the personal information you provide and watch can't be leaked. Read our reviews to know more about our service.
Where can I read more information?
We're always ready to assist you if you still have doubts about this process. Therefore, we remind you that you can chat with our customer service center, or you can get more useful tips on iVisa.com's website.