Greece is known for its blissful beaches, fishing villages, and breathtaking blue waters. From its lush Mediterranean landscape to the sparkling seas, Greece is home to many paradise-like beaches.
Known as the ultimate destination for leisure and recreation, Greece's gorgeous beaches have tons to offer. Most boast restaurants, sunbed rentals, and even water sports facilities.
If you're planning a seaside escape, add these Greek beaches to the list of possible destinations ASAP! Trust us; you will not regret spending your vacation at these idyllic beaches!
1. Navagio Beach, Zakynthos Island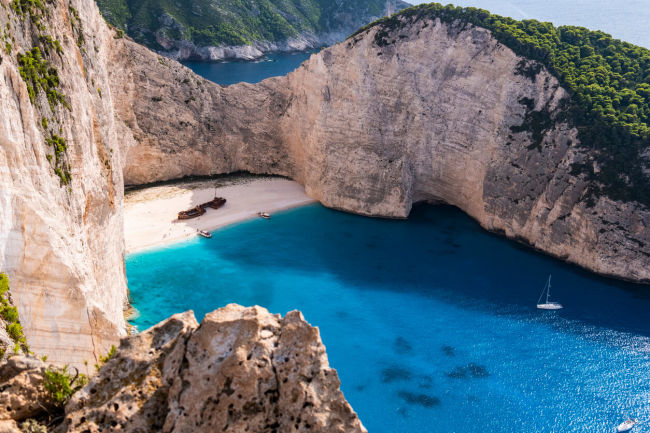 For those looking for a quieter vacation atmosphere, the island of Zakynthos is the perfect destination. We recommend one beach in Zakynthos Island as a must-see: Navagio Beach.
Also known as Shipwreck Beach, Navagio Beach is a breathtaking cove boasting white sand and towering limestone cliffs. It gets its nickname from the skeletal remains of an old shipwreck splayed across its shores.
2. Kolymbithres Beach, Paros, Cyclades
Another famous beach is Kolimbithres in Paros. Located in the vast bay of Naoussa, the beach is known for its border of towering blocks of smooth granite shapes carved by the sea and the wind over centuries.
3. Myrtos Beach, Kefalonia Island
Driving down the winding road to Myrtos Beach in Kefalonia Island already proves why this beach is on our list. As one of the best beaches in Greece, Myrtos Beach boasts breathtaking, electric-blue waters that contrast sharply against the bright white "sand," which is tiny white pebbles.
The best time to visit is early morning when the area is most serene. This stunning beach is closest to Divarata village, where you can indulge at local tavernas like Alexandros.
4. Voutoumi Beach, Antipaxos Island
Another gorgeous pebbled beach lies on the northeastern coast of Antipaxos island. The picturesque Voutoumi beach is covered in emerald-green vegetation and electric blue waters, making it the perfect backdrop for the two small taverns on the beach.
During the summer months, you can make a daily excursion to the beach from Corfu and Paxos or visit from the mainland villages of Parga and Sivota. You can also catch a water taxi or speedboat from Gaios Port to the beach.
5. Sarakiniko Beach, Milos Island
Next on our list is probably one of the most photographed beaches on Milos Island; Sarakiniko beach is famed for its unique landscape.
The beach is bordered by smooth, sloping gray rocks creating a channel to the sea that resembles a desert canyon filled with deep blue water. Although breathtaking, this underrated spot is hardly ever crowded, making it the perfect place to unwind.
6. Kleftiko Beach, Milos Island
Want to feel the thrill of an adventure of the past? Why not visit the cove of Kleftiko? Known as Bandits' Lair, it was once an old pirates' hideout. Now, it is one of the most popular beaches in Greece.
Kleftiko is home to elaborate caves and imposing rock formations alongside its crystal-clear blue water. You have not visited Milos island if you don't see Kleftiko at least once.
7. Agios Prokopios Beach, Naxos Island
Agios Prokopios lies just 5km from Naxos town. The long beach has stunning light blue water and is considered one of the best beaches in Greece because of its soft, golden sand large size.
The beach is lined with taverns, cafeterias, and studios and is home to many sports centers offering windsurfing, kite surfing, and diving.
8. Elafonissi Beach, Crete Island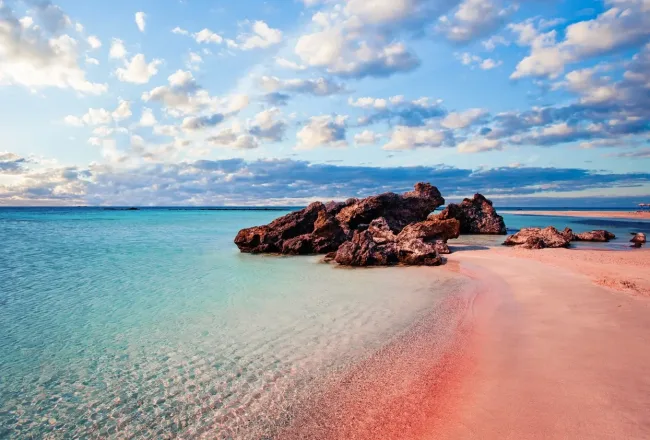 Among the most beautiful beaches in the Greek islands, Elafonissi on Crete Island is known to dazzle visitors. The beach is breathtaking, flaunting a shoreline of fine, subtle pink sand and crystal aquamarine water similar to the Caribbean Sea.
The mile-long beach is located along a lagoon of a small islet in a protected nature reserve near the mainland of Crete. Though there are no hotels nearby, there are snack bars along the beach and lounge chairs, and sun parasol rentals.
9. Balos Beach, Crete Island
More than just a beach, Balos is a traveler's favorite lagoon that even Prince Charles and Princess Diana visited. The soft white sand, calm blue waters, and secluded area are irresistible to those looking for a more private getaway.
Right beside Balos beach in Greece is the island of Gramvousa. The island is currently uninhabited, but on its rocky mountain lies a medieval castle. It is a must-visit location if you go to Balos beach.
10. Elia Beach, Mykonos Island
Mykonos is what many picture heaven looks like, and Elia Beach proves why. The extensive sandy beach is just 12 kilometers from the capital and holds the title of the longest sandy beach in Mykonos.
Elia Beach offers a variety of taverns, bars, and water sports facilities for water skiing, parasailing, and windsurfing. As the last stop of the water taxi route, it is not overly crowded, making it a popular option among nudists and those searching for a tan without lines.
11. Firiplaka Beach, Milos Island
When it comes to breathtaking beaches, Milos Firiplaka Beach is a must-see! The beach is cut in half by a rock detached from the mountain. The colorful volcanic rocks that surround it and the shallow turquoise waters make it very popular with tourists.
The southern part is the only open sea to Crete and the coast. Its large gray sand beach is ideal for families and children, and the beach bar offers coffee, drinks, and snacks.
12. Agios Georgios Beach, Naxos Island
Another excellent beach for families and kids is Agios Georgios Beach on Naxos. Just a short walk from the main town and port on the island, the shallow shelf extends well into the sea.
Boasting calm protected waters, and many eateries and hotels nearby, Agios Georgios is perfect for those who don't want to travel for ages just to unwind on the beach.
13. Kastraki Beach, Naxos Island
Sitting between Mikri Vigla (Sahara) and Glyfada beaches, the Kastraki Beach has stunning fine white sand and crystalline waters that extend more than 3 km. The perfect place to walk along the sea.
Renowned for its natural and unspoiled beauty, Kastraki sits in its most natural form, with only a few sunbeds available along the shore. As beautiful as it is, we do recommend checking the weather before you visit, as the winds in the area can be particularly harsh.
14. Stoupa Beach, Peloponnese
The seaside village of Messinian Mani, which lies 45 km southeast of Kalamata, is home to Stoupa Beach. The beach holds great historical significance for the Peloponnese.
Stoupa beach and the famous Kalogria beach are the only two in the village, and both offer snorkeling as their main attraction. Not to mention, the village is considered one of the most developed tourist villages in the area.
15. Red Beach, Santorini Island
Last, yet certainly not least, offers a splash of color. Red Beach, on the island of Santorini, got its color from the red volcanic rock meeting the blue Aegean Sea and is an incredible sight to behold!
Although it appears red from afar, once you're walking along the beach, you realize it's made up of a multitude of colors, including rich burgundy and dark blacks.
Do you need a Visa to travel to Greece?
Now that we've convinced you to plan a tour of Greece's many beaches, the big question is, do you need a visa to travel to Greece? Residents of the countries below will need to apply for the Greece Schengen visa:
| Afghanistan | Algeria | Angola | Armenia | Azerbaijan |
| --- | --- | --- | --- | --- |
| Bahrain | Bangladesh | Belarus | Belize | Benin |
| Bhutan | Bolivia | Botswana | Burkina Faso | Burma/Myanmar |
| Burundi | Cambodia | Cameroon | Cape Verde | Central African Republic |
| Chad | China | Comoros | Congo | Cote Di'Ivoire |
| Cuba | Djibouti | Dominican Republic | Ecuador | Democratic Republic of Congo |
| Egypt | Equatorial Guinea | Eritrea | Ethiopia | Fiji |
| Gabon | Gambia | Ghana | Guinea | Guinea-Bissau |
| Guyana | Haiti | India | Indonesia | Iran |
| Iraq | Jamaica | Jordan | Kazakhstan | Kenya |
| Kuwait | Kyrgyzstan | Laos | Lebanon | Lesotho |
| Liberia | Libya | Madagascar | Malawi | Maldives |
| Mali | Mauritania | Mongolia | Morocco | Mozambique |
| Nambia | Nauru | Nepal | Niger | Nigeria |
| North Korea | Oman | Pakistan | Papua New Guinea | Philippines |
| Qatar | Russia | Rwanda | Sao Tome and Principe | Saudi Arabia |
| Senegal | Sierra Leone | Somalia | South Africa | South Sudan |
| Sri Lanka | Sudan | Suriname | Swaziland | Syria |
| Tajikistan | Tanzania | Thailand | Togo | Tunisia |
| Turkey | Turkmenistan | Uganda | Ukraine | Uzbekistan |
| Vietnam | Yemen | Zambia | Zimbabwe | |
We know that the idea of applying for a visa puts a real damper on your plans however, that does not have to be the case! iVisa can help you apply for a Greek Schengen Visa so you can focus on planning out which beach to enjoy first. So, don't delay, apply now!