Since the beginning of the Coronavirus pandemic, Grenada Covid-19 travel restrictions have focused on three types of restrictions: entry regulations, documentation requirements, and quarantine restrictions. The most important to be aware of before you arrive are those related to required documentation. All international visitors must get a Travel authorization in which you have to specify some details such as the date of your arrival on the island, the hotel or hotels where you are going to stay, the reason for your trip (such as tourism, work or medical) between other requirements.
If you are planning a trip to Grenada, keep reading this article as we will explain what you should keep in mind regarding restrictions in addition to knowing the best method (Standard, Rush, and Super Rush) to apply for the travel authorization to enter the Island.
Learn more about Grenada Covid-19 travel restrictions
Note: Since April 4th, 2022 the Grenada Travel Authorization is no longer necessary to enter the country.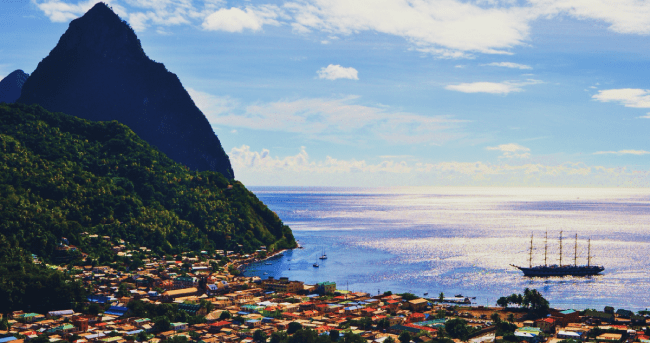 What is the process for Grenada Travel Authorization?
Visit iVisa.com and fill out the application form with the basic information.
Choose the processing time based on your schedule and proceed to payment.
Our team will review your application and let you know if anything additional is needed.
You will receive your document via email, you need to keep an eye on it.
Present your Travel authorization certificate at the airport.
Frequently Asked Questions
What do I need to enter Grenada with this document?
With this document visitors and residents can enter Grenada. For this reason, it is very important to present it before boarding your flight since without this document your entry will not be possible.
Learn more about Grenada Covid-19 travel restrictions
Do I need a COVID vaccine or vaccination certificate to enter Grenada?
No, you don't need a COVID-19 vaccine to enter this country. Since information may change quickly, we advise you to follow up on the latest Saint Lucia travel updates and/or contact your local embassy.
Do I need to take a COVID-19 test before traveling to Grenada?
COVID test requirements: There are no testing requirements.
What do I need to apply for the Travel authorization?
To access the travel authorization you must take into account the following:
A passport, valid for at least 6 months.
An email address to receive your documents.
A credit/debit card or a PayPal account.
Proof of accommodation.
How much does the Grenada Travel authorization cost?
This form is priced according to speed and convenience.
Standard Processing Time:

24 hours

-

USD $27.49

.
Rush Processing Time:

4 hours

-

USD $49.99

.
Super Rush Processing Time:

30 minutes

-

USD $84.99

.
Do children need to present a Travel authorization?
All travelers entering Grenada must complete the Travel authorization, including children. It is the responsibility of guardians to complete these registrations to avoid any problems with the government. This is a part of the Grenada Covid-19 travel restrictions.
Do I have to quarantine once I arrive in Grenada?
Quarantine requirements: There are no quarantine requirements.
Is it safe to use iVisa.com?
We are known for being very secure and stable, we have been accompanying our customers for years in their travel processes. We invite you to read some of the excellent reviews that our customers have left us.
If I have any doubts, can I contact iVisa.com?
To learn more about Grenada Covid-19 travel restrictions you can contact our customer service agents, who will answer any questions you may have as well as assist you in your application process.
iVisa.com Recommends
It's not all about Grenada Covid-19 travel restriction, we can also talk about having fun. If you are a lover of good food we recommend you to visit several places in Grenada where you can taste delicious dishes.
One of the best places to eat in Grenada is at the "Le Bordeaux." This restaurant was actually the very first pub on the island, dating back to February 1974. Built by the then-prime minister of Grenada, it features beautiful baroque architecture, crystal chandeliers, and French food. In addition to the bar, there is also a lovely courtyard surrounding it. In February 1974, the first prime minister of Grenada signed the Le Bordeaux Agreement, which made Crystal Bordeaux the only establishment in Grenada open to the general public.
If you are looking for a taste of what Grenada consists of when it comes to culinary delights, the Grenada Creole French restaurant is your best option. Located in Grenada's Little America neighborhood, this restaurant offers authentic seafood meals and is staffed by locals. Of course, you can always visit the old-time French quarter of Soufriere, which is located in the heart of Grenada. Whether you are interested in sampling old-world French cuisine or simply strolling through the streets of Grenada, there is a place for you to enjoy great-tasting food.