Grenada is a beautiful Caribbean country consisting of an island, known as Grenada, off the coast of Venezuela, and other smaller islands nearby. Nicknamed the "spice island", Grenada is home to numerous spice plantations. It is home to the oldest capital, St. George's, whose dark, hilly main beach is home to many popular bars and resorts. It is a place that should be part of your vacation plans as you will get to know incredible places and you can have a stay where you can relax with the beautiful beaches.
Before planning your trip you should be aware of the requirements you need to enter the country. A mandatory document is the Health Declaration that is requested by the authorities before entering the country because with this they can have more sanitary control and avoid the spread of Covid-19.
We invite you to continue reading about How citizens of Germany can enter Grenada during Coronavirus with iVisa.com you will be able to process your documents and plan your trip.
Note: Since April 4th, 2022 the Grenada Travel Authorization is no longer necessary to enter the country.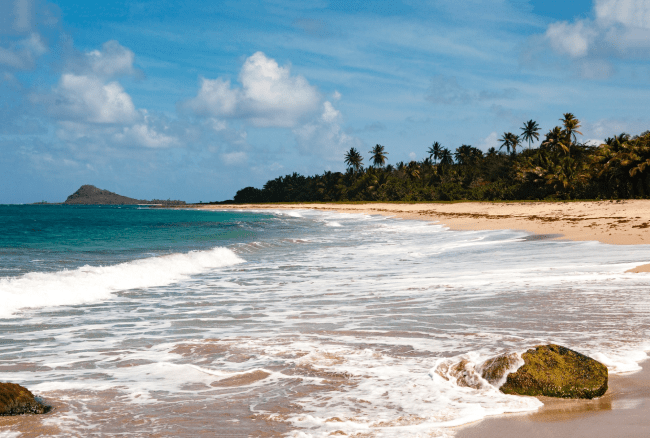 How can I obtain the Health Declaration with iVisa.com?
Visit our website.
Fill out the application form with all the required information.
Select the processing time according to your needs and continue with the payment.
Get your application reviewed by our experts and if anything additional is required they will contact you.
Obtain your document via email.
Print and show your passport with the Health Declaration at the airport.
Learn more about How citizens of Germany can enter Grenada during Coronavirus and be ready for your trip.
Apply in advance
It is important to keep in mind that you must have all documents up to date at your travel time. Avoid having to be in a hurry filling out forms. iVisa.com supports you from the beginning by informing you about everything you need to travel with peace of mind. We have a team available to answer your questions and help you with your application process.
Do not hesitate to start your application now.
Frequently Asked Questions
What is the Health Declaration?
Due to the pandemic that we live in today, the health authorities of Grenada have made it a requirement for people entering the country to issue a Health Declaration Certificate to verify each traveler's health status. It is a mandatory document and all persons regardless of age must present it.
For more information about How citizens of Germany can enter Grenada during Coronavirus visit our website.
Do I need a COVID vaccine or vaccination certificate to enter Grenada?
No, you don't need a COVID-19 vaccine to enter this country. Since information may change quickly, we advise you to follow up on the latest Saint Lucia travel updates and/or contact your local embassy.
Do I need to take a COVID-19 test before traveling to Grenada?
COVID test requirements: There are no testing requirements.
Do I have to quarantine once I arrive in Grenada?
Quarantine requirements: There are no quarantine requirements.
What documents do I need to present for the Health Declaration?
To access the Health Declaration certificate it is necessary to take into account the following:
A passport, valid for at least 6 months.
An email address to receive your documents.
A credit/debit card or a PayPal account.
Proof of accommodation. The dates on this document must match the dates of travel selected in the application.
How much does the Health Declaration cost?
The price of your Health Declaration to Grenada will depend on which of the following processing options you choose:
Standard Processing Time:

24 hours

-

USD $25.49

.
Rush Processing Time:

4 hours

-

USD $45.99

.
Super Rush Processing Time:

30 minutes

-

USD $77.99

.
Can I trust iVisa.com?
There are many testimonials from our customers about their experience with iVisa.com. We are a very trustworthy platform because we have first-class technology and our years of experience prove it. We invite you to read the comments and start your application with us and see How citizens of Germany can enter Grenada during Coronavirus.
Where could I find more information?
Whenever you have a question you can find information on our website or even better, you can contact our customer service team to solve all your questions. They are available 24/7 for you.
Learn more about How citizens of Germany can enter Grenada during Coronavirus
iVisa.com Recommends
An obvious choice for an exciting vacation in Grenada is to sample the cuisine of the many rural areas of this island. French is widely spoken and is an important element of daily life on the island. Eight languages and several dialects are spoken in Grenada, so it is easy to encounter foods from various regions. Some of the most popular foods include French fettuccini (also known as frise criolla), rice and beans (dollars), creole potatoes, rabbit stew, frog legs (roti), beef stew, okra, and rice pilaf. Although French is the official language of Grenada, other local varieties of English, Spanish, German, and Hindi are also spoken. Creole food is also served at lunch.
On the mainland part of Grenada, where there is an English presence, there are several places with cafes and restaurants serving Caribbean-style cuisine. Some places, such as La Soufriere, serve Caribbean Creole food cooked in traditional wood-fired ovens. There are also several bistros and restaurants serving Caribbean cuisine and English menus.
As you can tell, it is a place where you can find a wide variety of food according to your tastes. Plan your trip and apply now with iVisa.com