The restrictions for traveling to many destinations in 2021 will have changed and we're sure that the doubts our readers are having about the requirements to pass borders on any one part of the planet are going to increase. If you are wondering Do I need a vaccine to travel to Hong Kong?, iVisa.com has friendly advisors who will answer all your questions and help you discover what you need to get to the countries you want to reach.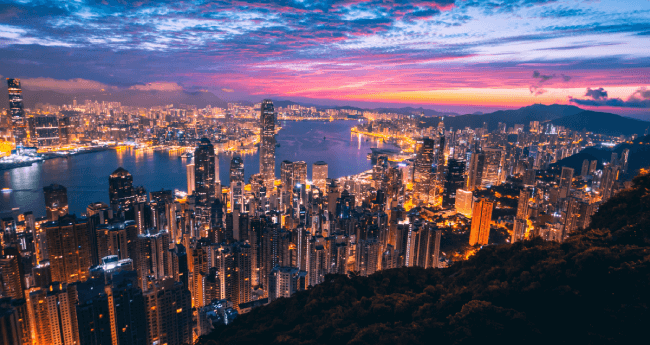 In the frequently asked questions section below, you will find more information related to your query Do I need a vaccine to travel to Hong Kong? If you plan to visit Hong Kong and its wonderful eastern sights, do not be left behind. Start by applying for the relevant documentation at iVisa.com and don't miss out on the best amusement parks and cultural attractions that it contains.
How to obtain a travel document with iVisa.com
You can easily receive your travel documents with us by following these steps:
Fill out the online application form with your private information.
Make sure that your answers are ok and choose your preferred processing speed to pay the appropriate fee.
Upload and attach any essential document required, then click on submit. The document will be sent to your inbox when it has been approved and processed. That's all you have to do! iVisa.com makes it simple for you.
Frequently Asked Questions
Do I need a vaccine to travel to Hong Kong?
When considering, travel to Hong Kong you will be pleased to hear that Malaria and Yellow Fever are not common in the country, unless contracted before arrival. You are encouraged to check standard vaccines are up to date including Hepatitis A and B, Tetanus, and Rabies for those who may be at risk when working with animals.
Can iVisa.com help me with the entry requirements?
To answer the question Do I need a vaccine to travel to Hong Kong? quickly, no, you don't need a vaccine to enter this country.
However, you may need a visa or a Health Declaration, and we can help you with that. Get started.
Do I need a COVID vaccine or vaccination certificate to enter Hong Kong?
Hong Kong now allows foreign visitors who have been fully vaccinated at least 14 days before arrival. A vaccination certificate in English or Chinese must be presented, along with a written confirmation in English or Chinese.
COVID-19 vaccination certificates are mandatory if you are coming from any country except mainland China, Taiwan or Macao. However, unvaccinated children under 12 accompanied by fully vaccinated parents are exempt from this requirement.
Accepted vaccines are: AstraZeneca, Anhui Zhifei Longcom, Covaxin, Pfizer, CanSinoBIO, Sputnik V, Vero Cell, Janssen, Moderna, Nuvoxavid, Covishield, Covovax, Sinopharm, and Sinovac.
Do I need a COVID-19 test to travel to Hong Kong?
COVID test prior to arrival: Antigen within 24 hours.

COVID test exemptions: Travelers coming from Mainland China or Macao, children under 3 and transit passengers.
Note: Travelers are advised to complete the online Health Declaration Form after they have obtained the negative RAT result.
Will I be required to quarantine once I get to Hong Kong?
Arrivals from Macao or mainland China:
Quarantine requirements: Self-monitoring for 3 days

Quarantine testing: a PCR on day 2
Arrivals from Taiwan and the rest of the world:
Quarantine requirements: 3-day medical surveillance

Quarantine testing: Daily rapid antigen tests until day 7 and a PCR test on day 2, 4 and 6.
What requirements are necessary to travel to Hong Kong?
When you order a Hong Kong Tourist eVisa with iVisa.com, you will only need the following:
Passport, with a scan of the information page. That is the page with your photograph on it.
A credit or debit card, or Paypal account, to pay the processing fee.
An email address, as we will communicate with you electronically.
As you may have already guessed, the answer to the query Do I need a vaccine to travel to Hong Kong? is no. You aren't required to get any specific vaccines to enter the country, although your healthcare provider may suggest that you make sure that standard vaccines are up to date before you travel, such as tetanus and measles.
How long does it take to get a tourist eVisa?
Fortunately, Hong Kong has opened its borders, and to answer Do I need a vaccine to travel to Hong Kong? you will be relieved to know that you don't. So get ahead with your holiday plans and apply for a tourist eVisa by taking advantage of one of our three different processing options for all levels of urgency.
Standard Processing: This is the best option for travelers with a decent amount of time before departure.
Rush Processing: This option is great for jet setters who are in a hurry, but are not rushed yet.
Super Rush Processing: This is essential for travelers who need their documents as soon as possible.
Can I trust the iVisa.com website to find all the information I need to know for my query, "Do I need a vaccine to travel to Hong Kong"?
You can trust us to provide you with the most up-to-date information on travel planning. Feel free to contact our team and ask them directly: Do I need a vaccine to travel to Hong Kong?
Is iVisa.com safe to use?
We know that your passport and identity documents are extremely sensitive information that must be protected at the highest level. That is why thousands of clients continue to use our services each year for all their visa and border requirements. Read our customer reviews to learn more about why iVisa.com is safe to use.
Where can I read more information?
If you have any more burning questions that are not yet covered in this post, head over to the iVisa.com website for helpful tools like the Visa Checker. You can also use the chat function to access the helpful team, who are ready to answer your questions, day or night.
iVisa.com Recommends
Hong Kong is an autonomous territory in China quite famous for its skyscrapers, modern commerce, Victoria Summit, and Kowloon. It is an ideal place to explore lively, illuminated alleys while learning more about ancient traditions in China.
One of the most touristy spots in Hong Kong is the Victoria Summit, also known as Mount Austin, and locally as The Peak.
The mountain is located in the western half of Hong Kong Island. With an altitude of 552 m, it is the highest mountain on the island, but not in all of Hong Kong, since the highest in the territory is the Tai Mo Shan. Even so, the Victoria Summit is a must for any traveler.
Hong Kong is one of the few places in the world that has a Disneyland Resort. This park is located not far from Inspiration Lake, in Mong Tung Hang.
Other places that you should not miss in Hong Kong are the Tian Tan Buddha in Ngong Ping, Lantau Island; the Peak Tram that takes you to the Victoria Summit, and the Sky100, the highest observation platform in Hong Kong, at 393 meters above sea level.
If you're ready to start your online application process, then start it here.