Are you ready to embark on a beautiful trip to Hong Kong? Are you sure you have all the necessary documents as an Indian citizen to enter the country?
Hong Kong is a country full of cultural, historical, and modern wonders. However, as an Indian citizen, you will not be able to enter the country unless you have two essential requirements.
First, you need a Pre-Arrival Registration (PAR) and a Health Declaration. These are the two essential documents, which we will discuss later. The vital thing to note is that approximately 170 nationalities are visa exempt, and India is one of them. This means that no visa is required for Hong Kong as an Indian passport holder.
Generally, Pre-Arrival Registration can be done online and only takes a moment. However, if you want to know more, continue reading this article.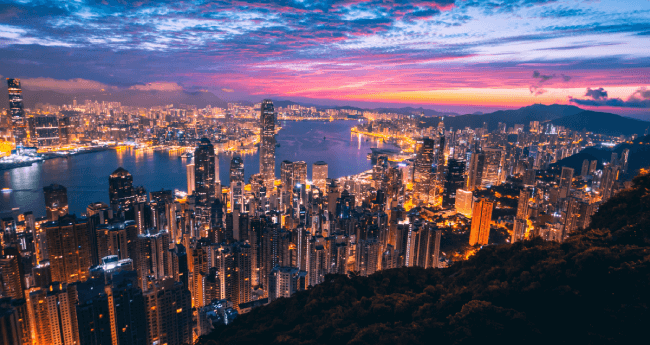 Everything you need to know about your dream trip to Hong Kong!
Are you ready to explore an excellent destination? Start reading this article first. Here you will learn about the documents you need, their requirements, costs, COVID-19 restrictions, and most importantly, some tips to travel with peace of mind.
What is the Health Declaration, and what is it for?
The Hong Kong Health Declaration is an electronic document used to monitor the health of international travelers during the COVID-19 pandemic. All Indian nationals must complete and submit the Electronic Health Declaration Form upon arrival in Hong Kong, regardless of nationality or age.
We provide the service of processing this document because some users have difficulty completing it independently. Our process is user-friendly. Just fill out our form and follow the sequence.
The document price ranges from USD $38.99 to USD $115.99, and you will be able to get it in less than 2 days, depending on the traveler's need and budget. But this is not the only travel document needed to enter the country. We also offer the Pre-Arrival Registration.
What is Pre-Arrival Registration (PAR), and how do I obtain it?
The Hong Kong PAR is a pre-arrival registration document for Indian passport holders and worldwide citizens to enter Hong Kong. It is an electronic document that allows travel to Hong Kong for multiple visits. However, each visit does not last more than 14 days Per Entry.
Pre-arrival registration in Hong Kong is mandatory for all Indian nationals wishing to obtain visa-free entry. Pre-arrival registration is valid for up to 180 days after issued and can be used by any traveler to enter Hong Kong on multiple occasions.
The Hong Kong PAR application is easy to make. First, you must submit the following information and documents:
Valid Indian passport: A copy of an Indian passport valid for at least six months. This valid passport must be in perfect condition to visit Hong Kong.
Email address: We'll send you the confirmation of your PAR approval.
Proof of payment: You need to make a payment through our online means. You can do it by credit or debit card.
To get your Hong Kong PAR, you just have to fill out our form and follow the steps presented on the website. But don't worry, it's straightforward, and if you need anything else, we have a group of experts who can help you through the process.
How much does it cost to obtain the Pre-Arrival registration?
iVisa's fees are competitive with others in the market, and we offer different options depending on your needs.
Standard processing: This option allows you to receive your document within

2 days

for a fee of

USD $38.99

.
Rush Processing: For those who require their pre-arrival registration a little earlier than standard, this option takes only

36 hours

for a service fee of

USD $63.99

.
Super Rush Processing: If you are in a hurry to get your travel document and are about to travel, this option is for you. It will only take

24 hours

for a fee of

USD $115.99

.
Remember that these processing options will be chosen according to your travel needs. This price is considered a Hong Kong visa fee.
Do minors need to apply for Pre-Arrival registration to enter the country?
All travelers, including minors, must complete an application form, as the PAR must match a unique passport number for each traveler.
What can I do in Hong Kong, and when is the best time to travel?
Hong Kong is a beautiful destination full of contrasts in the Tropic of Cancer, so it is necessary to know when to travel. Many travelers visit in summer, but this is not the best time to travel to the destination.
If we talk about when to travel to Hong Kong, we can recommend visiting its temples. Chinese have a spiritual culture capable of combining the modern with the most profound religion. Visiting these temples in all their splendor requires fleeing from the masses of tourists who stay in the summer. That is why the best months are May, April, September, October, and November.
If you are going to schedule early visits, do not forget to visit the Mon Man temple, whose spirals of smoke are lost in the facades of skyscrapers, or the Wong Tai Sin temple noted for the silence, the colors, and for being more used for prayer.
On the other hand, during the winter, Hong Kong is a less tourist-friendly city. You might feel disappointed due to the cold weather and the low visibility of the giant skyscrapers. Also, the locals take vacations during this season, and the Chinese New Year is celebrated, so many places are closed.
Another destination of interest is the world's largest indoor escalator. This 800-meter-long covered escalator is known as the Central to Mid-Levels escalator and is a very ingenious means of transportation. Spring and autumn are the best times to travel to Hong Kong.
Restrictions and COVID-19 requirements to enter Hong Kong
Maintaining compliance with all COVID-19 requirements during your visit to the country is essential to avoid immigration problems and any contagion among citizens.
The first thing you should know is that all passengers over 3 years old must take a COVID-19 PCR test within 48 hours before traveling. Travelers from Mainland China and Macau will need a negative PCR test result within 72 hours.
Regarding quarantine, all Indian nationals must stay three nights in a Designated Quarantine Hotel (DHQ). After this, they will need to take daily rapid antigen tests and a PCR test on day 2 to be released from quarantine and continue their travel.
This destination allows *foreign visitors who have been fully vaccinated at least 14 days before arrival***. A certificate in English or Chinese must be presented as proof of vaccination. Vaccination certificates are mandatory if you come from anywhere other than mainland China, Taiwan, or Macau.
According to the Hong Kong Immigration Department, the accepted vaccines are AstraZeneca, Anhui Zhifei Longcom, Covaxin, Pfizer, CanSinoBIO, Sputnik V, Vero Cell, Janssen, Moderna, Nuvoxavid, Covishield, Covovax, Sinopharm, and Sinovac.
It is recommended that all travelers consult COVID-19 requirements in advance of travel, as these may change at any time.
I have questions about traveling to Hong Kong. What can I do?
Suppose you have any concerns about iVisa and our products, you can always contact our amazing customer support team, available 24/7. Also, you can contact us online or via e-mail at [email protected].