Hungary is a thrilling destination with lots of fun and entertaining activities to do. Local culture and tourism associations are taking advantage of the country's most valuable assets to promote emerging economic sectors like gastronomy and wine production. As a growing trend, 3-5 day tours are now available to enjoy entire days where wine plays the starring role.
Hungary has 22 regions dedicated to producing some of the finest wines of Europe. A good representative would be the Tokaji Aszú. This sweet wine was called the King of Wines by Louis XV of France.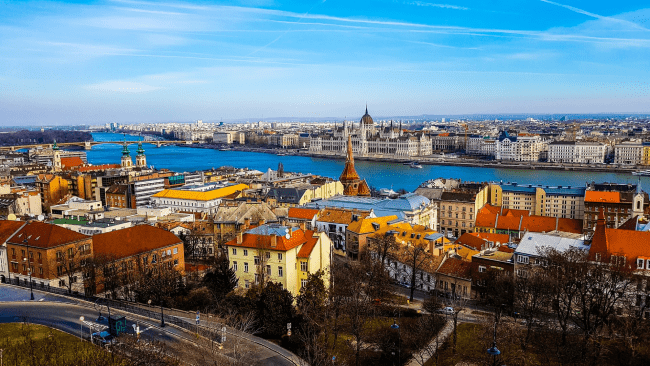 Production is now in the hands of a new generation of winegrowers, who are combining the experience and wisdom passed through generations and combining it with modern technologies to obtain great results. All of them invite tourists to visit their cellars, where visitors can taste a wide selection of fine exclusive wines, and it is even possible to blend your own wine and take it home with you. A true experience for the senses.
As part of the European Union and the Schengen Zone, from 2022, Hungary will require the new travel authorization called ETIAS. The Hungary ETIAS for Citizens of Saint Vincent is a digital document available through the online application form.
Next, iVisa.com shares important information to understand and learn how to apply for the Hungary ETIAS for citizens of Saint Vincent
Frequently Asked Questions
Why was the ETIAS created?
The purpose of the ETIAS is to detect those elements that may represent a threat to the security inside the Schengen zone borders.
The Hungary ETIAS for Citizens of Saint Vincent will create a digital profile of every traveler. Countries in the European Union share their databases to determine if an individual is eligible for the authorization.
The application process for the ETIAS is available at iVisa.com. If you're ready to start, click here.
How do I confirm I need to apply for the ETIAS?
If you are a citizen of Saint Vincent, you can be sure you need to apply for the Hungary ETIAS for Citizens of Saint Vincent. Every traveler from one of the 62 visa-exempt countries added to the Schengen Zone is an eligible candidate for the ETIAS.
To help you confirm your current status, iVisa.com has created the visa checker tool.
What do I need to apply for the ETIAS?
Valid passport which won't expire before the end date of your trip.
Payment method like a card or Paypal.
Email address to receive your Hungary ETIAS for Citizens of Saint Vincent.
There are no Hungary consular services in my country. How can I apply for the ETIAS?
The application for the Hungary ETIAS for Citizens Saint Vincent is accessible from anywhere because it is a 100% online procedure. There is no need for intermediates or to be present at any physical location. A computer and a stable internet connection is all that you need.
To complete your application, you can access the online form developed by iVisa.com. You will only need 20 minutes of your time.
What about the pricing of the ETIAS?
There is an option according to the type of your trip:
Standard service - basic service with a low price.
Rush service - fast response, higher fee.
Super Rush service - fastest processing time with a high fee.
You can count on iVisa.com's customer service team to make the right choice while applying for the Hungary ETIAS for Citizens of Saint Vincent.
What are the steps to apply for the ETIAS?
Read the questions first.
Enter basic information like your name, date, birthplace, address, citizenship.
Include information such as a legal situation or medical conditions (If this is your case)
Make clear what will be the country of arrival (the first country to be visited).
Choose a processing service and price.
Run the final check and send the application.
Wait for the result.
Is it safe to use iVisa.com services to apply for the ETIAS?
iVisa.com is a safe online service. Hundreds of satisfied customers support our performance and the results obtained. Your data is protected by a strong security system when you start an operation on our site. We invite you to explore customer reviews.
Would you like to receive more information about the ETIAS?
Please access iVisa.com's blog or contact iVisa.com's customer service to find extra information or to be assisted by one of our service agents.