Hungary has grown significantly as a tourist destination in recent years. This growth could be accredited to diverse factors like economic wealth or international promotion. But surprisingly, the food industry has been putting Hungary on the radar lately.
A gastronomic revolution has been occurring in this country during the past years, and curiously, it is not because of the influence of big companies. Local small businesses are lifting the economy in this specific sector.
In Budapest, the capital city, new restaurants, street food places, and bistros are opened almost every week. Traditional cuisine family businesses are the most appreciated places because of the familiar atmosphere and the home-style flavors. Dishes like halászlé (fish soup with paprika) and töltött káposzta (stuffed cabbage with sour cream) are the main attractions on the menu. The chimney cake Kürtőskalács, very popular among tourists, is offered by almost every food truck around the city.
Budapest also offers six Michelin star restaurants where fusion cuisine takes the best of local seasoning to combine it with non-local ingredients.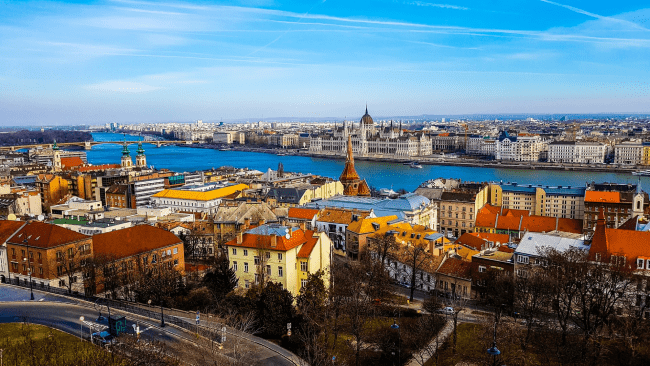 Being able to have a delicious experience in Hungary will be possible only after obtaining the ETIAS. This new document will be required to enter the Hungarian territory and will be mandatory for every traveler from 2022
To take you closer to your next destination, services offered by iVisa.com will allow you to apply for the new Hungary ETIAS for Citizens of Serbia from your home or workplace inside a friendly environment.
To know more about the new Hungary ETIAS for Citizens of Serbia, we invite you to read the following information.
Frequently Asked Questions
Do I need to apply for the ETIAS as a European Union passport holder?
If you are a citizen of an EU country in the Schengen zone, you will not need to apply for the Hungary ETIAS for Citizens of Serbia. The visa checker tool offered by iVisa.com will tell you in a matter of minutes if your profile is eligible to obtain the ETIAS.
What steps must be followed to apply for the ETIAS?
iVisa.com recommends completing the following steps:
Learn about the ETIAS - iVisa.com blog´s and [iVisa.com's customer service]
Verify your current status - iVisa.com's checker tool
Check your documents - Find what you need in the next question.
Filling in the application form:
Fully read the questions.
Be sure to enter up-to-date general information like name, date, birthplace, address, and citizenship.
Do not forget to declare legal situations or special medical conditions.
Choose a processing service
Make a final check and send.
Wait for the response (time varies depending on the plan you chose).
Have doubts about the steps to apply for the Hungary ETIAS for Citizens of Serbia? Ask for assistance with iVisa.com's customer service.
Is there a list of required documentation to apply for the ETIAS?
Your valid passport is the only document necessary to start your application for the Hungary ETIAS for Citizens of Serbia.
We recommend preparing the following items also:
Scanned copy of your valid passport (high-resolution)
Email address.
Payment method: debit/credit card, Paypal**
Please remember iVisa.com's customer service is available 24/7 to answer all of your queries.
For how long can I use my ETIAS?
According to authorities, The Hungary ETIAS for Citizens of Serbia will have a validity period of 3 years max. Its validity will depend on the profile of every traveler and passport expiration date. The ETIAS is electronically linked to your passport. Remember, the ETIAS is not permanent permission. It will allow stays of 90 days per entry in a period of 180 days.
Need more clarity about this point? Please contact customer service.
Information about pricing is already available?
Applying for the Hungary ETIAS for Citizens of Serbia is easier, faster, and more reliable with iVisa.com. Three levels of processing are available:
Standard processing - average processing speed. Low fee.
Rush processing - Faster processing response. Higher price.
Super Rush processing - Super-fast response. Highest fee.
Contact customer service at any time to find the right option for you.
Are the services of iVisa.com safe?
The service of iVisa.com has been cataloged as one of the safest and more reliable. Thousands of positive reviews from our happy customers from around the world support this statement.
Where can I get more information?
In the blog section of iVisa.com, detailed information about the ETIAS is daily uploaded. The chat feature located in the lower right corner of your screen will allow you to contact a customer service agent anytime, 24/7, to find an answer to any possible question.
iVisa.com is the right option to apply for the Hungary ETIAS for Citizens of Serbia.