There's always a good reason to travel, especially when you want to escape from the stress of the urban lifestyle or you want to get lost in nature for a few days. The tedious part of this tends to be the planning and if you need a specific document to enter the destination. Fortunately, if you want to visit certain countries in Europe, like Hungary, the planning will be a lot easier because you'll only have to apply for a Hungary ETIAS.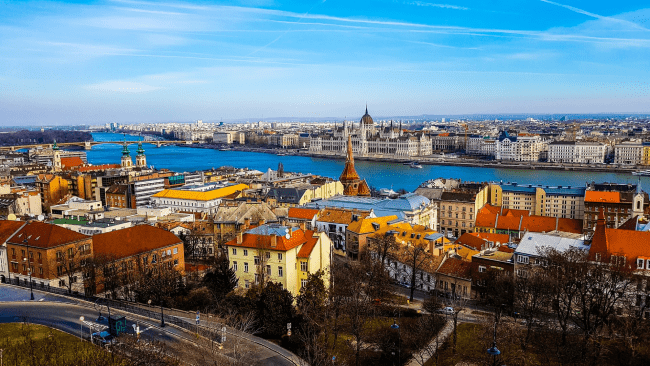 The ETIAS is an online document that allows you to enter not only Hungary but other countries in Europe. However, there are important details that you should notice first before applying for this document. One of them is that it'll be useful only in the Schengen area. The other thing is that you can apply online without having to go to the embassy. For that, you can use iVisa.com's website, an online service that can help you get your document as fast as possible.
Applying for the ETIAS is simple if you consider the information below. We invite you to keep reading the article to learn more about the Hungary ETIAS for Citizens of Mexico.
Frequently Asked Questions
What is the meaning of ETIAS?
Before applying for your Hungary ETIAS, take into account that the ETIAS is mandatory for any country in the Schengen zone, not just Hungary.
ETIAS means European Travel Information and Authorisation System, and this is a program given to visa-exempt citizens in the Schengen zone so that they can enter this territory safely. This document allows the authorities to have good control of the visitors entering the Schengen members.
The ETIAS is available with an electronic service, it doesn't need a face-to-face application.
Keep in mind that you can use iVisa.com's service to apply quickly and safely.
Do I need a Hungary ETIAS if I'm a citizen of Mexico?
If you have a Mexican passport, then you must apply for the Hungary ETIAS before entering this country. Remember that this document is obligatory for all visa-free nationalities wishing to enter the Schengen area.
The ETIAS you receive to enter Hungary can be used for the other Schengen member states. However, you must always ensure that the country you select as the main destination in the application is the same as the first one you'll be entering when traveling to the Schengen area.
What requirements do I need to apply online?
Before filling in the online application, you must find a short list of requirements because they'll be asked once you begin the process. Therefore, be sure to have the following on hand when applying:
A 3-month valid passport.
A valid means of payment. It can be a debit/credit card or your Paypal account.
The last thing you need is a valid email address to receive the ETIAS document.
If you have these documents, then you're ready to apply for the Hungary ETIAS.
What are the processing times and prices?
Pricing is probably the most important aspect when planning a trip. You need to have a decent budget for the accommodation, the food, and also the travel requirements. That's why you'll be happy to know that the Hungary ETIAS isn't expensive, and with iVisa.com, you'll be able to have it as fast as you need depending on the processing time you select. The options are:
Standard Processing Time: Which is the least expensive and the most requested.
Rush Processing Time: With a faster processing and also a higher price. However, it's still quite affordable.
Super Rush Processing Time: Which is the fastest processing time, but it's also the most expensive. This processing option is great if you're in a rush.
Sadly, we cannot give you the total cost of the document yet because it's too recent and it'll be available by 2022. What you should notice is that once you fill in the application form, you'll be able to verify the total price before paying. Remember that we don't charge anything without a valid authorization.
How can I apply for the Hungary ETIAS?
You can easily get the Hungary ETIAS with iVisa.com by following these 3 steps:
First, go to the application form on this link and fill it out with your personal details. After that, select the best processing time according to your needs.
Second, be sure that the information you previously gave is correct and continue with the payment.
Third and lastly, just check your information one last time, attach the documents required and click 'submit' to complete.
This process is effortless, but it's ok if you still have doubts or questions while applying. In that case, you can contact iVisa.com's customer service for help.
How much time do I need to apply for this document?
You don't need to complete a time-consuming face-to-face interview to get the Hungary ETIAS, which is an excellent advantage in comparison to other travel requirements. Therefore, you'll be able to finish it in only 15 minutes of your time, or even less.
Do I need another type of document to enter Hungary?
Hungary is a member of the Schengen Area, so its visa policy is ruled by the Schengen Agreement. Therefore, EU nationals from Schengen nations don't need a visa to enter their territory. Same goes to nationals of over 60 countries that are visa-free for now. These visa-free citizens don't need a visa to enter Hungary, they only need an ETIAS.
Mexico is one of the visa-exempt nations, so you only need a Hungary ETIAS before entering this country or the Schengen zone territory, nothing else.
If you're a foreign citizen living in Mexico and wishing to enter Hungary, then you'll probably need a Schengen visa. You can check this information by going to iVisa.com's homepage and using the drag-down menu. Select your country of origin and Hungary as the destination (or another Schengen member state if you prefer) to know what documents you need to travel.
How safe to apply with iVisa.com?
When you use iVisa.com's application form you enjoy a safe and reliable service that won't put your personal information in danger. But, if you want to be sure of our reliable service, then you can check our reviews with thousands of positive comments from all of our clients.
Where can I get more information?
For a faster and better resolution, you can contact iVisa.com's agents and receive personal attention. This service is available 24/7, so you can contact them whenever you like. You can also click on this link to read more about the ETIAS.
Apply for the Hungary ETIAS for the citizens of Mexico today and prepare the rest of your trip peacefully!