Iceland has a privileged location below the Arctic Circle, which means that from mid-May to late July, they have sunlight 24 hours. Be part of the midnight sun during the summer solstice. The sunset is at midnight, and the sun rises after 3 am, an incredible natural show to enjoy the Iceland landscape. Start packing your bags and get to Iceland soon!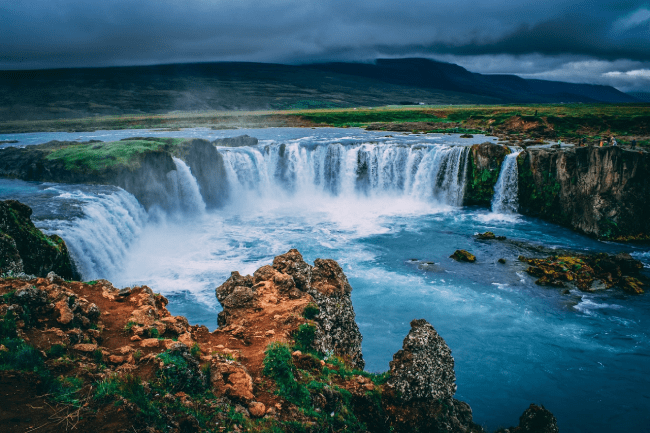 Citizens of Chile who intend to travel to Iceland have to obtain the new requirement form called ETIAS. The Iceland ETIAS is a mandatory authorization that most international travelers will have to apply.
It's time to trust iVisa.com with the Iceland ETIAS process. iVisa.com brings a fast, simple, and 100% reliable product.
Check more details about Iceland ETIAS in the following section.
Frequently Asked Questions
What is the Iceland ETIAS?
ETIAS refers to the European Travel Information and Authorization System. The Iceland ETIAS is an electronic questionnaire that only requires an Internet connection and some minutes from the applicant.
Ready to start the Iceland ETIAS? Keep discovering more details here.
Do citizens of Chile need to obtain an ETIAS?
Yes! Chile is among the 62 countries that don't need a Schengen visa to enter Iceland. Therefore, Iceland ETIAS authorization is mandatory. Citizens of Chile must apply for an Iceland ETIAS before arrival.
How many countries can I visit with the Iceland ETIAS?
ETIAS allows entry to the 26 states in the Schengen zone, including Iceland. Although these 26 countries belong to Europe, this doesn't mean that all countries in Europe are part of Schengen.
Think carefully about the countries you would like to visit and whether you need an ETIAS. Try the iVisa.com Visa Checker to confirm the travel documentation required.
Citizens of Chile must apply for ETIAS! Start the application!
How long is the Iceland ETIAS valid?
The Iceland ETIAS has a validity of 3 consecutive years from the issued date. As well, citizens of Chile can stay in Iceland or any other country from the Schengen zone for up to 90 days. Remember that the Iceland ETIAS is a multiple entry document.
Iceland can be your next destination! iVisa.com can help you!
What info do I need for Iceland ETIAS?
Citizens of Chile must provide personal information during the application. Besides, they could answer questions about criminal past, health conditions, and visa rejections, if applicable.
Get the following items:
The scan of your passport showing your photo and details.
A valid email address to receive the final authorization.
Method of payment, iVisa.com has a minimum fee to manage your ETIAS authorization. You can pay it with a Paypal account or a credit/debit card.
Contact the support team in case you have some questions.
What are the waiting times and fees?
The Iceland ETIAS has the next waiting times:
Standard processing option, a reasonable processing period if you pay the lowest fee.
Rush processing option, in case you need the Iceland ETIAS in less time.
Super Rush processing option, faster alternative when you need to travel right away.
What is the process for the Iceland ETIAS?
Citizens of Chile must follow the next three steps:
First, respond to the questions in the online form and choose a waiting period (Standard, Rush, or Super Rush).
Second, review your details and complete any missing blank spots. Determine how to pay, either with a credit/debit card or using a Paypal account.
Third, upload the scan of your passport.
What will I receive in my email?
iVisa.com will send the Iceland ETIAS to your email inbox, so please provide a valid email address. As soon as you get the ETIAS, print it or save it in an electronic device so you can show it to the Iceland border control. Citizens of Chile should be aware that the final decision of their entry depends on immigration officials.
Can I trust iVisa.com with my ETIAS?
100% Yes! iVisa.com has a professional team working in the ETIAS process, and we can assure they will manage your travel requirement with the highest security standards. Explore more about iVisa.com excellent services in the reviews page.
Citizens of Chile can trust iVisa.com with the Iceland ETIAS!
Where can I get further information?
Reach out to our customer support team that is available 24/7. They can answer all the questions you have. Also, you can write to [email protected].
Apply and get your Iceland ETIAS!