Citizens of France are visa-exempt when they want to enter Iceland. Even so, it's still necessary to have other types of documentation to visit this country while the COVID-19 pandemic continues. The document that the Icelandic authorities are requesting is the Pre-Registration Form, which is an electronic paper that allows you to enter this Nordic nation properly.
You can apply for this document with an online method, so it shouldn't be difficult to obtain it. In fact, you can apply with iVisa.com's service if you wish to use an easy platform that won't ask you to waste time in vain. It's not necessary to have a long list of requirements to apply for this document, and we can help you with this process by giving you important information to learn how the citizens of France can enter Iceland during Coronavirus.
Take into account that once you arrive in Iceland, a 14-day quarantine will be necessary, and you'll also have to get a COVID-19 test. You can learn more about these requirements as well with the FAQs below.
Note: Since February 25th, 2022, the Iceland Pre-Registration Form is no longer necessary to enter the country.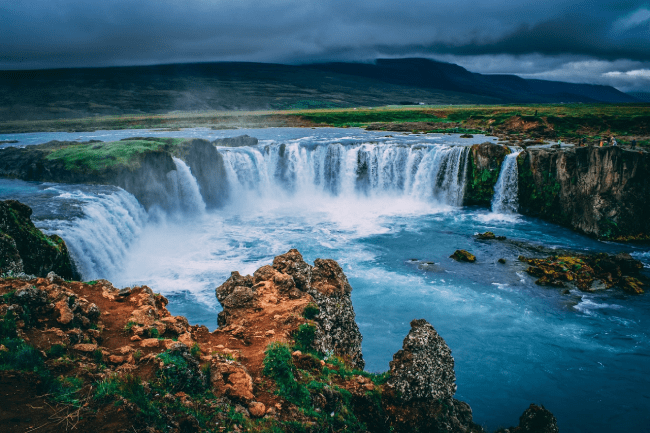 Frequently Asked Questions
What is an Iceland Pre-Registration Form?
The Iceland Pre-Registration Form is an online document that the Icelandic authorities created to give entry permission to foreign travelers while the COVID-19 pandemic remains. This document is an excellent tool to keep better track of all the tourists that enter Iceland.
It's important to mention that the Iceland Pre-Registration Form includes useful information about yourself like contact details, your type of transportation, and your addresses while you stay in the country. This is necessary to safeguard your health and the health of the other citizens in the country.
Who can enter Iceland?
Fully vaccinated travelers, plus EEA citizens, and the following third-country citizens can travel to Iceland for tourism purposes upon presentation of a negative COVID-19 test result: Bahrain, Chile, Colombia, Hong Kong, Indonesia, Kuwait, Macao, New Zealand, Peru, Qatar, Rwanda, Saudi Arabia, South Korea, Taiwan, United Arab Emirates, Uruguay
Do I need a COVID vaccine or vaccination certificate to enter Iceland?
Yes, Iceland has been taking steps to restore travel within its borders. If you are coming from a high-risk country, in order to enter Iceland, you'll need to display your COVID vaccine passport or vaccination certificate.
Accepted vaccines are Pfizer/BioNTech, AstraZeneca, Janssen, Moderna, Vero Cell and Sinopharm. You are considered vaccinated if all doses of a vaccine against SARS-Cov-2 have been administered for at least two weeks before traveling.
Which countries are considered high risk in Iceland?
High risk zones: Botswana, Eswatini, Lesotho, Mozambique, Namibia, Zimbabwe and South Africa
Do I need a COVID-19 test result to visit Iceland?
COVID test requirements: There are no testing requirements.
Is it mandatory to quarantine?
Quarantine requirements: There are no quarantine requirements.
Do Citizens of France need a Pre-Registration form to enter Iceland?
Yes, the French have to apply for the Iceland Pre-Registration Form before traveling to Iceland. There's no exception, remember that every foreign citizen has to apply for this paper, including those who don't need an Icelandic visa.
What do I need to apply for this document?
Applying for the Icelandic Pre-Registration Form with iVisa.com isn't something troublesome because iVisa.com designed a reliable and straightforward system. However, we don't offer the COVID-19 test because it's obviously an in-person process. Once you're ready to apply for the document using iVisa.com's online form, remember to collect the following:
A copy of your passport information page to provide your personal details.
Your email address so you can obtain the document and other useful updates.
Your Paypal account or your valid debit/credit card number to pay for the fees. Please remember that these prices include the Government's fee, but the COVID-19 Test goes on your side.
How much does the Iceland Pre-Registration Form Cost?
One of the advantages of applying for your Pre-Registration Form with iVisa.com is that you'll be able to choose one processing option according to your budget and urgency. In other words, with iVisa.com you can pay from the cheapest to the most expensive depending on how fast you want your document:
Standard Procedure Time: This option makes you wait for just

24 hours

, and it has a price of

USD 41.49

.
Rush Procedure Time: This processing time makes you wait

8 hours

for a total price of

USD 41.49

.
Super Rush Procedure Time: This is the fastest option, so you just have to wait

4 hours

by paying

USD 44.99

.
Take into account that the Pre-Registration Form hasn't the same price as the COVID-19 Icelandic test.
What is the price of the Icelandic COVID-19 test?
We mentioned before that the Iceland Pre-Registration Form has a different price from the COVID-19 Test, so you must consider that when planning your trip to Iceland. At the airport, the COVID-19 test is necessary, so you should know that a single PCR test is ISK 9 000 (probably USD 64.00 on average). But, ISK 11 000 is the cost if you pay on arrival (it includes a 2nd test).
The good thing with the last option mentioned is that a 2nd test is free once you're into the country. Don't forget that you can always contact the authorities if you have doubts.
How can I apply with iVisa.com?
You don't need to be too skilled to use iVisa.com's online form because it has an easy-to-understand 3-step process:
First, fill in the online questionnaire with your basic information, and choose the best procedure time according to your needs.
Second, review the information you gave in the first step and ensure that it's accurate before proceeding with the payment.
Third, attach the documents to the application form before completing the whole process.
To start, click on this link, you'll probably be ready in less than 20 minutes.
Remember that you can contact iVisa.com's customer service if you need personal attention.
Should I get a COVID-19 test and the Pre-Registration form for my children?
You should take note of the following information: All the requirements related to the COVID-19 aren't necessary for children under 5 years old. They shouldn't apply for the Pre-Registration Form either.
Is it safe to use iVisa.com?
We always emphasize that iVisa.com works hard to provide a reliable and safe service. We created a secure software that won't put your information in danger, especially because we know that travel documents are necessary for tourists everywhere. If you have doubts about our service, you can check these reviews.
Where can I receive more info?
If you want to read other useful tips or information about the Iceland Pre-Registration, then we invite you to keep exploring iVisa.com's blog. You can also reach out to iVisa.com's customer service if you need personal attention or guidance with your online form.