Iceland is the perfect spot for hiking in Europe. Hikers find a paradise in Iceland with a diverse landscape and extensive trails all over the country. In Iceland, you can see lava fields, hot springs, lakes, glaciers, and many other natural wonders. It's time to experience the majestic scenery Iceland has for you!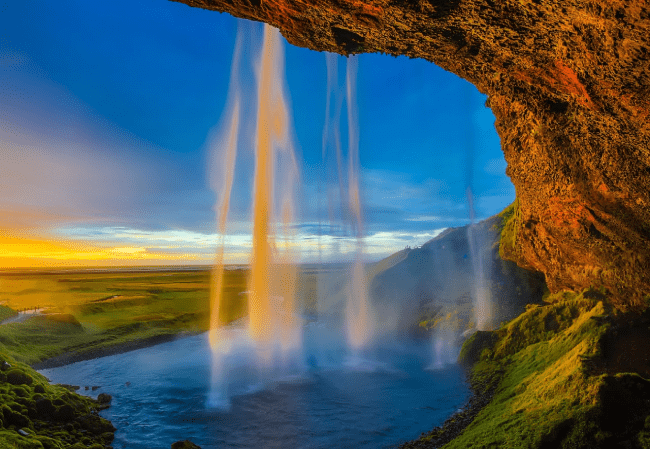 Citizens of El Salvador who want to visit Iceland need to have the new authorization known as ETIAS. The Iceland ETIAS is the new entry requirement implemented by the European Union.
Luckily, iVisa.com can help you with the ETIAS process. iVisa.com brings a reliable, fast, and simple service. Keep reading about Iceland ETIAS next.
Frequently Asked Questions
What is ETIAS?
ETIAS is the European Travel Information and Authorization System. Travelers coming from outside the European Union will need to have an ETIAS before entering Europe.
The ETIAS process is easy! You only need a few minutes to complete an online form, and you will be ready to travel!
I'm a citizen of El Salvador. Do I need an Iceland ETIAS?
Yes! Nationalities exempt from a Schengen visa need to obtain an Iceland ETIAS. In this case, El Salvador is among the 62 countries that don't need a visa to enter the Schengen zone. For this reason, citizens of El Salvador must apply for the Iceland ETIAS.
Can I travel to other countries with Iceland ETIAS?
The Iceland ETIAS authorization is valid for the 26 states in the Schengen agreement. The Schengen zone is located in Europe, but not all countries in the European continent are part of Schengen.
Citizens of El Salvador should check what countries they want to visit in Europe and whether they need an ETIAS or another travel document. Try the iVisa.com Visa Checker and let iVisa.com help you!
What is ETIAS validity?
The validity of the Iceland ETIAS authorization is for 3 consecutive years. 90 days is the maximum stay in Iceland or any other Schengen country. Don't forget that ETIAS allows multiple entries to the Schengen zone.
Citizens of El Salvador can discover more about ETIAS here.
What info and docs are requested?
The electronic form requires personal details from applicants. As well, travelers must answer security questions related to criminal records, previous trips, and health conditions. EU immigration will check the information with international databases, so be truthful with your answers.
Make sure to have the next items:
A passport scan with a clear view of your photo and details.
An email address so iVisa.com can send you the Iceland ETIAS.
Payment methods, iVisa.com has two payment alternatives, use a Paypal account or pay with a credit/debit card.
What are the processing times?
Citizens of El Salvador can select between the next options:
Standard service, the regular option if you want to pay the lowest fee.
Rush service when you need the Iceland ETIAS sooner.
Super rush service, the quickest alternative to obtain the ETIAS authorization.
Not sure about something? Contact a support agent.
What is the Iceland ETIAS process?
The process has only 3 steps:
Fill out the electronic form with personal information and select a processing time.
Review the details and complete any missing blank spots. Choose a payment method between a credit/debit card or a Paypal account.
Attach the passport scan.
Easy, right? Travel to Iceland with your ETIAS!
Why do I need an email address?
As the ETIAS process is 100% electronic, iVisa.com needs a valid email address to send the final documentation. Citizens of El Salvador must give a valid email address, so their ETIAS document arrives safely.
The Iceland border control will request the ETIAS authorization upon arrival, so keep all the correct documentation with you at all times.
Do minors need ETIAS?
Yes! Any traveler, regardless of age, needs an ETIAS if they are exempt from a Schengen visa. Children have to obtain an Iceland ETIAS if they want to enter Europe.
How secure is iVisa.com?
Very secure! Safety is a priority for iVisa.com. For this reason, every travel requirement managed by iVisa.com follows strict security measures.
Citizens of El Salvador can trust iVisa.com as many of our previous clients. Read their comments here.
How can I get more information?
Explore further iVisa.com main page to discover more about iVisa.com services.
Connect with our customer support team or write to help@ivisa.com.
You can travel to Iceland with iVisa.com! Start your trip now!