When it's all about changing the view, Iceland has become a preferred place for thousands of travelers to connect with themselves and recharge energy. Being one of the youngest landmasses on the earth thanks to its continuous volcanic underground activity gives the Icelandic territory some kind of magic that can be perceived in the air.
Local people share the Icelandic Pledge with everyone who wishes to face the savage side of their lands and to reconnect with the basic instincts of the human spirit. Once in there, the adventurer has the unique opportunity to witness the exact location where the American and Eurasian tectonic plates collide in the middle of a volcanic scenario, and just a few hours away by foot, the overwhelming presence of the Vatnajokull (Iceland's largest glacier) makes you think you're stepping into another world.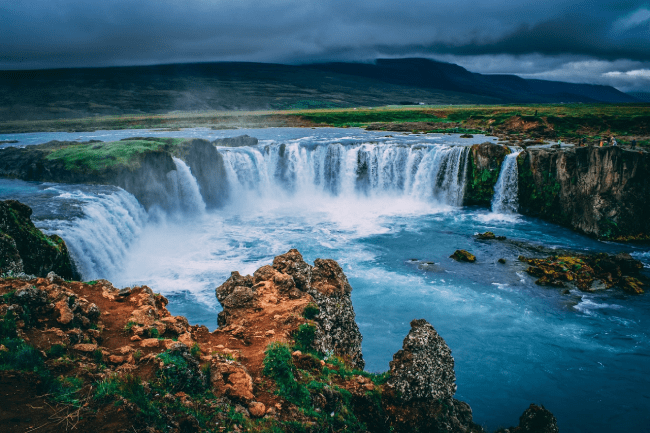 From 2022, Costa Rica citizens will be required to apply for a new travel document called ETIAS. This authorization will be a must for every person without exemption for business, tourism, or medical purposes travels. iVisa.com understands that paperwork may become a big issue if there's not enough information available or the proper assistance at the right moment. Under this premise, iVisa.com has developed a process that will allow you to apply for the Iceland ETIAS for Citizens of Costa Rica with no worries and from your preferred place.
Next, you will discover why iVisa.com is the best option when you decide to apply for the Iceland ETIAS for Citizens of Costa Rica.
Frequently Asked Questions
Is the ETIAS a temporary measure?
This new authorization was presented as a permanent control system. Huge efforts and important alliances were made to make the new ETIAS possible. Being aware that the traditional visa is not able to record every detail of a travel and can't contain the entire personal history of his career, the new ETIAS appears as a background digital system where detailed information can be recorded and consulted.
To apply for the Iceland ETIAS for Citizens of Costa Rica is already possible thanks to iVisa's.com application form.
Because of the ETIAS Do I have to carry a secondary document?
Today's digital world demands more efficient ways to get things done. The new Iceland ETIAS for Citizens of Costa Rica will be digital-only to avoid common problems like losing your documents or leaving them home.
The process to apply for the ETIAS is available online at iVisa.com.
Where can I obtain the ETIAS?
As mentioned above, it is possible to apply for the Iceland ETIAS for Citizens of Costa Rica online thanks to the iVisa's.com application form. This smart procedure was designed to avoid long and tedious questionnaires, instead, it resumes all you need in a few fields and allows you to complete it in the average time of 20 minutes.
Is the ETIAS renewable after a few trips?
The validity time of the new ETIAS is not counted in the number of trips but in years. The duration of this document will be 3 years regarding the expiration date of your passport. Once you obtain the Iceland ETIAS for Citizens of Costa Rica, you will be permitted to stay for 90 days per entry each time you cross the Schengen zone borders.
For more information please refer to iVisa's.com blog, in there, dozens of articles with extra information about the ETIAS are loaded daily.
Does the ETIAS cover every member of my family?
Every member of your family whether kids or senior age persons will need to obtain an individual ETIAS if you are planning to travel as a group. Remember that having a visa is not necessarily a guarantee for obtaining the Iceland ETIAS for Citizens of Costa Rica. With the iVisa's.com checker tool you can verify if your whole family group is eligible for the ETIAS.
Do I have to pay for the ETIAS every time before traveling?
The application process only requires a single time payment. For your convenience, iVisa.com has created three different plans to process your request:
Standard plan: ideal for family travels where every budget is important.
Rush option: need to travel soon? this is a time-saving option.
Super Rush option: travel date is sooner than expected? process your application in a few days for a higher but coherent fee.
Receiving live orientation about the advantages of every plan is possible when you contact iVisa's.com customer services.
Is iVisa.com a secure place to start my application?
Top services demand top security. At iVisa.com your data is always protected. Our team is always on the search for improvement.
But don't trust our word, please check iVisa's.com customer reviews to find evidence from hundreds of happy users.
I still have some doubts about the ETIAS, can I get more information?
Find all the answers you need before making a decision. Our customer service agents are waiting. iVisa's.com blog is also a good choice to search for more information about your upcoming trip and all related to the Iceland ETIAS for Citizens of Costa Rica.