It can never get boring to visit Iceland, especially when it comes to enjoying its beautiful landscapes or its spectacular blue lagoons. If you are a passport holder from the Marshall Islands, then you've probably never had much difficulty visiting Iceland, although from now on you'll need to apply for a new travel document referred to as the ETIAS. You can be sure that it's quite simple to apply for an Iceland ETIAS for the Citizens of the Marshall Islands as long as you follow the step-by-step guide mentioned in this article.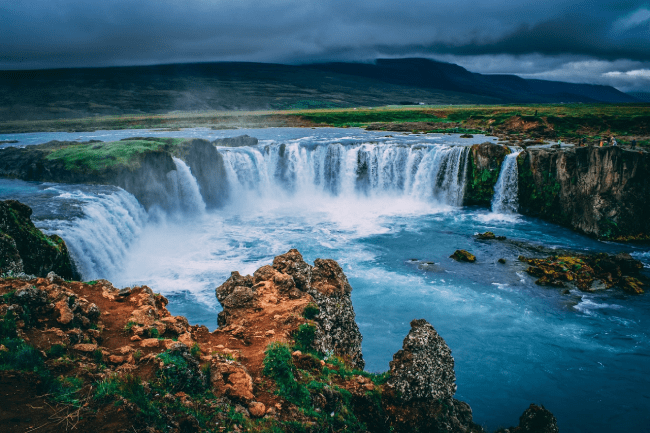 There might be some topics about the Iceland ETIAS that are not officially announced yet, but that doesn't mean that there's not enough information in this article. We also want to inform you that you have the option of applying with iVisa.com's online form to enjoy a reliable and smooth manner that will save you a lot of time and effort.
In the following, you'll be able to learn the available information about the Iceland ETIAS for citizens of Marshall Islands.
Frequently Asked Questions
WHAT IS AN ETIAS AND HOW DOES IT WORK?
The ETIAS acronym simply stands for European Travel Information and Authorization System, an official system that will provide a mandatory document by 2022 to have a better track record of all the foreign nationals that enter the Schengen Zone since many of them don't need to apply for a visa. The ETIAS was also designed to have better supervision against illegal immigration and to avoid dangers in the Schengen Area and for its inhabitants.
This system works kind of similar to the U.S. ESTA because it has an online system that provides you with an electronic document to visit the Schengen Area without any legal issues. It allows you to roam around freely and explore the Schengen Zone countries without the need for any further document.
You can use the ETIAS for leisure or business purposes, but if you wish to study, work or stay in Iceland or any of the Schengen countries for more than 3 months (90 consecutive days), then another type of document might be required.
HOW MANY COUNTRIES CAN APPLY FOR AN ETIAS?
Keep in mind that not all foreigners wishing to travel to countries like Iceland will be able to apply for ETIAS permission because this application is only accessible for 60 countries. These countries are visa-exempt, but they still require the ETIAS to enter any of the Schengen Area nations. The Marshall Islands are part of the countries that can get an ETIAS, so if you're a citizen of the Marshall Islands, then you can straightaway apply for the ETIAS.
WHAT REQUIREMENTS DO I HAVE TO GET TO APPLY FOR THE ETIAS?
If you want to avoid a long list of requirements and an utterly tiring process, then we recommend you to use the service of iVisa.com to get the Icelandic ETIAS for citizens of Marshall Islands. This company simplifies the ETIAS process a lot, and proof of that is the following list of all the things you need to apply:
Your passport with a scanned copy of the information page.
Your current email address
Your debit/credit card or your Paypal account for the payment.
Simply remember that these requirements are necessary mostly if you apply with iVisa.com's service because if you use the ETIAS official website, then the list of requirements may vary.
WHAT ARE THE PRICES AND THE PROCESSING TIMES FOR THE ETIAS?
Since the ETIAS authorization is relatively new and yet to be functional, it's not possible to provide you with the exact details about the pricing of this travel document. What we can tell you is that iVisa.com has 3 processing options with different prices according to your needs and your budget. By reading the detailed information about these options, you can get a fair idea of the upcoming prices and you might even narrow down upon your preferred option once the Iceland ETIAS for citizens of Marshall Islands is ready to use:
Standard Processing Alternative: it has an average waiting, but it's the least expensive of the three.
Rush Processing Alternative: this option has a faster processing time but also a higher price.
Super Rush Processing Alternative: this is the most expensive alternative because it has the fastest processing time.
HOW CAN I APPLY FOR THE ICELAND ETIAS?
You should know that the official process isn't difficult, but it's better to apply using iVisa.com's service if you want to avoid long questionnaires and a time-consuming list of requirements. With iVisa.com, you'll just have to follow these steps:
First, fill in the online form with your personal information, including name, passport ID, and so on. After that, select your preferred processing option.
Second, double-check the spelling of the information you gave before and pay for the service with your preferred payment method.
Third, to send your online form, upload the documents required, and click "submit".
HOW MUCH TIME DO I NEED TO APPLY WITH IVISA.COM?
iVisa.com's application form has an uncomplicated system, so it shouldn't last more than 20 minutes to finish the process. It might even take much lesser time solely based on how skilled you're with the questionnaire. But we still advise you to complete the form with extreme concentration and without any hurry. We remind you that if you need your Iceland ETIAS for citizens of Marshall Islands at the earliest, then you can apply with the Super Rush procedure.
CAN I ENTER INTO ANY EU COUNTRY WITH AN ETIAS?
No, you simply cannot enter any EU country by having an ETIAS, you can only enter the Schengen Area with this document. You might need a separate visa or another type of document to enter other EU nations like Ireland, the UK, etc.
IS IT SECURE TO APPLY WITH IVISA.COM?
Yes, it is! iVisa.com has an amazing work team and a modern system that prevents unauthorized access to your personal information. If you're unsure about it, you can always read our reviews to confirm it.
WHERE CAN I GET MORE INFORMATION?
You can contact iVisa.com's customer service center to obtain personal attention if you still have questions, or you can take a look at iVisa.com's website.