Exploring a new country is always fun! Why don't you start a new journey to Iceland and discover some fantastic sites? Visit the Seljalandsfoss waterfall and have the opportunity to walk behind it. Take incredible photos of this natural site and wander along the paths around the waterfall. iVisa.com has the right expertise to help you with all your travel requirements.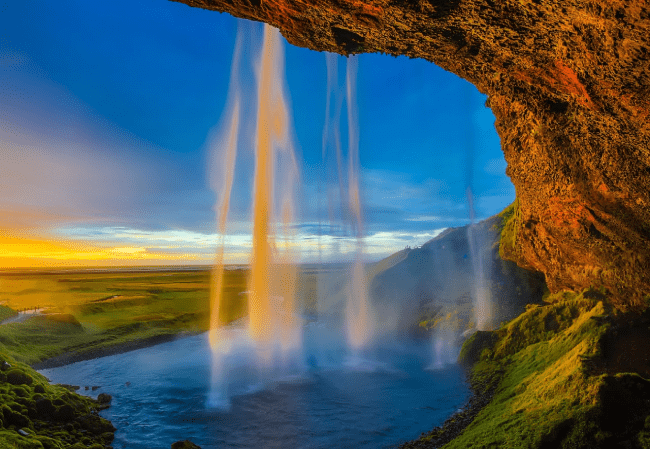 Citizens of Samoa should know about a new entry requirement known as ETIAS. International travelers who are planning a journey to Iceland will soon need to apply for an Iceland ETIAS.
The Iceland ETIAS for citizens of Samoa is a reality, but don't worry because iVisa.com can help you with a simple, fast and reliable product.
Read more about the Iceland ETIAS for citizens of Samoa below.
Frequently Asked Questions
What does ETIAS mean?
ETIAS means European Travel Information and Authorization System. The ETIAS system will come into place by the end of 2022. The European Union decided to implement the ETIAS protocol due to security concerns. They expect to pre-screen incoming visitors and detect possible threats to the European countries.
Do you want to learn more about the Iceland ETIAS for citizens of Samoa? Then head to the application page.
I'm a citizen of Samoa. Can I apply for the Iceland ETIAS?
Yes! Citizens of Samoa can apply for the Iceland ETIAS before entering the Schengen area. Samoa is among the countries that are exempt from needing a Schengen visa, which means that citizens of Samoa must have an Iceland ETIAS before entering Europe.
Is the Iceland ETIAS valid for other countries?
Yes! The Iceland ETIAS for citizens of Samoa is valid for the 26 European countries in the Schengen zone. Remember that not all of Europe is part of the Schengen agreement, so carefully choose the countries you would like to visit. Use the Visa Checker to know all the travel documents you need.
What is the validity of the Iceland ETIAS?
The Iceland ETIAS for citizens of Samoa is valid for a maximum of 3 years. Travelers can stay up to 90 days within a 6-month period in Iceland or any other Schengen country, and they can enter multiple times.
So many benefits! Start the ETIAS application!
What information is required?
Citizens of Samoa must fill out the online application with personal information, like name, nationality, passport number, etc. Also, they should provide details about previous visa rejections and medical records.
Don't forget the next items as well:
A scan of your passport with a clear view of your photo and details. Your passport should be valid for a minimum of 3 months after arrival in Iceland. A valid email address. Payment methods, iVisa.com gives you the opportunity to pay with a Paypal account or use a credit/debit card.
What are the processing times and fees?
The Iceland ETIAS for citizens of Samoa is processed according to the next options:
Standard processing service, pay the cheapest option and wait a reasonable time.
Rush processing service, receive the Iceland ETIAS sooner by paying a higher fee.
Super Rush processing service, in case you are willing to pay the highest price, then your waiting period will be minimum.
What is the ETIAS process?
The process is simple:
First, answer the questions in the online application and choose a processing time (Standard, Rush, or Super Rush).
Second, review your application and try not to leave blank spaces. Proceed to pay for the service with a credit/debit card or a Paypal account.
Third, attach a scan of your passport.
How will I receive the ETIAS document?
Citizens of Samoa should receive an email from iVisa.com with the Iceland ETIAS. Upon arrival, visitors must show the ETIAS document for smooth entry.
Don't forget that your final admission depends on border control. Therefore, keep all your documentation with you at all times.
How trustable is iVisa.com?
100% trustable! iVisa.com has been working with travel documents for years, which has given us the right expertise to help you with the Iceland ETIAS.
Read about what our customers have to say about iVisa.com in the comments section.
The Iceland ETIAS for citizens of Samoa will only take you a few minutes with iVisa.com.
Who should I contact if I have some doubts?
Don't hesitate to contact our customer service team that is available 24/7. We can help you with every step of the ETIAS process or the requirements. We are ready to answer all your doubts!
Iceland is a magical country with natural wonders! Let iVisa.com help you with your entry requirements so you can enjoy Iceland to the fullest!