Are you getting excited about your next holiday destination? If you have decided to visit Iceland, then you are up for a once-in-a-lifetime experience. Explore the Glacier Lagoon and see some of the last glaciers in the North Hemisphere. Learn about fishing in Icelandic waters or explore the movement of whales on this side of the world. iVisa.com can help you with all the essential travel documentation to enter Iceland.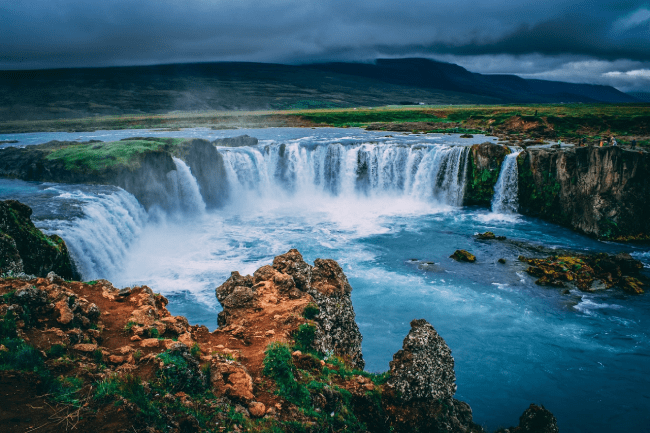 International travelers entering Iceland need a new document called ETIAS. The process is super simple with iVisa.com, and you only need an Internet connection. iVisa.com has simple, fast, and reliable services for your Iceland ETIAS.
Keep exploring about the Iceland ETIAS for citizens of Tuvalu below.
Frequently Asked Questions
What is the ETIAS?
ETIAS is the European Travel Information and Authorization System. The ETIAS is an electronic system that will be available by the end of 2022.
Due to security reasons, the European Union is implementing the ETIAS system as a way to pre-screen incoming visitors. They will collect visitors' information in order to detect and stop possible threats to the Schengen zone.
Read more details about the Iceland ETIAS for citizens of Tuvalu here.
I'm a citizen of Tuvalu. Do I need to apply for ETIAS?
Yes! Tuvalu is among the 62 countries in the world that are exempt from applying for the Schengen visa. For this reason, citizens of Tuvalu must apply for an Iceland ETIAS before arriving in Europe.
Can I visit other countries with Iceland ETIAS?
Yes! The Iceland ETIAS for citizens of Tuvalu allows entry to the 26 countries in the Schengen zone. Although you can enter most countries in Europe with the Iceland ETIAS, not all of Europe accepts the ETIAS document.
Try the Visa Checker and confirm all the travel documentation you need for your next trip.
What is the validity of the Iceland ETIAS?
The Iceland ETIAS for citizens of Tuvalu is valid for a maximum of 3 consecutive years. Also, travelers can stay for up to 90 days in the Schengen zone. Remember that the Iceland ETIAS is a multiple-entry document.
What are the requirements?
Citizens of Tuvalu must provide personal details, like name, birthdate, education, and work experience. EU immigration will request details about security matters, such as previous visa denials and criminal records, if applicable.
Also, make sure to have the next items:
A scan of your passport, passports must be valid for a minimum of 3 months after arrival in Europe.
A valid email address to receive the Iceland ETIAS electronically.
Payment methods, iVisa.com has two options for payment, select between a Paypal or use a credit/debit card.
What are the processing times and fees?
The Iceland ETIAS for citizens of Tuvalu provides three alternatives for processing:
Standard processing service, the most affordable option for your Iceland ETIAS.
Rush processing service, we will work faster on your travel requirement for a higher price.
Super Rush processing service, the quickest alternative for your ETIAS application.
What are the steps for the ETIAS?
First, answer the question in the online application and pick a processing time (Standard, Rush, or Super Rush).
Second, check your information and pay for iVisa.com's service with a credit/debit card or a Paypal account.
Third, attach the scan of your passport.
Do you have any doubts? Connect with our support agents.
How will I receive the ETIAS authorization?
Citizens of Tuvalu will receive an email from iVisa.com with the outcome of their Iceland ETIAS application. Make sure you provide a valid email address when completing the ETIAS application. After receiving the authorization, print the document and show it upon arrival as the Iceland immigration authorities will request it.
How safe is iVisa.com?
Incredible safe! iVisa.com believes that security is a top priority. Therefore, all our services are aligned with the best security standards.
Read about iVisa.com service on the comments page and confirm we have the best option.
The Iceland ETIAS for citizens of Tuvalu only takes a few steps with iVisa.com.
Where can I find more information?
Contact our customer service team that is available 24/7. We have the right expertise to help you with all the steps to get your ETIAS authorization.
iVisa.com is making huge efforts to bring you easy processes for your trip to Iceland! Go for your Iceland ETIAS!