Iceland is the perfect place to check the famous Northern Lights. From September to April, the extreme darkness of Iceland's winter makes it possible to see the light phenomenon known as Aurora Borealis. The Northern Lights are a natural wonder that happens when solar particles interact in the atmosphere, which causes a unique spectacle. It's time to travel to Iceland and be part of this incredible show!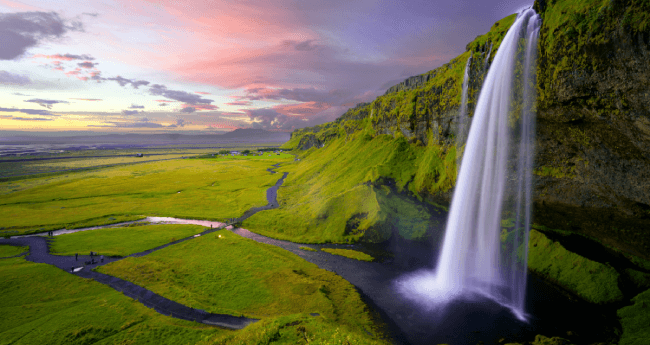 Citizens of Israel must know about new dispositions to enter Iceland. The European Union has created a new electronic system called ETIAS, and most international travelers will need to have it before arrival in Iceland.
Don't worry! iVisa.com is here to support you. The Iceland ETIAS application is possible with iVisa.com as we offer fast, simple, and 100% trustworthy service.
Get more info about Iceland ETIAS in the following.
Frequently Asked Questions
What is ETIAS?
ETIAS is the European Travel Information and Authorization System. The Iceland ETIAS consists of an easy online form that will be available by 2022. Travelers will only need WIFI access and a few minutes to complete the application and be ready to travel to Iceland!
Start the application with iVisa.com today!
Do I need an ETIAS as a citizen of Israel?
Yes, citizens of Israel must get an Iceland ETIAS before traveling to Europe. Nationalities that don't require a visa to visit the Schengen zone need to obtain the ETIAS authorization. In this case, Israel is among the countries exempt from the Schengen visa. Therefore, its citizens have to get the ETIAS document.
Continue planning your trip to Iceland and apply!
Can I travel to other European countries with the Iceland ETIAS?
Yes, you can! The Iceland ETIAS is valid for the 26 European states in the Schengen area. Still, be careful when choosing what countries to visit as not all European countries are part of the Schengen agreement.
Citizens of Israel who are unsure if they only need an ETIAS document for the countries they would like to visit can confirm this through the iVisa.com Visa Checker.
How long is ETIAS valid?
The Iceland ETIAS allows access to the Schengen area for a maximum of 90 days. Also, the ETIAS document is valid for up to 3 years, and you can enter multiple times to Iceland or any other Schengen country.
Citizens of Israel can apply and visit Iceland soon!
What information is requested?
Travelers must complete the electronic form with personal details like name, birthplace, citizenship, among others. As well, during the application, citizens of Israel may find questions related to criminal records and health history.
Requirements:
Passport scan.
A valid email address that iVisa.com will use to send you the ETIAS authorization.
Method of payment when using an iVisa.com service pay with a Paypal account or a credit/debit card.
You can always contact the iVisa.com support team if you need some help.
What are the processing times and fees?
iVisa.com has three processing options:
Standard service, if you can wait a reasonable time to get the Iceland ETIAS.
Rush service, the iVisa.com team will review your requirement quicker.
Super Rush service, the fastest option when you need the ETIAS as soon as possible.
Citizens of Israel can obtain the ETIAS here.
What is the Iceland ETIAS process?
Respond to the information required and pick a processing time option (Standard, Rush, or Super Rush).
Check the electronic form before submitting it and proceed to pay with a credit/debit card or with a Paypal account.
Attach the passport scan and apply it!
How will I get the Iceland ETIAS?
The Iceland ETIAS will arrive in the applicant's email inbox. For this reason, you must provide a valid email address, so you don't have issues when receiving the ETIAS authorization.
Citizens of Israel can apply for the Iceland ETIAS here.
How secure is the ETIAS process with iVisa.com?
iVisa.com is 100% secure. We are a trustable company with years in the market. Travelers around the world continue to choose iVisa.com for their travel documentation because we are the safest.
Our customers' comments explain more about iVisa.com services and the great experience they had.
I have some more inquiries. How can I acquire more info?
We have a full team of support agents who are here to help you. Don't hesitate to contact us. As well, you can write to [email protected].
Citizens of Israel can explore iVisa.com main page to obtain more details about travel documents.