Iceland, also known as the 'land of light and darkness' is a stunning country located in the northern part of America. Its awe-inspiring Northern Lights are famous throughout the world and to experience them tons of people visit the country. With other special features such as active volcanoes and nature's best landscapes, Iceland stands to be one of the most phenomenal places on Earth where nature lovers can find solitude and tranquility.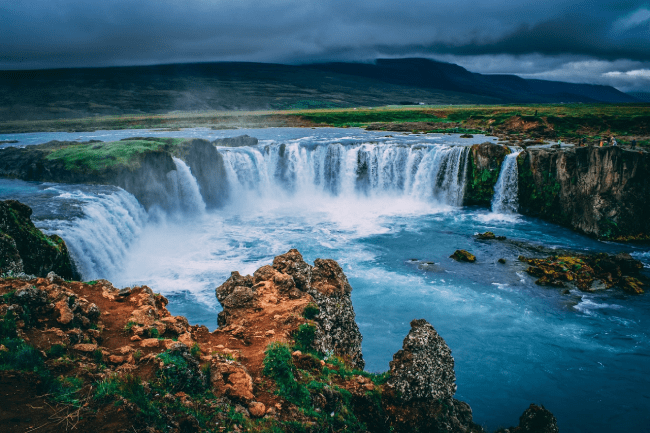 Besides tourism and sight-seeing, the country is also famous for its top-class health facilities and high-end educational institutes. Iceland has a pretty diverse historical, cultural, and traditional background, and a number of people visit the country to experience these. Although it is not directly a part of the Schengen Area, it signed an agreement that made it a part of the area. If you are someone who is thinking of visiting Iceland in near future, you will have to get a Schengen Visa to enter the country.
To get the necessary visa, you must have all the Iceland Schengen Visa Requirements. It is mandatory to have these documents in order to get a visa for the Schengen area. Applying for a visa to enter Iceland is not a big task, especially when you are applying through iVisa.com. This platform removes all kinds of hassles you might have to face on different platforms where visa application processes are available hence saving you time and effort. So, what are you waiting for? Click here to apply for your Iceland Schengen Visa now!
Frequently Asked Questions
In this section, we have tried to answer all kinds of common questions arising in the mind of people traveling to Ireland looking for visas. The aim of this section is to provide ample information about how iVisa.com can help you get your visa documents in the easiest manner with some additional benefits. You can also visit iVisa.com to know more about us!
Are there any additional documents required to be filled out apart from visas to enter Iceland?
Yes, apart from your general visa documents, it is mandatory for travelers to fill out the Pre-Registration form which has been levied after the pandemic. This form is very basic and includes all personal information such as your name, address during quarantine, and a health declaration form. It won't take more than 15 minutes to fill out this process.
Is the Pre-Registration form a replacement for visa documents of Iceland?
No, the Pre-Registration form is not a replacement for visa documents but is an additional document required by travelers entering Iceland after the Pandemic period to curb the widespread of the disease and safeguard the health of citizens.
What is a Schengen visa and is it mandatory to have it to enter Iceland?
Iceland, being a part of the Schengen area requires citizens to have a visa of the Schengen area to enter the country. A Schengen visa is a written document, stamp, or signature permitting you to enter Iceland and allowing you to stay there for a specific period of time for particular reasons.
How much do I need to pay for a Schengen Visa and what are your processing times?
Following your general procedure, it might take up to 10-15 days to acquire a Schengen visa from other general websites, depending upon their availability, but with iVisa.com, you can easily get the documents within your required times, by paying some extra amounts.
We offer 3 processing times which come at different price ranges. These include:
Standard Processing Time: The most common processing time allows you to get the documents in due time for your trip.
Rush Processing Time: This option enables you to get the documents faster than the standard processing methods.
Super Rush Processing Time: This is the fastest processing time and is suitable for people who don't like to wait a lot.
You can simply visit iVisa.com to know more about these options!
What are the application steps involved in the process?
It is very easy to apply for an Iceland Visa using the super smooth and fast interface of iVisa.com. It just requires some 15-20 minutes of your valuable time if you follow the instructions carefully:
First, you need to fill out the personal information in the form and select your preferred processing time.
Second, double-check the information you just provided for any errors and check the amount you need to pay. After this, you would have to pay the required fees using your choice of payment method. We have options for debit/credit cards or PayPal.
Third, upload all the necessary documents asked at the portal. These might include copies of your previous visas, photographs, travel insurance confirmation, flight itinerary, etc.
After you fill out these details, you will have to make the payment using debit/credit cards or a PayPal account. Once the payment is processed, you will receive a confirmation mail at the email address you provided within the stipulated time period.
Is iVisa.com safe?
You can trust iVisa.com with all your personal information. We have a high-quality platform that doesn't allow information leakage to any third party individual or website. We do not save any information entered by you thus providing trust between the platform and users.
I still have unresolved questions, where do I find more answers?
If you still have any questions regarding Iceland Schengen Visa Requirements, you need to visit the platform of iVisa.com and find a bunch of other questions there. Furthermore, you can also have a private chat with one of our super-agents who stay online for your assistance 24x7.
iVisa.com aims at easing out your travels by helping you focus on the trip while we take care of the documents! Click here to get your visa application process started right away!