Planning a journey to Iceland is exciting, for anyone, even for the citizens of the Netherlands. But, with the current pandemic around (we're talking about COVID-19, of course), there have been some issues related to travels that have given multiple headaches. If you're one of those travelers that just want to take a trip to Iceland to relax, or to do something with urgency, then don't worry, iVisa.com's ready to help.
First of all, you should know that Iceland has habilitated some restrictions on foreign citizens, but these aren't difficult to achieve. The first thing you need is an Iceland Pre-Registration Form, which you can obtain using iVisa.com's application form. After that, you'll be asked to take a COVID-19 test, and here's the tricky part: you can pay for a single PCR test for a certain price, meaning that you'll need to pay twice (5 days apart for each test), or you can simply pay for both tests upon arrival.
The test might be on your side, but you don't have to stress about the Pre-Registration Form because we can help you with that. That's why we wrote this article to show you how Citizens of the Netherlands Can Enter Iceland During Coronavirus.
We can ensure that you'll be in Iceland soon by reading the following info.
Note: Since February 25th, 2022, the Iceland Pre-Registration Form is no longer necessary to enter the country.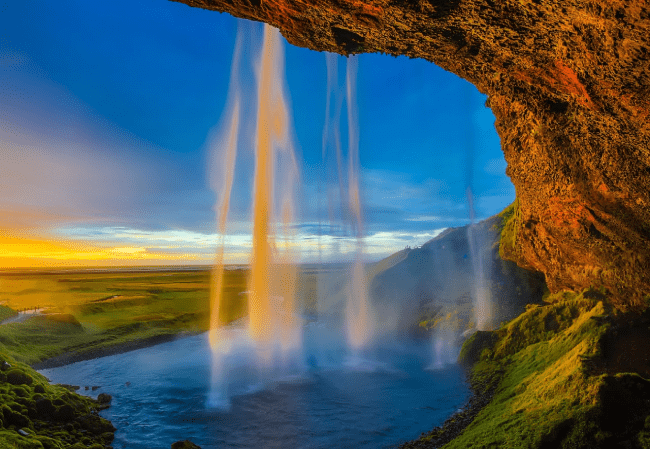 Frequently Asked Questions you should read about the Iceland Pre-Registration Form
Why is the Iceland Pre-Registration Form important for travelers?
The Pre-Registration Form that the Icelandic authorities created is important because they ask for it once you arrive in the country, especially if you came from a high risk country. You should know that this document allows these authorities to have a better track of the tourists entering Iceland.
If you're wondering what the Pre-Registration has, keep in mind that the form includes your contact information, the address in Iceland, and your Health Declaration. Once you arrive, you'll also need to take a COVID-19 test. If you're planning to travel with kids, then take note that children under the age of 5 years don't have to apply for these documents.
Who can enter Iceland?
Fully vaccinated travelers, plus EEA citizens, and the following third-country citizens can travel to Iceland for tourism purposes upon presentation of a negative COVID-19 test result: Bahrain, Chile, Colombia, Hong Kong, Indonesia, Kuwait, Macao, New Zealand, Peru, Qatar, Rwanda, Saudi Arabia, South Korea, Taiwan, United Arab Emirates, Uruguay
Do I need a COVID vaccine or vaccination certificate to enter Iceland?
Yes, Iceland has been taking steps to restore travel within its borders. If you are coming from a high-risk country, in order to enter Iceland, you'll need to display your COVID vaccine passport or vaccination certificate.
Accepted vaccines are Pfizer/BioNTech, AstraZeneca, Janssen, Moderna, Vero Cell and Sinopharm. You are considered vaccinated if all doses of a vaccine against SARS-Cov-2 have been administered for at least two weeks before traveling.
Which countries are considered high risk in Iceland?
High risk zones: Botswana, Eswatini, Lesotho, Mozambique, Namibia, Zimbabwe and South Africa
Do I need a COVID-19 test result to visit Iceland?
COVID test requirements: There are no testing requirements.
Is it mandatory to quarantine?
Quarantine requirements: There are no quarantine requirements.
Do Dutch need to apply for the Pre-Registration Form?
Like any other foreign nationality, Dutch also have to apply for Icelandic Pre-Registration Form. Remember that this document shows your personal information, which is necessary for the authorities to track you in case you need help while following the quarantine or even to avoid you getting infected by the COVID-19. Avoid overlooking this document, it's mandatory for everyone.
What is the price of the Icelandic COVID-19 test?
When you pay for the Iceland Pre-Registration Form, you don't pay for the COVID-19 Test because this test goes by your side and it's not included in iVisa.com's services. But, don't worry, we can also inform you about this test.
The cost of a single PCR is no more than USD 64.00 because it's ISK 9 000. This price can increase a little when you take it on arrival because it allows you to avoid other payments in the future. The price of arrival increases only to ISK 11 000.
If you still have doubts or questions about these tests, then you can contact the authorities once you arrive there.
What do I need to apply for this document?
The process you have to complete to get the Icelandic Pre-Registration Form isn't difficult, especially if you apply with iVisa.com, but you still have to provide a shortlist of documents first. The advantage is that you probably have part of these documents since they're usually essential for any online procedure, including travel papers. These documents are:
A valid passport followed by a copy of the information page. This is the most important to receive your Pre-Registration Form.
An email address because you'll receive the Form and other updates via email inbox.
Lastly but not least important, you also have to offer a Paypal account or a debit/credit card number to pay for the fees.
What is the price of the Icelandic Pre-Registration Form?
Using iVisa.com's web service to apply for the Iceland Pre-Registration Form isn't difficult and it allows you to receive the document quickly with no stress, especially when we talk about processing times and prices. With iVisa.com you don't have to wait for any official website to load, and you don't have to wait for an appointment either. By using our service, you have these options:
Standard Processing Option: You can get your document in

24 hours

if you pay

USD $28.99

.
Rush Procedure Option: This option allows you to wait only

8 hours

by paying

USD $51.99

.
Super Rush Procedure Option: This is the emergency option because you can have your Pre-Registration Form in only

4 hours

for the total price of

USD $84.99

.
How can I apply with iVisa.com's page?
Using iVisa.com's online form isn't tedious and it allows you to save a lot of time. We're always happy to help you with your travel documents, especially because our platform is user-friendly, as you can see in the following steps:
The First Step of the application form is to answer a questionnaire with basic information and choose the procedure time.
The Second Step is to double-check that your personal information is alright before paying for the fees. Get your mean of payment ready once you're on the payment page.
The Third Step is to simply upload the documents needed (including the passport scan) and click the 'submit' button.
After that, you're ready to receive your document! Easy, right? You can start the application form on this link.
We remind you to chat with iVisa.com's customer service if you have doubts.
Is iVisa.com's service safe?
No need to stress if you use iVisa.com to apply for any travel document because we always work hard to provide an incredible service. Our top-notch platform hasn't failed in over 6 years of work, so you can feel relieved with the information you give us. We invite you to check our reviews if you have doubts about it.
Where can I find more info about the Iceland Pre-Registration Form?
You already learned how the citizens of the Netherlands can enter Iceland during Coronavirus, but don't stress if you still have questions about this process. You can apply for the Iceland Pre-Registration whenever you want, but if there are doubts, please reach out to iVisa.com's customer service or read more on iVisa.com's blog.