The Icelandic authorities have taken action against the COVID-19 pandemic with targeted but reliable measures. These measures include a large-scale trial, contact tracing, and an early quarantine with isolation and sanitary recommendations. Another thing that Iceland has reintroduced is a 100-person limit on large crowds and a 2-meter social distancing rule. As you can see, this country is trying the best to avoid the spread of the COVID-19, but that doesn't mean that they canceled tourism or foreign entry.
Right now, you can enter Iceland if you're a citizen of Poland. All you have to do is to adhere to hygiene and basic infection control, and that includes the quarantine protocol and an Iceland Pre-Registration form. Following this, you'll have to get tested as well, but that's something very easy if you pay attention to the information below.
In this article, you'll know how the citizens of Poland Can Enter Iceland During Coronavirus . You should read below carefully, and don't forget that you can get the Iceland Pre-Registration Form quickly if you use a reliable service like the one iVisa.com offers.
Note: Since February 25th, 2022, the Iceland Pre-Registration Form is no longer necessary to enter the country.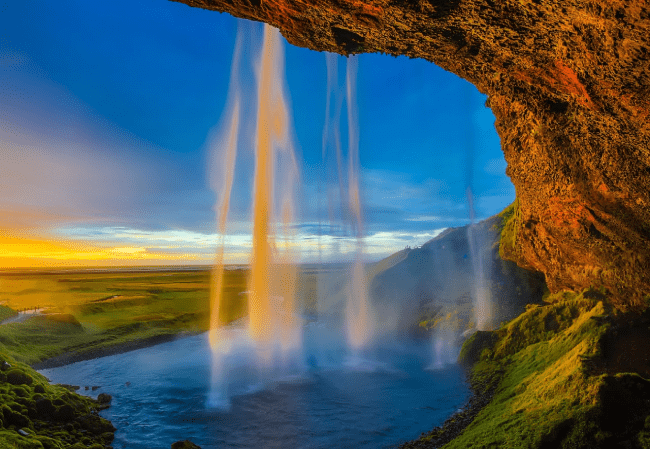 Frequently Asked Questions
What health safety control measures should I follow in Iceland?
Before traveling to Iceland, you need to follow certain measures to avoid the spread of the COVID-19 virus. The good thing is that these measures aren't difficult, they're easier than you think.
The first thing you have to offer is an Iceland Pre-Registration form, which is available on this website. You just have to complete a 3-step process to obtain this document as fast as you need. It has a price, but it's something affordable.
The next thing you have to do after you provide the Pre-Registration form is to complete a 14-day quarantine. This is extremely necessary if you've been to a risk country or area.
The last thing you have to do in Iceland is to follow a double testing process. You'll be able to follow this process upon arrival, with two options for payment: you can pay for both tests at once if you want to save time later, or you can pay for each of them separately.
Your quarantine can be shortened if you follow the measures properly, especially if you haven't been to a risk area.
Who can enter Iceland?
Fully vaccinated travelers, plus EEA citizens, and the following third-country citizens can travel to Iceland for tourism purposes upon presentation of a negative COVID-19 test result: Bahrain, Chile, Colombia, Hong Kong, Indonesia, Kuwait, Macao, New Zealand, Peru, Qatar, Rwanda, Saudi Arabia, South Korea, Taiwan, United Arab Emirates, Uruguay
Do I need to apply for the Iceland Pre-Registration Form if I'm Polish?
Yes, Polish citizens have to apply for the Icelandic Pre-Registration Form just like any foreign citizen would do. There are no exceptions for this rule, every foreign traveler must apply for it.
Do I need a COVID vaccine or vaccination certificate to enter Iceland?
Yes, Iceland has been taking steps to restore travel within its borders. If you are coming from a high-risk country, in order to enter Iceland, you'll need to display your COVID vaccine passport or vaccination certificate.
Accepted vaccines are Pfizer/BioNTech, AstraZeneca, Janssen, Moderna, Vero Cell and Sinopharm. You are considered vaccinated if all doses of a vaccine against SARS-Cov-2 have been administered for at least two weeks before traveling.
Which countries are considered high risk in Iceland?
High risk zones: Botswana, Eswatini, Lesotho, Mozambique, Namibia, Zimbabwe and South Africa
Do I need a COVID-19 test result to visit Iceland?
COVID test requirements: There are no testing requirements.
Is it mandatory to quarantine?
Quarantine requirements: There are no quarantine requirements.
What price does the COVID-19 have in Iceland?
There are two prices for the COVID-19 test. The first one is ISK 9 0000 for a single PCR test, and the second price is ISK 11 000 on arrival (includes the second test after 5-6 days). With the second option, you can get the two tests ready in about a week, so you wouldn't pay for the second test later.
Nevertheless, you should remember that it can't be more than ISK 22 000 every 30 days for each passenger, and most of the time you just need two tests.
After you obtain your results, you can follow other measures if necessary. Depending on your results and other personal circumstances, you could make a shorter quarantine.
But, to receive any updates properly, you must offer valid information on your Pre-registration form.
What are the requirements needed?
Applying for the Icelandic Pre-Registration Form with iVisa.com isn't a troublesome process, especially because you just need the list of requirements:
Passport with a scanned-copy of the first page.
An email address to receive the documents and any update about it.
A Paypal account or debit/credit card to pay for the fees.
What are the processing times and prices?
The Iceland Pre-Registration Form has a price that doesn't include the COVID-19 test. But, the good thing is that its price is quite cheaper. These are your options with iVisa.com to receive it asap:
Standard Processing: The waiting is just

24 hours

and the price is

USD $36.49

in total.
Rush Processing: With this option you wait

8 hours

by paying

USD $64.99

.
Super Rush Processing: This option offers you the Pre-Registration Form in only

4 hours

by paying

USD $106.99

.
How can I apply with iVisa.com's system?
iVisa.com's method has 3 steps to follow, which are straightforward and fast. These are:
Step one, fill out the online form with your basic contact information, including passport id. After that, select your processing option.
Step two, check all the details you offered and pay for your document with your preferred payment method.
Step three, attach the documents to the form and click the 'submit' button at the lower part of the page to complete the process.
After that, you'll just have to wait for your document and nothing else. Click on this link if you want to start asap.
If you have doubts while completing the online form, reach out to iVisa.com's customer service, they're ready 24/7, so they can help you whenever you need it.
Can I travel with my family?
If you're a citizen of Poland, then yes, you can. Keep in mind that citizens who have a valid residence visa or document in the member states of the EEA and EFTA have permission to come to Iceland, and that includes their families. The only thing they have to do is to complete the 14-day quarantine and to apply for the Pre-Registration Form like you. Just remember that children under the age of 5 don't have to apply for the Pre-Registration form and they're exempt from the protocols.
Is iVisa.com's service totally safe?
We can ensure that it is. With iVisa.com, you don't need to worry about security because we have a reliable service that won't put your personal details in danger. But, we understand that you might still have doubts about it, so you can read our clients reviews here with all the positive comments about the things we offer.
I have more questions, where can I obtain more info?
Are you ready to apply for the Iceland Pre-Registration? We invite you to do it whenever you feel sure about it, so don't worry if you still have questions, you can contact iVisa.com's customer service for that. Another option is to read more details on iVisa.com's blog. Whatever you choose, we're always happy to help.