Iceland is the perfect spot to do whale watching. If you are fascinated by marine wildlife, then you need to come to Iceland. Whale watching is famous in Iceland as there is more than a 90% chance you will see minke whales, dolphins, and humpback whales. We promise you will have an unforgettable experience!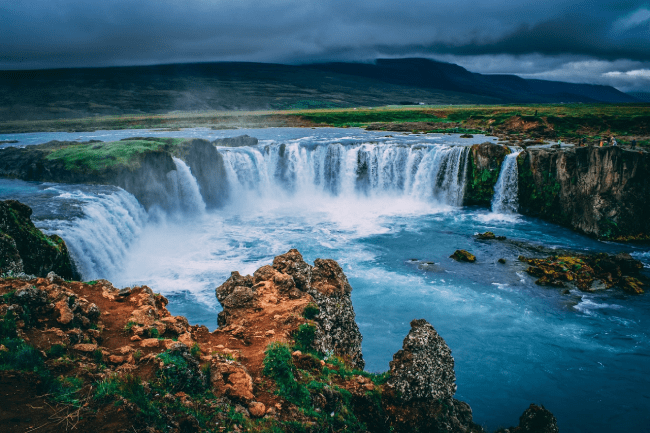 The European Union is implementing a new system for international visitors called ETIAS. From 2022, travelers planning to visit Iceland must obtain the ETIAS authorization before arrival.
Traveling to Iceland is easy with iVisa.com. Enjoy a fast, simple, and 100% trustworthy service. Cost and requirements will be minimum.
The journey to Iceland is just beginning. Check the next FAQs.
Frequently Asked Questions
What is the Iceland ETIAS?
ETIAS is the European Travel Information and Authorization System. Iceland, which is an EU state, will comply with this new guideline. International travelers who want to enter Iceland need to acquire the ETIAS.
The EU will make the ETIAS process affordable, and iVisa.com is sure the authorization will have a low cost.
It's time to travel to Iceland! Begin the application.
How many countries can I visit with the Iceland ETIAS?
You can travel to the 26 states in the Schengen zone with the Iceland ETIAS. Remember that not all countries in the European Union are part of the Schengen area. If you want to confirm the travel documents you need for the countries you want to visit, then use the iVisa.com Visa Checker.
How long is the Iceland ETIAS valid for?
The Iceland ETIAS is valid for a maximum of 3 consecutive years, and the document allows multiple entries to the Schengen zone. Still, you can only stay in the Schengen area for up to 90 days.
Travel to Iceland! Start the ETIAS application!
What is the cost of the Iceland ETIAS process?
The ETIAS process will be available by 2022. For this reason, EU immigration keeps working to make the authorization as affordable as possible. We can assure iVisa.com will charge a minimum cost to help you with the ETIAS application.
Do you need to know more about Iceland ETIAS? Go to the application page.
What info do I need for Iceland ETIAS?
The Iceland ETIAS application is simple. You only need personal details like name, address, nationality, etc. Also, information about criminal past, medical records, and previous trips.
The next requirements are relevant too:
The scan of your passport showing your details and photo.
A valid email address to receive the Iceland ETIAS.
Payment options, iVisa.com has two methods of payment. Pay for the service with aPaypal account or a credit/debit card.
Contact the support team for any questions.
What are the waiting times and cost?
iVisa.com offers three alternatives with different costs:
Standard processing option, in case you are willing to wait a reasonable amount of time.
Rush processing option, for a higher cost, get the Iceland ETIAS faster.
Super Rush processing option, when you need the authorization as soon as possible.
What is the process?
First, fill out the electronic questionnaire with truthful information. Then pick a waiting period.
Second, review your information and correct any mistakes. Decide your payment method, either use a credit/debit card or using a Paypal account.
Third, upload the documents required, like your passport scan.
You will only need to pay one cost for the whole process! Start the Iceland ETIAS here!
What will I receive in my email inbox?
iVisa.com will make sure to send you the Iceland ETIAS document to the email address specified in your application. As soon as you arrive in Iceland, show the ETIAS authorization to border control. They will request it and make the final decision for your admission to the country.
How safe is iVisa.com?
Incredibly safe! iVisa.com works with security standards that keep all travelers' information safe. You can be sure your travel requirement will be safe with iVisa.com, and we have excellent reviews from our previous customers.
Find out more about our clients' opinions here and confirm iVisa.com is the best option for your ETIAS.
Where can I acquire more info?
Explore the iVisa.com main page where we display all the travel requirements you need for your next trip. Remember that iVisa.com has affordable services, and you will only pay a minimum cost.
You can always contact our customer support team with any inquiries. Our agents are available 24/7.
iVisa.com has the right combination of fair cost and professional service, so choose iVisa.com to handle your ETIAS process!