With the emergence of two new strains of Covid-19, the travel rules in India have been tightened up and become more confusing. It is only wise to check the COVID-19 travel rules in India and be updated on them. As of now, there is a ban on tourism, and only selected international passengers are allowed to enter India. However, the basic requirement is that all international travelers must submit a Self Declaration Form and upload a negative RT-PCR report conducted within 72hours prior to undertaking the journey. In addition, all travelers must download the Arogya Setu App. Travel Rules for passengers traveling from the United Kingdom, Brazil, and South Africa are stricter.
Moreover, travel rules are different for different states within India. Don't forget the check guidelines to enter the particular state you're concerned with.
Fill the Self Declaration Form now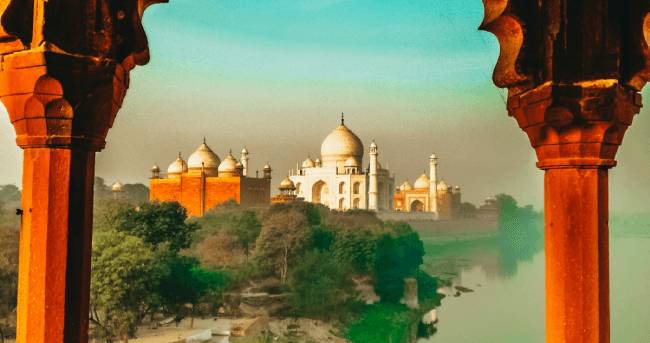 Why should I apply in advance?
Travelling entails many crucial steps. Applying in advance helps you ensure that you have followed all the steps correctly. This gives you a tension-free travel experience and also proves to be a more economical option. Moreover, it will also enable you to get your pre-travel health testing done in time for departure.
Check the COVID-19 Travel Rules in India and visit iVisa.com to apply now and get the safest travel experience.
Frequently Asked Questions
It is very much known to us that the idea of traveling during the coronavirus pandemic can be nerve-wracking even if you check the COVID-19 travel rules in India beforehand. Hence, this section is designed to solve all your questions and ensure your safe travels. Learn more about this process by visiting iVisa.com.
What is the application process?
The application process with iVisa.com is as easy as it can be. All you need to do is:
Go to iVisa.com.
Fill your form carefully.
Select your processing time.
Make sure to scan and attach required documents to your form before submitting it.
Make payment for your application via the mode of payment of your choice.
What is the processing time and price?
The following options are at your disposal with iVisa.com :
Standard Processing; which allows you to get your documents in time for your departure at a cheaper cost.

USD 20.00

-

24 hours

.
Rush Processing; which helps you get your documents quicker than the standard processing time with a little extra charge.

USD 35.00

-

8 hours

.
Super Rush Processing; which helps out in case of extreme urgency as you can get your documents immediately. Extra charges are applied.

USD 60.00

-

4 hours

.
Which passengers are allowed to travel to India?
Carefully check the COVID-19 Travel Rules in India beforehand. Flights to India will be restricted only to the following passengers:
Indian Nationals or nationals of Nepal or Bhutan stranded in UAE or in any country in South America or Africa;
All overseas Citizen of India (OCI) cardholders and person of Indian origin (PIO) cardholders holding passports of any country; and
UAE nationals and foreign nationals (from any country in South America or Africa only) intending to visit India for any purpose (including their dependents on the appropriate category of dependent visa) except those on a Tourist visa.
What is the Self Declaration Form?
The Self Declaration Form is a screening travel document designed to collect information from arriving visitors to India. It is mandatory for all travelers, regardless of age, to fill this form. While Filling the self-declaration form, all travelers must provide the following details.
Complete contact details and address.
Clear mention of whether they plan to disembark at the arrival airport or take transit flights. Transit passengers must present the "T" (Transit) receipt on their SDF to the state authority/ government of India.
Declaration of travel history to the United Kingdom, Brazil, or South Africa (if any) in the past 14 days. This will be indicated with an "H" on their SDF.
Their COVID‑19 RT‑PCR results for a test taken within 72 hours prior to the start of their journey.
Declaration of the authenticity of the report uploaded.
An undertaking form on the agreeing to follow advice by the appropriate government authority to undergo home quarantine or self‑monitoring of their health for 14 days or as mandated.
Click here to get started now!
What are the other essential documents required?
While applying via iVisa.com the following documents will be required:
A legally valid photo ID
Passport: A valid passport that does not expire for at least 3-6 months is an absolute necessity.
Proof of Accommodation
Email Address: A functioning email is required to remain updated about the progress of your application and to receive your documents.
Credit card/Debit card/ PayPal: These will be required to make payments for your form so it is important to attach a valid payment route.
To learn more click here
Do I need a COVID vaccine or vaccination certificate to enter India?
No, you don't. As of today, COVID vaccination passports or certificates are not a mandatory to enter India. Since information may change quickly, we advise you to follow up on the latest India travel updates and/or contact your local embassy.
What documents do I need to carry on the journey?
Check the COVID-19 Travel Rules in India, to make sure you carry all necessary documents for your travel to India. You will need:
The received approval code on filling the Self Declaration Form.
At least 4 printed copies of the Self Declaration Form.
A hard copy of a negative COVID 19 RT‑PCR certificate test at the time of departure.
What are the travel rules for passengers traveling from the United Kingdom, Brazil, and South Africa?
The government is concerned about the transmission of the new covid variants from the UK, Brazil, and South Africa. Hence in addition to adhering to the previously mentioned protocols, all passengers traveling from the United Kingdom, Brazil, and South Africa are advised to quarantine at home for 7 days. They must take a COVID‑19 RT‑PCR test on the 7th day of arrival. If they test negative, they can be released from quarantine and continue to monitor their health for 7 days. Hence, they will be segregated either inflight or while disembarking, to facilitate the authorities to follow the due protocols.
How safe is iVisa.com?
iVisa.com holds responsibility for your travel documents and promises utmost discretion of them. Take a look at our website to see what our clients have to say about our policies and services.
What if I need more information?
In case you check the COVID-19 Travel Rules in India and still need more information our customer support is employed 24/7 to solve all your queries. You can also visit iVisa.com for more information.
iVisa.com Recommends
The world's seventh-largest nation, India, can be aptly described as the conjunction of various cultures and religions. Its rich heritage resulting from centuries of dynasties has a lot of tourist activities to offer. So much that it can be bewildering as to where to go. Perhaps, India's most majestic building should be the first. The Taj Mahal, located in Agra was built during the Mughal reign and it incorporates many elements of Islamic design including arches, minarets, an onion-shaped dome, and black calligraphy inlaid around the entrance. Its white marble structure inlaid with delicate floral patterns and precious stones indicate India's history of riches. It is the world's most famous testimony of love, having been built by Emperor Shah Jahan in remembrance of his favorite wife Mumtaz Mahal.
The Golden Temple in Amritsar also called the Harmandir Sahib is another majestic monumental building. The temple displays a blend of Hindu and Islamic styles. Its lower section is built of marble inlaid with floral designs while the upper section is built into a large Golden dome, representing a lotus flower which is a symbol of purity to the Sikhs. The continuous chanting from the Sikh holy book provides a spiritual atmosphere. In its splendid architecture, rich design, and welcoming environment, the temple is an apt representation of India.
Get a step closer to your dream destination!