COVID-19 has changed the way international travel works. Now, there are strict regulations at airports and more requirements before visiting any country. India is establishing new travel rules for all international visitors and the most important one is the India Self-Declaration Form. As COVID-19 continues to be a health issue in India, authorities are taking all the measures to control it now that frontiers have opened. Still, this is a chance to visit India and enjoy a very unique culture full of historical buildings like the Taj Mahal.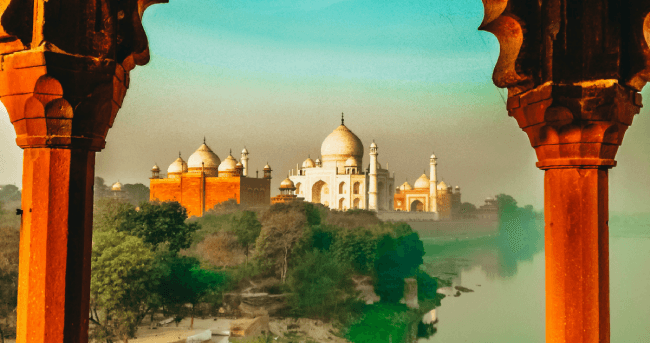 The Self-Declaration Form is easy with iVisa.com. Try this simple, fast, and 100% trustworthy product and discover this fantastic service with iVisa.com.
Do you want to know more about the COVID-19 guidelines in India? Then keep reading!
Frequently Asked Questions
What is the India Self-Declaration Form?
The India Self-Declaration Form is the new health requirement for all international visitors entering India since August 8th, 2020. This process will collect information from visitors and keep an updated registry that will help Indian authorities to stop the spread of COVID-19.
In case you are coming to India, complete the Self-Declaration Form at least 72 hours before your trip and remember that you need to comply with all health rules during your stay.
Do I need to quarantine in India?
Yes, you will have to quarantine upon arrival. The Indian government is requesting a 14-day quarantine with the following details:
The first week at an institution approved by the government. Visitors will have to pay for this service.
The second week at your home.
Start the Self-Declaration Form and visit India!
Is it possible to do the 14-day quarantine at home?
Although the government is establishing the first 7 days of quarantine at an institution, there are some exemptions to do the entire quarantine at home:
You are pregnant.
You are a parent of children under 10 years old.
You suffer from a serious illness.
You suffered a recent death in your family.
You have a COVID-19 negative test.
During your application, provide documents to support your case and you should know that the final decision of the Indian government is definitive. Some documents could be medical certificates, children's passports, RT-PCR negative reports, etc.
If I get a COVID-19 test before my trip, what details should I provide?
You need to go through the COVID-19 test no less than 96 hours before your trip. You must upload your negative report during your application and show proof your report is a valid document. Just in case, the Indian government could prosecute visitors presenting false documents, so be careful.
What information do I need for the Self-Declaration Form?
The application will request information about your trip and personal details. Also, have these other requirements:
Passport scan that will go attached to your application.
A valid email address, to receive the Self-Declaration Form.
Payment alternatives, iVisa.com charges a minimum fee for the service which you can pay with Paypal or with a credit/debit card.
Do you have some questions? Get in touch with our amazing support team.
How long will I wait for the Self-Declaration Form?
According to your needs, you can choose between the next waiting times:
Standard option, an average waiting period.
Rush option, rapid service for a higher price.
Super Rush option, when your trip is around the corner, go for the quickest alternative.
The Self-Declaration Form can be easily done, start now!
What is the process?
The process is just three steps:
Answer the questions in the online form and select a processing time.
Review the information and proceed to pay with a Paypal account or with a credit/debit card.
Upload your passport scan and documents to support the quarantine exemption, in case you have a special case.
What should I do when I arrive?
The Indian government has placed medical protocols in all airports that undertake a screening that will confirm if you have COVID-19 symptoms. As well, airport authorities will request the Self-Declaration Form that you have received from iVisa.com. Finally, you will be directed to the institution for the first week of quarantine and continue the second week at home. After your quarantine, you can travel around India following health measures like wearing a mask and social distancing.
Can I trust iVisa.com?
iVisa.com is 100% trustable. iVisa.com works with top-notch systems and trains its teams with updated security guidelines to carefully safeguard travelers' information. Check our clients' comments so you know more about iVisa.com.
Where can I acquire more details?
Get in touch with iVisa.com customer service team for any doubts or questions you might have. They will be happy to receive your message 24/7.
India can be your next destination! Travel with iVisa.com!